Donate to childrens charity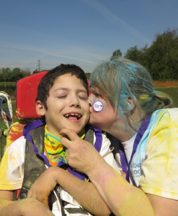 Contact Details
NB: this is a forwarding address, we do NOT disclose home addresses
Other Information
Parents/Guardians - Denise
Interests - Theo loves Sheffield United and books
Favourite Colour -
Able to read? -
Able to use hands? -
Visually/hearing impaired? -
Suffers from any developmental delay? -
Siblings - aged 3 to 16 wishing to receive post
About - Theo S
Story Written 2018
Theo was born at 29 weeks, and was diagnosed very early on with cerebral palsy, epilepsy and feeding problems among other complex medical needs. Since then he has also been registered blind.
"There are many words to describe Theo. Beautiful, special, cheeky but probably the most fitting word is a 'fighter'," explains Denise, Theo's mum.
Theo has bravely endured 31 surgical procedures in his short life, and also survived viral and bacterial meningitis. He is fed directly into his bowel hourly and continuously through the night by a machine, so requires around the clock care.
"Theo never ceases to amaze me; he inspires me and is a really super son. Everyone who knows Theo will agree no matter how poorly he is, he never refuses to smile." said Denise.
Theo has now been moved to Bluebell Wood Hospice and is receiving end of life care.
Update 1st of June 2018
Theo passed away this morning.
Update 17th May 2018
Oh my goodness I sat and sobbed today when the nurses brought the post down!! Thank you so so much for all the wonderful presents and cards ! We read them all to Theo . You are all so generous.