Donate to childrens charity
Link to Post Pals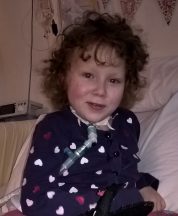 Contact Details
Sophie and George
Mailbox 117, Apartment 4109
4867 Florida Club Circle, Jacksonville, FL, 32216
USA
Sophie and George's normal Post Pal address
C/O 38 Grove Road, Sandown, Isle of Wight, PO36 8HH, United Kingdom
Email Pal
NB: this is a forwarding address for the Pal, we do NOT disclose home addresses
Other Information
Parents/Guardians - Louise
Interests - Loves horses, cats, dogs, painting, play dough, princesses, Dragon: Riders of Berk, Horrid Henry, Dora the Explorer, rainbows, birds, flowers and Minnie Mouse. Massively into minecraft and likes the littlest pet shop
Favourite Colour - Pink
Able to read? - No
Able to use hands? - Yes - Sophie has weakness in her right hand but she is encouraged to use it.
Visually/hearing impaired? - No
Suffers from any developmental delay? - No
Siblings - aged 3 to 16 wishing to receive post
About - Sophie G
Story written 2016
Sophie started school aged 4 on 3rd September 2014. At the end of her first 2 hour session she had become unsteady on her feet and had little control on her left side. Within 48 hours we were told the devastating news that Sophie had a brain tumour. Sophie was taken by air ambulance from the Isle of White to Southampton General Hospital.
Since then, Sophie has had a biopsy of the tumour and this told us she had grade 1 astrocytoma in the brain stem and hydrocephalus. Sophie then started an 18 month course of chemotherapy until she had an extreme allergic reaction to it. So they then started her on a different one which she did not tolerate at all. Sophie started having respiratory issues which rapidly became a major problem.
Sophie suffered a respiratory arrest. She then had an MRI scan which showed a new tumour had grown and was taking up most of the space in her brain stem. This tumour was pressing on nerves which were stopping her from being able to breathe sufficiently. We were told Sophie would need a lifesaving operation. Her amazing surgeon told us he felt he could remove 70% of the tumour. After surgery, another MRI showed he had actually removed 90% of the tumour! Amazing!
Sophie has been in recovery since November 2015. She has weakness in her right side so has little use of her right hand, but she tries her best to write and draw with her left. Sophie has been able to stand on the odd occasion but she is not able to walk. She has a tracheostomy connected full time to a ventilator as she still cannot breathe properly on her own. She has a gastrostomy as she lost the ability to swallow. We live in hope that she will improve with time. We have been living in the hospital since October 2015.
Update 25th August 2017
Sophie and George have flown out to America where they will stay for 3 months. Sophie will be having daily Proton Therapy (a type of radiotherapy) to treat her brain tumour. They would love to receive post while away from home
Update 14th March 2017
Sophie has just finished a 10 session intensive physio course which has been successful to the point that she can now crawl from her bed into the lounge to the sofa instead of bottom shuffling and can pull herself up to her knees onto a physio bench. Sophie was also able to stand with minimum support for up to 6 minutes! This is fabulous progress and we are hoping to carry on with this physio once a week.
Sophie has had 3 hospital visits since Christmas with different infections with up to 10 day stays, we are hoping for less of these as the weather improves and her current course of chemo is due to finish in March, her counts will go up to normal levels 3 weeks after the end of treatment which means she will be able to eat things like Mr Whippy's and milkshakes again!! She is very excited about this!!
We have a plan to get Sophie back into school 3-4 mornings a week and she will still have her home tutor twice a week, our main aim is for Sophie to learn how to read well, something that can be so easily taken for granted but this will really open Sophie's world up!
George is now hugely into cricket and plays for the local team and has been lucky to be chosen for a day out at Hampshire cricket ground and to meet the cricket team there and practice with them! George has been really helping Sophie with her physio which helps so much in creating a positive attitude for Sophie!
Thank you so much for all the letters and gifts, this has helped so much especially with the hospital stays when the days are long!!!
Update 4th January 2017
We were so very lucky to have this Christmas and New Year at home, the first for 2 years, so we really did appreciate it so much. Sophie is starting intensive physio at the end of January for 10 sessions. The aim is to get her standing, which she hasn't been able to do since October 2015 when she had her brain tumour de-bulked and spent 8 months bedbound and in recovery.
Sophie is still having her weekly vinblastine chemotherapy. They may look at stopping it for a while at the end of February depending on the results of the next MRI which is due in February.
We also hope to get Sophie back into school 1-2 mornings a week once the weather warms up a little. Thank you so much for all Sophie and George's post. Sophie opened so many letters over the Christmas period she said she must be famous to get so much post!!!
Update 12th November 2016
Sophie has her MRI scan this week so we will have the results from that in the next update, Sophie has not been able to go to school as the weekly chemo is making her quite tired and also there is always someone in her class with a cold so she is not able to attend as she is at high risk of pneumonia just from catching a cold. Sophie is having home tuition 3 times a week which she totally loves!!
Physio and OT are happening most weeks but no improvement as yet, we are getting a wheelchair hopefully by the end of December, her ventilator and suction machine will be able to be fixed to the chair to give Sophie some independence, it will take some time to adjust to this as she has been pushed in a mobility buggy for the last year, however as Sophie is very tall for her age at 6 she is rapidly outgrowing the buggy so a wheelchair is the best option for her at this stage.
A huge Thank you for all the post in the last few weeks, we do try to send thank yous out or online but sometimes this is not possible but we are very grateful for every single letter/card/postcard/gift,
They all make a huge difference to George and Sophies days ,
lots of love Louise Jake George and Sophie
Update 2nd October 2016
Sophie is starting home tutoring at the beginning of October 3 times a week, an hour at a time, she is going to really enjoy this! We can also take Sophie into school 3 mornings a week depending if Sophie seems well enough and as long as there are no poorly children in her class. Bit difficult this time of year but as Sophie is on weekly chemo & with all her respiratory issues she is so very vulnerable. We want to avoid hospital visits as much as possible for Sophie and Georges sake. If Sophie catches a cold its at least a week in hospital on antibiotics, this will happen but we shall try our best to keep Sophie out of hospital when possible!
Sophies new bedroom and wetroom have been built! we are just choosing carpets, flooring, wall colours and curtains etc. Hopefully she can move in by November! Very exciting!
Huge thank you to Post Pals for the Chessington trip, it was our first weekend away as a family without nurse assistance and thanks to the whole weekend being so well organised we had a great time. Sophie got to go on 3 rides twice and loved the haunted house so much! George was very brave and went on rides we never thought he would which boosted his confidence considerably!! So thank you for a fabulous weekend that will be remembered forever
Thank you to everyone who sent post in September, we had beautiful cards and lovely gifts, it really does make a huge difference to Sophie and Georges day when they have post to open!! Thank you and much love from Louise, Jake George and Sophie
Update 9th September 2016
We are all keeping everything crossed for a good week ahead as we are so excited to have been invited on the Post Pals Chessington weekend this week! This will be our first weekend away since Sophie's diagnosis in September 2014, other than a Naomi House stay last year!
Sophie is eating totally normally now! She is bottom shuffling around a lot more! More attempts of standing but not there yet.
We are trying to put outreach for school lessons at home in place as she really is desperate to go to school but as she is on chemo and very vulnerable to infection and the school is not quite set up for her mobility needs yet, we feel that homeschooling will be great for her at this time.
Any time she does get to go into school will be an added bonus! Sophie does miss her friends and the school environment so very much.
The last MRI back in July went well and the results are stable. We always obviously wish for news on tumour shrinkage but stability is obviously a positive too.
So Sophie's chemo dose has been increased as she was coping with it very well. Sophie is a bit more tired because of the higher dose but still eating well, praying the higher dose chemo does its work a bit better, ready for the next MRI, possibly in October time.
Huge thank you to everyone who sent cards/letter and gifts, some beautiful handmade cards and gifts! So many talented, kind people out there!
Update 8th August 2016
Sophie came home on the 14th June, we didn't expect it to happen but she did make it home. We have a care team being trained as she needs 24 hour care because of her tracheostomy and 24 hour ventilation and being immobile, although Sophie has learnt to bottom shuffle again which happens once or twice a day. Sophie has weekly chemotherapy which is ongoing and is due an MRI on July 29th, so we are all keeping everything crossed for signs of shrinking of the tumour in her brainstem. She has a bed and all her equipment in our lounge until her new bedroom & wetroom are built, which will hopefully be end September/October.
Sophie is currently in her local hospital with a chest infection which we are all trying to knock on the head quickly as she can deteriorate very quickly in these situations.
Anyway, hopefully we shall be back home soon and we will update with MRI results when we get them. Huge thanks for the parcel that was sent to Sophie.