Donate to childrens charity
Link to Post Pals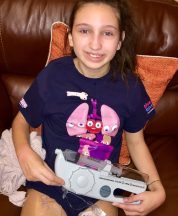 Contact Details
C/O 16 Moresby Road
Northburn Edge
Cramlington
NE23 3XP
United Kingdom

Email Pal
NB: this is a forwarding address for the Pal, we do NOT disclose home addresses
Other Information
Parents/Guardians - Eve
Interests - Watching Super hero, Avengers, Super girl, Equestria girls Pony, Twilight films. Typing stories. Playing on her iPad, playing on her DS, playing with her Equestria Girls pony dolls. Listening to music - Little Mix, Beyoncé and Olly Murs *Massive phobia of stickers and anything sticky*
Favourite Colour - Lilac/purple
Able to read? - Yes
Able to use hands? - Yes
Visually/hearing impaired? - No
Suffers from any developmental delay? - No
Siblings - aged 3 to 16 wishing to receive post
About - Rachel H
**Please do not send Rachel stickers or anything sticky**
Story written 2017
Rachel was like all other seven year old children, then everything changed …
In January 2012 Rachel was taken by ambulance from our local A&E to the Freeman Hospital. Rachel was diagnosed with end stage heart failure. No one knew why.
No one can imagine what it's like to watch your child's life slipping away. Every day her body was pumped with more and more medicines, she became thinner and thinner. But she never stopped smiling, she never gave in. She would play with the play specialist, the clown doctors and make bracelets.
I wanted to scream and shout "this isn't fair, why my child?", but when I saw Rachel determined to keep going I decided to fight with her.
Sadly Rachel's body wasn't responding to the medication and less than a month after diagnosis all that was left was to place Rachel on the organ donor register and hope that a heart would be come available in time. Rachel took this in her stride like she does with everything else.
Rachel was becoming weaker and weaker and eight days after being listed, it was decided that Rachel's body needed a rest and she was to be placed into a induced sleep (life support).
When we told Rachel what was going to happen she just smiled, the smile that had kept us all going.  I looked into my daughter's blue eyes and wondered if I would ever see them again. The next time I saw Rachel  she was in PICU and ventilated. I held her hand and read story after story to her. On 10th  February I was sitting reading to Rachel when the call came that Rachel was going to receive her gift of a new heart. I couldn't believe it. She had fought and fought so hard. Here was her gift, a new heart. A chance to continue to live her life.
I saw Rachel the next day, she was covered in wires but she was awake and I could see those blue eyes. Rachel made excellent progress and within three to four days she was out of PICU and back on the ward. She continued to get stronger and stronger and was home after three weeks.
Life was not to be the same for Rachel, life has changed but Rachel embraced these changes.
Rachel lives with a life limiting condition. A life that at anytime could be taken away due to infection or rejection. Rachel will take immunosuppressants for the rest of her life. But this doesn't stop or hold her back.
Rachel's health has been a constant battle.
With many diagnoses –
2012 – Heart transplant.
2013 – Raynaud's Phenomenon, a condition that restricts the blood flow to the hands and feet making them cold and white and painful.
2013 – Hypermobility syndrome with bilateral flat foot, causing constant pains to her knees legs and feet. When the pain is unbearable she uses a wheelchair.
2013 – Low immunity to infection requiring a weekly subcut infusion of a blood product immunoglobulin into her legs.
2014 – Stomach and head migraines lasting days to weeks.
2014 – Autism spectrum.
2016- 14 weeks of diarrhoea causing weight loss and fatigue.
2016 – Blocked femoral artery causing pain to her leg and three months of daily injections.
2017 – Followed by a diagnosis of Chronic Fatigue Syndrome – ME.
On top of this Rachel has to attend eight-weekly transplant clinic, blood, ECG, echo etc. Appointments with all the different consultants she sees. Tests after tests. Numerous hospital admissions and appointments.
Update 5th June 2017
Rachel is still off school and has been since last year, emotional upset and her concentration is very poor. She's due to start FOBMAP diet due to her Gastro issues so she can't have any chocolate and most sweets. (No wheat, dairy, Gluten and loads of other things), Rachel is very distressed about this as she loves chocolate.
Rachel's been getting more pains in her feet, legs and knees. Her consultant feels it's due to Rachel not being active due to her ME-CFS and she now has daily physio to do in bed. Hopefully she's going to get a new wheelchair this week.
Rachel's been struggling with her weekly subcut infusion (realisation that it's for life) and the pain it causes hopefully this will settle down otherwise it's back to having it done in Hospital.
Rachel still attends cardio transplant clinic every 6-8 weeks for all the regular tests.
Rachel and I would like to say a BIG thank you for all the welcome cards and goodies that have been sent. You have all put a BIG smile on Rachel's face. I've not seen her this happy in a long time. Sorry that Rachel's not up to writing replies but she loves me reading them all to her and helps me reply on Facebook.
Thank you from the bottom of my heart x