Donate to childrens charity
Link to Post Pals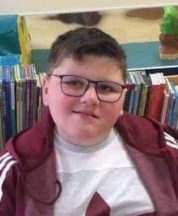 Contact Details
C/O 46 Damselfly Road
Ipswich
Suffolk
IP3 9TS
United Kingdom

Email Pal
NB: this is a forwarding address for the Pal, we do NOT disclose home addresses
Other Information
Parents/Guardians - Shelley
Interests - Mason likes art and crafts, Horrid Henry, Mr Bean and Fireman Sam , he loves camper vans and fast cars. He also loves his iPad and Xbox.
Favourite Colour - Blue
Able to read? - Yes - Age 5-6 years and large print
Able to use hands? - Yes
Visually/hearing impaired? - Mason is visually impaired
Suffers from any developmental delay? - Yes, Mason likes things for younger children
Siblings - aged 3 to 16 wishing to receive post
About - Mason F
Story written 2016
Mason was diagnosed with a brain tumour in April 2010. Since then he has endured several operations and over two years of chemo. In April 2015, Mason and his family went to America for proton treatment. We have just found out that this hasn't worked and Mason's tumour is terminal.
Mason's mobility and eyesight have become worse over the years.  Mason sleeps a lot now and his short term memory has been affected by the proton therapy. Mason now has seizures and is on a lot of medication. Mason has been through a lot over the six years he has been ill.
Update 28th April 2017
We have been in Addenbrookes since last night. Mason had a bleed on the brain again and a large cystic growth so that's the reason why he's been so poorly.
Mason will undergo brain surgery first thing in the morning. Please keep Mason in your thoughts whilst he goes through all this and the recovery process.
Update 28th January 2017
Mason is pretty much the same, we have been trying to control the seizures and are struggling with getting the right mixture of medicines. Mason has been attending his new special needs school more and enjoying swimming at school. Masons mobility still isn't great and he's still having issues with his vision. He's plodding along, he sleeps a lot now due to seizures medications and the tumour.