Donate to childrens charity
Link to Post Pals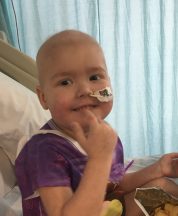 Contact Details
C/O Nottingham Queens Medical Centre,
Children's Oncology Department, Ward E39,
Derby Road
Nottingham,
NG7 2UH.
United Kingdom
For Joseph please send post to:
C/O 4 Redwood Close,
Irchester,
Wellingborough,
Northants,
NN29 7BX
Email Pal
NB: this is a forwarding address for the Pal, we do NOT disclose home addresses
Other Information
Parents/Guardians - Louise and Ian
Interests - Reading , puzzles, painting, sticking / making things,ballet. My Little Pony, Trolls, Ben and Holly, Peppa Pig, Ice Age films, Disney original Beauty and Beast, My Little Mermaid, Snow White, Lady and the Tramp.
Favourite Colour - Purple and pink
Able to read? - No
Able to use hands? - Yes
Visually/hearing impaired? - No
Suffers from any developmental delay? - No
Siblings - aged 3 to 16 wishing to receive post
About - Izzy H
Story written 2017
Izzy is a normal 3 year old. She loves to play, she's very quick to learn, and has an infectious gorgeous laugh.  Unfortunately, Izzy was suffering from a UTI, and antibiotics were not curing it.  We kept taking her to the GP, but when the course of antibiotics finished, her right eye and stomach started swelling. The GP wasn't sure why, tried new antibiotics, eye drops, and suspected it could be an allergy so we tried Piriton.  The GP even felt Izzy's liver and said it felt firm, but thought it was normal and perhaps due to her UTI.  On Wednesday 22nd March 2017 we took her to A&E due to the size of her abdomen, and now the wheezing coming from the top of her lungs.  Sadly we were sent away, as she was not seen as a priority, and her chest sounded clear.  They did think she should have an ultrasound, but to wait for a few weeks and be put on the list for paediatric hot clinic.
Friday 24th March 2017 arrived, and Izzy was very uncomfortable, her stomach was even more distended and hard, and she was struggling to breathe, with her eye still swollen.  So we decided to take her back to A&E at 1pm, as Izzy was not herself at all.  This time we were taken more seriously, and seen by a number of doctors, all of whom poked and prodded, and said in the end she has a problem with her abdomen that they couldn't treat at Kettering General.  They transferred us to QMC Nottingham on Saturday by ambulance under blue lights.
We were very worried, but at this point no-one mentioned cancer to us. It wasn't until we met a doctor who works on the children's ward, who has experience in oncology, did she explain very calmly that Izzy has a form of cancer, and this is the reason we were being transferred.  Saturday 25th March 2017, the day came when we moved to Nottingham.  We arrived around 16:00, and we were greeted on ward E39 by a lovely group of oncology nurses.  We felt lost, upset, angry, and confused.  We were unsure of what was going to happen, and exactly how poorly Izzy was.
We knew she was ill, but we didn't appreciate how ill until Sunday 26th March arrived.  So, Mother's Day was here, our son Joseph was with his Granddad, and we were stuck on a strange ward in a city we have never been to.  The day was busy with chest x-ray, ultrasound, and blood tests.  Monday 27th March, Izzy was told they couldn't wait any longer, and she would be first on the list for her MRI, lumber puncture, and Hickman line to be put in.  We were told her tumours were very large, with the one on her adrenal gland and kidney being 7cm in size.  The fluids they had been pushing through her had caused her to move into tumour lysis.  We were then informed she is extremely poorly, and when she comes back from her general, she will remain sedated, and put on PICU, where she stayed for 4 nights.
Tuesday 28th March we received her full diagnosis from our consultant, who is a true expert in his field.  We were informed she has a stage 4 B cell non-Hodgkin leukaemia and lymphoma, which is also in all three categories (this covers solid tumours, liquid, bone marrow, bone and spinal fluid).   Our lives have changed forever, and seven weeks on we are still living at Nottingham QMC, away from all our family and friends, but being supported by an amazing team on E39.