Donate to childrens charity
Link to Post Pals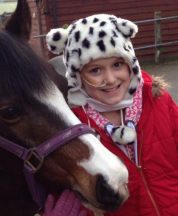 Contact Details
C/O 5 Old Bridewell

Melton Mowbray
Leicestershire
LE13 1PS
United Kingdom
Email Pal
NB: this is a forwarding address for the Pal, we do NOT disclose home addresses
Other Information
Parents/Guardians - Trish
Interests - Likes pony riding, bug hunting, dog training, bike riding and swimming. Teddies, especially TY ones.
Favourite Colour - Purple
Able to read? - Yes
Able to use hands? - Yes
Visually/hearing impaired? - No
Suffers from any developmental delay? - No
Siblings - aged 3 to 16 wishing to receive post
About - Grace M
Story written 2016
Grace was diagnosed with acute lymphoblastic leukaemia in June 2016. She had been suffering from breathlessness, pains in her legs, a rash on her legs and high temperatures. Grace went for blood tests one morning and at quarter to three that night the out of hours doctor knocked on the door with the findings that said we had to go to A&E, as the bloods were wrong.
Grace will have two and a half years of chemotherapy and treatment. She is currently spending lots of time in hospital as she is in the intensive part of the treatment.
Update 15th February 2017
Grace is now in maintenance and hopefully can have her Hickman line out in the next few weeks. Unfortunately when Grace had her lines removed previously the surgeon found a blood clot when putting the new ones back in and so now twice daily Grace has an injection of enoxaparin which has been bruising her leg quite badly. Presently the NG tube is out and Grace is trying her best to keep eating and so avoid having another one put back in. Fingers crossed Grace keeps well and continues to get stronger and keeps going on the tablet chemo.