Donate to childrens charity
Link to Post Pals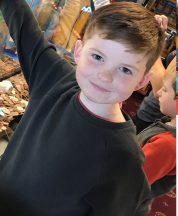 Contact Details
C/O 294 Bitterne Road West
Southampton
Hampshire
SO18 1BE
United Kingdom

Email Pal
NB: this is a forwarding address for the Pal, we do NOT disclose home addresses
Other Information
Parents/Guardians - Donna
Interests - Finley Loves his XBox, pugs, riding his bike, Minecraft, Roblox, singing and dancing, Super Cars, Celtic FC, WWE wrestling, chocolate and Five Nights at Freddies.
Favourite Colour - Green
Able to read? - Yes
Able to use hands? - Yes
Visually/hearing impaired? - No
Suffers from any developmental delay? - No
Siblings - aged 3 to 16 wishing to receive post
About - Finley J
Story Written 2018
Finley was diagnosed on 1st March 2016, aged 6 years, with anaplastic large cell lymphoma (ALCL) a rare type of non-Hodgkin lymphoma (NHL). Like all lymphomas, it's a cancer of the lymphatic system, which is part of the body's immune system.
A programme was immediately put into place and Finley started intense chemotherapy which lasted for six months. Finley responded really well to treatment and he rang the End of Treatment Bell on 11th August 2016 and was in remission for 15 months with bi-monthly visits back to the hospital for check ups.
On 11th October 2017 it was sadly confirmed that Finley had relapsed and the cancer was back. This time his treatment programme will continue for two years with chemotherapy treatment once a week. You can follow Finley's Journey here, we will be posting regular updates of his treatments and what he is getting up to as a normal everyday 7 year old boy!