Donate to childrens charity
Link to Post Pals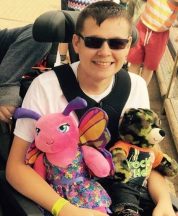 Other Information
Parents/Guardians - Antonia
Interests - Lego, Harry Potter,Moshi Monsters. Magic /card tricks, drawing/ art and animals.
Favourite Colour - Red
Able to read? - Yes, but he is dyslexic.
Able to use hands? - Yes
Visually/hearing impaired? - Connor wears glasses and has an extreme sensitivity to light.
Suffers from any developmental delay? - Connor has a learning disability and his current educational level is around primary school age.
Siblings - aged 3 to 16 wishing to receive post
About - Connor S
**Please do not send any food or drink containing caffeine**
Story Written 2016
Connor was born five and a half weeks early after a difficult pregnancy. Shortly after this he was admitted to the paediatric intensive care unit as he stopped breathing. He remained in the PICU for the majority of the following year whilst they tried to find out why he was having constant episodes of apnoea or complete failure to breathe. They eventually diagnosed Connor with congenital central hypoventilation syndrome (CCHS). It was also discovered through a DNA screen that Connor has an extra chromosome; this has caused an array of issues for him.
Over the years Connor has also been diagnosed with a learning disability, dyslexia, autistic tendencies, an anxiety disorder, and Tourette's syndrome (Connor has facial and body tics and twitches and makes squeaking noises when he gets scared or over excited). Connor also suffers from sensory processing difficulties.
At the present time Connor is still undergoing neurological tests to find the cause of his extreme fatigue and pain. Due to this, Connor only attends school on a part-time basis and his life is very restricted. He has to spend at least three days a week in bed. Connor does not get many opportunities to go to activities or on outings, as he needs a couple of days to recover afterwards and often becomes ill whilst out. Despite this Connor doesn't complain and is a very kind and considerate boy.