Donate to childrens charity
Link to Post Pals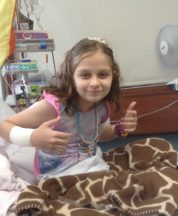 Contact Details
C/O 5 Helmores
Laindon
Basildon
SS15 6SA
United Kingdom

Email Pal
NB: this is a forwarding address for the Pal, we do NOT disclose home addresses
Other Information
Parents/Guardians - Debbie and Roger
Interests - Beth loves face masks, pop figures, YouTube watches Zoella,Connor Franta and Pointless blog, Plays Xbox Minecraft ,arts & crafts,reading. Make up & Yankee candles . Favourite artist is Olly Murs. She loves giraffes . Please don't send food as she's unable to eat, but if it's making food it's fine as she loves cooking/baking.
Favourite Colour - Orange
Able to read? - Yes
Able to use hands? - Yes
Visually/hearing impaired? - No
Suffers from any developmental delay? - No
Siblings - aged 3 to 16 wishing to receive post
About - Bethany H
Story written 2014
Bethany first became seriously ill at the age of 15 months when she suffered from a ruptured intestine which was unnoticed and led to peritonitis. Following surgery to rectify this at Great Ormond Street, Bethany became one of the youngest patients to have her appendix removed at only 17 months.
In the months after Bethany's operations she continued to suffer excruciating pain and suffer from severe distension of her stomach. Initially this was an allergy to milk, but due to the way Bethany's combination of conditions attack the body it became apparent that milk allergy was only the beginning. In January 2011 Bethany's doctors decided to feed her via a feeding tube for six weeks in order to allow her body to rest and then try to reintroduce food on a piecemeal basis. Unfortunately, three years later, that has still not been possible due to her suffering allergic reactions to any food that enters her stomach. Bethany's body decided it didn't like the feeding tube or button devices inserted and in two and a half years she went through several buttons and two gastric pegs. Whilst investigating the cause of this it was discovered that Beth also has dysmotility, meaning her stomach doesn't empty quickly enough and the easiest way for it to leave the body was through her peg site causing continuous infections. The decision was made to feed her via a jejunostomy, so now the feed bypasses her stomach directly into her bowel for 22 ½ hours a day.
After intensive testing and countless visits to specialists, Bethany was included into a research clinic at Great Ormond Street into Ehlers Danlos Type 3 and the connection with gastro disorders. As a result of the testing it was discovered that Beth actually has Type 6 Ehlers Danlos of which there has only been 60 reported cases of worldwide and of those 60 Bethany is the only one that Great Ormond Street are aware of who has the stomach problems as well.
Bethany is currently in hospital as she is now having to have TPN (fed IV).
Despite all of her health problems which leave her in pain and spending lots of time in hospital or confined to bed, Bethany will always manage a smile and a few select wise words to cheer you up when you are down. She is entirely selfless and is always looking for ways to help fundraise in order to try and make other people's lives as comfortable and enjoyable as they can be.
Update 14th November 2016
We attended an appointment with a group of Beth's specialists yesterday in order to discuss the next steps in Beth's treatment. It was not the outcome we had hoped for as they are very nervous about taking the steps that are needed to make Beth's life more comfortable.
Beth has been having terrible bouts of pain which are unexplained as her bloods are unusually within "normal" (whatever that is) limits. One thing that was found by chance is a level in her blood called carnitine which has been extremely low. This is not a part of the blood that is normally tested after the Guthrie test. This was tested after a recent clinic by chance due to the troubles experienced controlling her sugar levels. She is now on a supplement in order to increase the levels but this can take up to 3 months to start showing any effect.
At the moment of typing we are still searching for a Dr. that will see her with her pancreatic divisum, as whilst this is far from rare in adults it is virtually unheard of in children. We have been waiting 9 months now for this referral and still we are unable to find a Dr. on the NHS that we will see her.
As a result of this delay and the need to get Bethany in a position where she can start to return to school (she has been unable to attend since March) we are going to need to find a private consultant.
Before any decision is made on surgery for Bethany she needs to go into hospital for a weeks worth of tests, to see if there has been any sign of the intestine trying to recover from the failure it suffered over two years ago.Considering her colon has collapsed we are pretty sure there is no sign of recovery.
The tests involve her having a special catheter to measure the movement of her bowel either inserted through her PEG site (the hole near her belly button). If they're unable to do this then it will have to be inserted into her nose and through her stomach into the intestine. Once she's recovered from this she will have to have a tube (not the same one) inserted into her rectum in order to measure the large bowel and to see how bad the collapse and inflammation that showed up on her recent scopes is and whether the colon is adding benefit or causing more problems and needs to be removed.
On a positive note we have finally after lots of pushing by the school and specialist care team, managed to get a tutor to come in 3 times a week and tutor for maths and English Also one of the LSA's from the school to come twice a week in order to assist Beth with the more practical side. Beth is loving being able to start learning again and is mega proud of the fact that she has a reading age almost a year above her physical age.
We have a date now for Beth to go into hospital, 30th November, she will be in for 10 days for these tests to be done. We have just had a few days at Little Havens Hospice chilling, which is nice. We are off to Disneyland Paris at the weekend thanks to Little Havens putting our name forward for this trip. Beth can't wait. After that she will be in hospital, so it's a much needed trip.
Follow Beth's fund on Facebook for regular updates.
Update 20th September 2016
Hi all, Beth has been much the same as last month, up and down. She had scopes done during summer holidays, which have shown more problems, one of which is big; her large bowel has collapsed and is showing distal colitis. Beth has been put on more meds because of the colitis. She needs to be seen again by the motility team about the colon, but it does explain the pain she is getting in her back and bottom. We are still waiting to see a pancreas specialist, who is willing to see her as most only deal with adults. Bethany's TPN calories have to be upped as she's not gaining weight. Everything is tiring Beth out. If she does too much she becomes unwell, dizzy, feeling sick and drained. She is still unable to go school, but is getting a tutor, hopefully soon, she said earlier "I do more maths then English" lol. She hates English, as it's a lot of writing/typing which she can't do a lot of, as her hands get tired and painful. Maths she loves (don't know where she gets that from). Beth is looking forward to meeting other families at the Chessington weekend.