Donate to childrens charity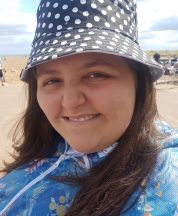 Contact Details
C/O 30 Sylvan Grove
Shirley
Solihull
West Midlands
B90 3SG
United Kingdom
Email Pal
NB: this is a forwarding address for the Pal, we do NOT disclose home addresses
Other Information
Parents/Guardians - Deborah and Jason
Interests - Vicki has started to enjoy baking, Rocky road is her favourite! Still loves singing and colouring Minnie and Micky mouse are her favourite disney characters at the moment. We still take teddy for walks, we even take him in a pram as Vicki finds it easier to walk holding onto it.
Favourite Colour - Red and pink
Able to read? - Vicki can read at pre-school level
Able to use hands? - Yes
Visually/hearing impaired? - No
Suffers from any developmental delay? - Yes
Siblings - aged 3 to 16 wishing to receive post
About - Vicki H
Story Written 2017
Vicki is a bright bubbly 14 year old, her sunny positive nature has helped her get through this journey! Her innocence and smile makes you fall in love with her! She was born with autistic locked in syndrome: this means Vicki doesn't understand the world we live in, or when people talk to her if they ask too many questions she will walk away! She masks her disabilities very well. Vicki was then diagnosed with acute lymphoblastic leukaemia, this cancer diagnosis shook us all to the core but Vicki truly doesn't understand what it's all about. We are so proud of how she has dealt with the whole treatment process as Vicki will not be touched by people she doesn't know! Vicki has severe learning disabilities, global development delay, OCD, severe anxiety, ASD and dyspraxia.
Update 1st October 2019
We would like to thank everyone for the cards and letters Vicki has received, they have such a huge impact with Vicki's mental health, they bring kindness and a smile that is such a pleasure! She loves us to read the letters, cards and enjoys looking at your pets. Vicki loves animals.
Vicki is still on high doses of pain medications, just started her on clonidine to try and help with her tics, under a psychologist due to her extreme anxiety and looking at other underlying disabilities.
Vicki is desperate for friends but due to her extreme anxiety and SLD, friends struggle to understand her.
Update 11th February 2019
Vicki is doing really well from the oncology side of things. Blood tests are showing she is still in remission, which is fabulous to hear.
Nearly hitting 12 months out of treatment. Her mobility is really poor with pain all the time in them, that even medication isn't giving her much relief. Anxiety issues are really high at home and school, constantly worrying about everything, she comes home from school every day totally exhausted and needs a couple of hours sleep! Then she is wiped out most weekends, although we do try to get her out & about. She still loves colouring and enjoying the Julia Donaldson DVDs as that's what is watched in school. We try to encourage her to walk Teddy (our Bichon) as much as possible, as Vicki has always enjoyed taking him for walks! Not always possible but we do try to encourage her to do it.
Many thanks for your cards and letters. Vicki really does enjoy receiving them xx
Update 12th November 2018
Vicki is still struggling with pain in her bones, more so her legs she finds it very difficult to walk for any distance and stand for some time! The hospital upped her pain medications but they really knocked her about with drowsiness and headaches! Thank you for your kindness its so nice to see her smile at the post she receives.
Update 10th October 2018
Vicki is 6 months out of treatment for ALL (acute lymphoblastic leukaemia) doing absolutely amazing although the after effects of treatment have been snowballing. Vicki has been diagnosed with Motor & Vocal Tourettes, Avascular Necrosis of both legs, and severe anxiety issues. They cannot get the pain under control, so she's on lots of different medications including slow release morphine, but her sunny nature and smiley face always brightens our days!
Update 6th January 2018
We would like to thank you so very much for giving Vicki the chance to receive such lovely post & gifts! When things are really bad Vicki enjoys us reading the cards/postcards to her! She loves the pictures of the animals & is getting a little collection which she just sits and looks at in her own time!
Vicki still loves colouring, taking Teddy for walks when well enough, listening to music – all types! She loves going out for meals with her sisters – Jade, 25 and Amber, 17. Who also enjoy taking their sister out, dressing her up, doing her hair & make up! They also enjoy the pantomime & Disney on Ice together, we encourage them to go to for quality time with each other! Sometimes it's hard for Vicki's sisters to see her so unwell & it really upsets them! Disney films and musical films are still a big hit, Mr tumble makes her laugh! And she loves light-up sensory toys. Treatment for ALL is going as well as it can be! She suffers from lots of bone pains & aches. She gets exhausted easily, some days she's too tired to get out of bed. She cannot walk far without it causing her lots of pain! Her immunity is still very low so we are constantly checking to make sure it is okay to take her anywhere. The tremors are starting to have an impact on her as carrying a drink or just lifting a cup will result in it being spilt, she's finding feeding herself awkward & at times frustrating.
Results from the MRI scan on Vicki's brain have shown up too much fluid around her brain & pockets of fluid within her brain where it shouldn't be! As the high doses of steroids & chemotherapy can cause some of this, they are going to do further investigations after treatment has finished! Also doing lots of genetic testing to see if her delays & disabilities are genetic!