Donate to childrens charity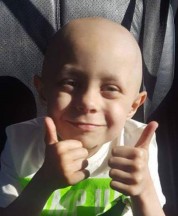 Contact Details
C/O 31 Langdale Road
Fenscowles
Blackburn
Lancashire
BB2 5DP
United Kingdom
NB: this is a forwarding address, we do NOT disclose home addresses
Other Information
Parents/Guardians - Leonie
Interests - Dinosaurs, planes, helicopters, trains, playdough, dancing and singing
Favourite Colour - Blue
Able to read? - Yes
Able to use hands? - Yes
Visually/hearing impaired? - No
Suffers from any developmental delay? - No
Siblings - aged 3 to 16 wishing to receive post
About - Theo P
**Please do not send Theo any sweets**
Story written 2016
In July 2015 Theo was diagnosed with stage 4 Neuroblastoma. He started treatment straight away, which consisted of having a Hickman line inserted, seven cycles of induction chemotherapy, followed by surgery to remove the primary tumour.
Theo has now had high dose chemotherapy and a stem cell transplant and has just started daily radiotherapy.
Update 14th May 2016
We just wanted to say a massive thank you to all those who have sent Theo post. He loves every single one of them. He even had a lovely card all the way from Australia this week! Thank you everyone, it's wonderful what you do for the children. So thank you all on behalf of Theo.