Donate to childrens charity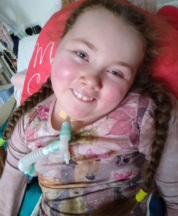 Contact Details
C/O 12A Elms Court
Swains Road
Bembridge
Isle of Wight
PO35 5XG
United Kingdom
Email Pal
NB: this is a forwarding address for the Pal, we do NOT disclose home addresses
Other Information
Parents/Guardians - Louise
Interests - Sophie loves her 2 cats, Tilly & Storm, Minecraft, Dragons: Defenders of Berk, Spirit, cats, dogs and horses. Sophie loves animal magazines & books. Seeing photos of people's pets & hearing about them. Sophie loves to have pedicures & choosing different nail varnish colours! She also loves jewellery, mostly bracelets.
Favourite Colour - Blue and Green
Able to read? - Yes
Able to use hands? - No
Visually/hearing impaired? - No
Suffers from any developmental delay? - No
Siblings - aged 3 to 16 wishing to receive post
About - Sophie G
Story written 2016
Sophie started school aged 4 on 3rd September 2014. At the end of her first two hour session she had become unsteady on her feet and had little control on her left side. Within 48 hours we were told the devastating news that Sophie had a brain tumour. Sophie was taken by air ambulance from the Isle of Wight to Southampton General Hospital.
Since then, Sophie has had a biopsy of the tumour and this told us she had grade 1 astrocytoma in the brain stem and hydrocephalus. Sophie then started an 18 month course of chemotherapy until she had an extreme allergic reaction to it. So they then started her on a different one which she did not tolerate at all. Sophie started having respiratory issues which rapidly became a major problem.
Sophie suffered a respiratory arrest. She then had an MRI scan which showed a new tumour had grown and was taking up most of the space in her brain stem. This tumour was pressing on nerves which were stopping her from being able to breathe sufficiently. We were told Sophie would need a lifesaving operation. Her amazing surgeon told us he felt he could remove 70% of the tumour. After surgery, another MRI showed he had actually removed 90% of the tumour! Amazing!
Sophie has been in recovery since November 2015. She has weakness in her right side so has little use of her right hand, but she tries her best to write and draw with her left. Sophie has been able to stand on the odd occasion but she is not able to walk. She has a tracheostomy connected full time to a ventilator as she still cannot breathe properly on her own. She has a gastrostomy as she lost the ability to swallow. We live in hope that she will improve with time. We have been living in the hospital since October 2015.
Update 15th April 2021
Sophie is still happy being indoors although is looking forward to a Tesco's shipping trip hopefully in the next couple of weeks.
We were offered a routine MRI brain and spine scan but as we have no concerns at this time we will review in the autumn , we do not wish to put Sophie at any covid risk travelling on boats to Southampton and an over night stay at hospital.
We are hoping Sophie may get a covid jab at some point but this is all.up.in the air at the moment.
I visited her brothers school today to see what facilities they have for Sophie to attend on occasions from September.
I was pleasantly surprised to find that they have a reasonably sized lift, a full size changing room with ceiling hoist & bed for changing.
A great library & plenty of quiet rooms.
Best of all it's only a 15-20 minute drive and some of her friends are going there too.
Fingers crossed it all falls into place and Sophie will enjoy some time out in a school environment!
Sophie loves reading, she's doing so well with her spellings too.
She likes books and magazines about animals and shocking / scary things!
She still loves Minecraft, Tinkerbell & dragon riders of Berk.
George is really enjoying being back at school, he's very independent and gets up pretty early at 6.30 to get the bus to school. All his friends get a lift in but he enjoys getting the bus!
He still supports Manchester United with a passion & likes to watch top gear and Gordon Ramsey.
He prefers eating to cooking these days but hopefully the cooking will come back in at some point!!
Thank you to everyone that sends post and to our regulars , sorry we haven't been InTouch , I seem to be extra busy now it's Spring!!!
Update 3rd December 2019
Sophie has continued to be fairly stable so we have managed to get her into school three times a week for 90 minute session of English, maths and science. She is attending her local mainstream school and has the assistance of her home tutor or carers or mum in the classroom!
At some point we hope to get a teaching assistant trachi trained so only one carer would need to go with Sophie. We are still awaiting Sophie's power chair. Unfortunately our local wheelchair services has pretty much gone to pot with staff being sacked and staff leaving! So everything has been put on hold for quite a few months.
We hope that it might be ready for early spring next year …
Sophie is nearly a free reader, so she had done well in the last year to catch up as reading makes her extremely fatigued, but she's determined to do this! We are hoping to get Sophie's gastrostomy changed to a button in the new year/February as this will mean I can puree meals and feed them through so she will have a much better balanced diet for the first time ever!
We also hope to have a full head and spine MRI and her central line removed as this has been in for 5 years now and is only used for bloods, so it's time for it to go! Sophie has been to the cinema a lot! She has seen the Addams family, Abominable, Dragon 3, A Dog's Journey, Frozen 2, Dora the Explorer, The Lion King, and Maleficent! It's been a great year for films!! Sophie is looking forward to seeing, Cats, Trolls 2, The Secret Garden, Dolittle, and Scoob! Sophie's favourite thing to receive in the post is stories and photos of people's pets!
George is enjoying school (Year 8) and is doing so much football training it's ridiculous, but he loves it and loves his food too! He has asked to have counselling again as he does have some emotional times at school. He is getting older and worries a lot about Sophie. So hopefully this will be put in place soon and be helpful in someway for him. He's 13 next year!! George carries on to be football mad and a Manchester United fan and Southampton! He is off to see Southampton and Crystal Palace on the 28th December.
Thank you very much for all the post from all over the world and all the regular writers and senders. We try and thanks as many as we can either by postcard or Facebook, but at times life is just so busy!
We really do appreciate everything that is made/bought/written & sent!!!
Much love Louise, Jake George & Sophie xxx
Update 18th July 2019
We are currently awaiting a power chair for Sophie which is being funded by Whizz Kids and built by Millbrook Wheelchair Services. We are not sure how much Sophie will be able to use this herself with limited use of one good hand, but with practice it is possible and will give her back some independence, which would be fabulous!!!
Sophie has been into school for a few visits and we are planning on getting her in for three 90 minute sessions a week in September.
She will possibly be going in Year 2, as she has missed practically all of school although she is very bright and not too far away from being a free reader, so she may catch up a little if we can stick with it and with the help of home tutoring.
George is at the end of Year 7 and still massively into playing football for his local team and following Man United.
He is going to see Man United play Southampton at the end of August as Southampton hospital are very kindly lending him their season ticket to see the game! Lucky boy!
Thank you for all the recent post for George and Sophie. We are now looking forward to a few summer holiday lay-ins!
Update 3rd March 2019
Sophie remains in palliative care, although as she has not deteriorated since last summer we have asked for a MRI scan so that we can see what is happening with regards to her tumour. Sophie remains mostly paralysed and unable to use her hands enough to play any games or feed herself etc., so we continue to push with physio as much as Sophie can manage. So depending on the outcome of her scan we shall push physio further if there's been no more tumour growth. Sophie has started to recover from fatigue more quickly, which is a positive sign in itself.
We expect to have the scan mid-March and results by end of March.
Update 2nd November 2018
We are collecting Sophie's new moulded wheelchair on the 7th November so hopefully sophie will be happier in this to go out and we can get to the cinema & a few shops & Xmas events on the sunny days when she's not too tired..
Sophie is getting more tired as time goes on but she still has some bright days so we will aim to make the most of them & enjoy them in anyway that makes Sophie happy.
We did manage to take Sophie trick or treating for half an hour which she totally loved & we are hoping to go to the fireworks tonight in the park behind us for a speedy trip in & out!!
Thanks for all the lovely messages & cards & gifts for Sophie & George!
Update 15th September 2018
Sophie has received some amazing post which has included some gorgeous fluffy animals & jigsaw puzzles & artwork, thanks so much to everyone as it's so wonderful to receive such lovely thoughtful gifts! Sophie is totally bed bound again as the chair that was provided to get out and about is just not practical for her, it's basically very uncomfortable & the last thing we want is for Sophie to be upset, going out needs to be a comfortable enjoyable experience!!
We are awaiting a referral for a moulded chair which unfortunately will probably take a couple of months. Such a shame as Sophie is desperate to go the the cinema and back to Tesco's & the local garden centre.
Sophie does still have home tuition once or twice a week & her reading has really come on, it's so very lovely to hear her reading!
George is loving his new school & has grown up so much in the last few weeks! He's decided he wants to be a professional goalkeeper but there's no professional training on the island so he just spends hours and hours at the weekends in the park practising with his friends!! He supports Southampton & Man United. George also has a keen interest in cooking! He watches all the Bake Off programmes & Masterchef! He might like to receive some not-too-complicated recipes for dinners or desserts to try!!
The kittens are now nearly 6 months & are a godsend, they adore Sophie as much as she adores them & spend a lot of time on her bed for cuddles! Thanks again so much for all the post & support!!
Love Louise, Jake, George & Sophie xxx
Update 10th June 2018
Sophie has had an extremely tough time since Christmas. The swelling from the proton treatment that she had last summer has caused lots of complications and Sophie has spent a lot of time in hospital.
She has been resuscitated twice and has been left almost paralysed from the neck down, although she has regained enough movement in her left hand to play her tablet with some help. She has completely lost her appetite, mainly because she cannot feed herself and does not want to be hand fed so she is currently on feeds through her gastrostomy.
We are waiting for a 'tilt in space' chair to be made for her needs so that her ventilator, suction machine and other medical equipment can be safely placed on the chair to enable us to take her out of the house again. Sophie has either been housebound or in hospital since Christmas.
Considering the huge change in Sophie's abilities she still remains quite happy, amazingly, and we cannot wait for her new chair to arrive – hopefully before the end of the summer so we can take her out and about and maybe even into school again!
Apologies to anyone who has sent post in the last 5 weeks as we haven't been able to pick it up, but we shall be collecting this Friday 15th june.
Thank you to everyone who has sent post and birthday post. Sophie had a great birthday with a visit from Tinkerbell and 5 of her friends for a little party
Update 5th October 2017
So Sophie has now completed all her proton treatment in Florida (28 sessions in total) and thankfully has not experienced any side effects! The trip was amazing, all the staff at the proton centre were lovely and Sophie and George very much enjoyed their daily Mon-Fri visits there, albeit sometimes very early in the morning!
We were lucky enough to have two weekend trips down to Disney World. We visited The Magic Kingdom, Epcot twice and Seaworld! Sophie's favourite was Seaworld as we saw some fantastic shows, the dolphins being sophie's favourite of all!
Now we are home and trying to get back into some sort of routine, Sophie will have an MRI scan in November sometime and this will hopefully give us some idea of what the proton treatment has achieved. Until then we are getting Sophie into school at least 4 times a week with physio at the local hospital once a week. Thank you so very much to everyone who sent post to Sophie and George in America, it was all very appreciated!
Update 25th August 2017
Sophie and George have flown out to America where they will stay for three months. Sophie will be having daily proton therapy (a type of radiotherapy) to treat her brain tumour. They would love to receive post while away from home.
Update 5th June 2017
Thank you for all of Sophie's birthday cards & presents she enjoyed opening them so much! So many cards it took a while! We managed as a family to have a week away in the New Forest thanks to Hannah's Holiday Homes who provide fabulous accommodation free of charge to families who have children who are receiving treatment, it was our first family holiday together, just the four of us, it was wonderful! We even made it to Legoland which was fabulous for Sophie who got to go on lots of rides, they cater very well for wheelchair users, we were very impressed, even the changing facilities were easily accessible & staff extremely helpful!
We have just had some very very unexpected exciting news… Sophie had been accepted for proton treatment in Florida! We had been under the impression that she would probably not be able to fly long haul what with being on 24hour ventilation but it seems all is doable & the proton centre has accepted her for treatment!! We do not have a date as yet but it's looking like July!
We will keep you posted on Facebook!
I have added a more recent photo of Sophie as her hair has grown like crazy and she loves her little plaits!!
We hope to make the Post Pals party in July!!
Love to all
Update 14th March 2017
Sophie has just finished a ten session intensive physio course which has been successful to the point that she can now crawl from her bed into the lounge to the sofa instead of bottom shuffling and can pull herself up to her knees onto a physio bench. Sophie was also able to stand with minimum support for up to six minutes! This is fabulous progress and we are hoping to carry on with this physio once a week.
Sophie has had three hospital visits since Christmas with different infections with up to ten day stays, we are hoping for fewer of these in the future as the weather improves and her current course of chemo is due to finish in March, her counts will go up to normal levels three weeks after the end of treatment which means she will be able to eat things like Mr Whippy ice creams and milkshakes again!! She is very excited about this!!
We have a plan to get Sophie back into school three to four mornings a week and she will still have her home tutor twice a week, our main aim is for Sophie to learn how to read well, something that can be so easily taken for granted but this will really open Sophie's world up!
George is now hugely into cricket and plays for the local team and has been lucky to be chosen for a day out at Hampshire cricket ground and to meet the cricket team there and practice with them! George has been really helping Sophie with her physio which helps so much in creating a positive attitude for Sophie!
Thank you so much for all the letters and gifts, this has helped so much especially with the hospital stays when the days are long!!!
Update 4th January 2017
We were so very lucky to have this Christmas and New Year at home, the first for two years, so we really did appreciate it so much. Sophie is starting intensive physio at the end of January for ten sessions. The aim is to get her standing, which she hasn't been able to do since October 2015 when she had her brain tumour de-bulked and spent eight months bedbound and in recovery.
Sophie is still having her weekly vinblastine chemotherapy. They may look at stopping it for a while at the end of February depending on the results of the next MRI which is due in February.
We also hope to get Sophie back into school one to two mornings a week once the weather warms up a little. Thank you so much for all Sophie and George's post. Sophie opened so many letters over the Christmas period she said she must be famous to get so much post!!!
Update 12th November 2016
Sophie has her MRI scan this week so we will have the results from that in the next update, Sophie has not been able to go to school as the weekly chemo is making her quite tired and also there is always someone in her class with a cold so she is not able to attend as she is at high risk of pneumonia just from catching a cold. Sophie is having home tuition three times a week which she totally loves!!
Physio and OT are happening most weeks but no improvement as yet, we are getting a wheelchair hopefully by the end of December, her ventilator and suction machine will be able to be fixed to the chair to give Sophie some independence, it will take some time to adjust to this as she has been pushed in a mobility buggy for the last year, however as Sophie is very tall for her age at six years old she is rapidly outgrowing the buggy so a wheelchair is the best option for her at this stage.
A huge Thank you for all the post in the last few weeks, we do try to send thank yous out or online but sometimes this is not possible but we are very grateful for every single letter/card/postcard/gift,
They all make a huge difference to George and Sophie's days ,
lots of love Louise Jake George and Sophie
Update 2nd October 2016
Sophie is starting home tutoring at the beginning of October three times a week, an hour at a time, she is going to really enjoy this! We can also take Sophie into school three mornings a week depending if Sophie seems well enough and as long as there are no poorly children in her class. Bit difficult this time of year but as Sophie is on weekly chemo & with all her respiratory issues she is so very vulnerable. We want to avoid hospital visits as much as possible for Sophie and Georges sake. If Sophie catches a cold it's at least a week in hospital on antibiotics, this will happen but we shall try our best to keep Sophie out of hospital when possible!
Sophie's new bedroom and wetroom have been built! We are just choosing carpets, flooring, wall colours and curtains etc. Hopefully she can move in by November! Very exciting!
Huge thank you to Post Pals for the Chessington trip, it was our first weekend away as a family without nurse assistance and thanks to the whole weekend being so well organised we had a great time. Sophie got to go on 3 rides twice and loved the haunted house so much! George was very brave and went on rides we never thought he would which boosted his confidence considerably!! So thank you for a fabulous weekend that will be remembered forever.
Thank you to everyone who sent post in September, we had beautiful cards and lovely gifts, it really does make a huge difference to Sophie and Georges day when they have post to open!! Thank you and much love from Louise, Jake, George and Sophie
Update 9th September 2016
We are all keeping everything crossed for a good week ahead as we are so excited to have been invited on the Post Pals Chessington weekend this week! This will be our first weekend away since Sophie's diagnosis in September 2014, other than a Naomi House stay last year!
Sophie is eating totally normally now! She is bottom shuffling around a lot more! More attempts of standing but not there yet.
We are trying to put outreach for school lessons at home in place as she really is desperate to go to school but as she is on chemo and very vulnerable to infection and the school is not quite set up for her mobility needs yet, we feel that homeschooling will be great for her at this time.
Any time she does get to go into school will be an added bonus! Sophie does miss her friends and the school environment so very much.
The last MRI back in July went well and the results are stable. We always obviously wish for news on tumour shrinkage but stability is obviously a positive too.
So Sophie's chemo dose has been increased as she was coping with it very well. Sophie is a bit more tired because of the higher dose but still eating well, praying the higher dose chemo does its work a bit better, ready for the next MRI, possibly in October time.
Huge thank you to everyone who sent cards/letter and gifts, some beautiful handmade cards and gifts! So many talented, kind people out there!
Update 8th August 2016
Sophie came home on the 14th June, we didn't expect it to happen but she did make it home. We have a care team being trained as she needs 24 hour care because of her tracheostomy and 24 hour ventilation and being immobile, although Sophie has learnt to bottom shuffle again which happens once or twice a day. Sophie has weekly chemotherapy which is ongoing and is due an MRI on July 29th, so we are all keeping everything crossed for signs of shrinking of the tumour in her brainstem. She has a bed and all her equipment in our lounge until her new bedroom & wetroom are built, which will hopefully be end September/October.
Sophie is currently in her local hospital with a chest infection which we are all trying to knock on the head quickly as she can deteriorate very quickly in these situations.
Anyway, hopefully we shall be back home soon and we will update with MRI results when we get them. Huge thanks for the parcel that was sent to Sophie.