Donate to childrens charity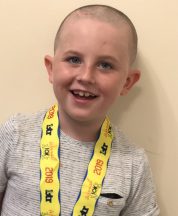 Contact Details
NB: this is a forwarding address, we do NOT disclose home addresses
Other Information
Parents/Guardians - Stephen and Elizabeth
Interests - Rueben loves computer programming, what's inside things, basketball, art and crafts, bikes. His favourite animals are dogs, reptiles, bearded dragons, giant African land snails, corn snakes, chameleons, tortoises, fish. His favourite musician is Taylor Swift
Favourite Colour - Blue/Green
Able to read? - Yes
Able to use hands? - Yes
Visually/hearing impaired? - No
Suffers from any developmental delay? - No
Siblings - aged 3 to 16 wishing to receive post
About - Rueben W
*Please do not send food to this family*
Story written 2019
On the 29th May 2019 we received the devastating news that our son, Rueben, had a malignant brain tumour. We have since been on the biggest roller coaster of our lives – and we're still riding that same rollercoaster.
It was all action stations after receiving the news, and Rueben quickly underwent surgery at Leeds Children's Hospital to remove the tumour. It was largely a success. We then had to endure a lengthy 4 week wait for a biopsy to come back from Great Ormond Street Hospital which would establish the intended treatment he was to receive. I can safely say this was the worst wait we've ever had to endure.
Our lives were once again turned upside down when 2 weeks after we received the results then we found out that Rueben's tumour had grown back. So, once again, Rue had another 10 hour surgery to remove the tumour. Once again the removal was largely a success. Only minutes after him reappearing from surgery and hearing this good news, Rueben then took a turn for the worse and ended up in intensive care. In a heart beat we thought we could have lost him, but this boy keeps bouncing back with a defiance that's admirable, and within a few days he was back on his feet.
Rueben then continued treatment, having 30 sessions of Radiotherapy to both his head and spine. This left him incredibly fatigued and only received a 5 week break before having then to commit to an intense 3-6 months of Chemotherapy.
We remain confident that his treatment will be a success, but nervous that we're battling a very challenging tumour.
'Life is like a bicycle, stay balanced and you will keep moving forward.'
Rueben set out after his first surgery to help other children, raising a small amount of money for Ward 52 at Leeds Children's Hospital (LGI). Now, as a family, we are dedicated to helping Candlelighters which is one of Leeds Children's Hospital's close cancer charities.
Rueben is currently in hospital having only been home for less than a day after 3 weeks of his Chemotherapy. Both myself and my partner are taking it in turns to look after Rueben whilst receiving treatment as we also have 6 other children in our family.
See more about Rueben's story here:
https://www.mirror.co.uk/news/uk-news/grieving-dad-whose-soulmate-girlfriend-18966740