Donate to childrens charity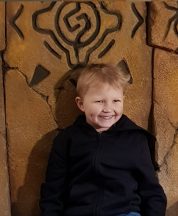 Contact Details
NB: this is a forwarding address, we do NOT disclose home addresses
Other Information
Parents/Guardians - Nikki
Interests - Harrison loves anything to do with firemen/fire engines, building /space. He loves tools and anything to do with building sites, like diggers.
Favourite Colour - None
Able to read? - No
Able to use hands? - Yes
Visually/hearing impaired? - No
Suffers from any developmental delay? - No
Siblings - aged 3 to 16 wishing to receive post
About - Harrison K
Story written 2016
Harrison was diagnosed with acute lymphoblastic leukaemia in October 2015, a day after his 3rd birthday. A few days before his birthday Harrison's nursery spotted something odd about him, he looked very yellow. We took him to the emergency doctors who told us he was just anaemic and to see our normal GP. A few days later at an appointment, his GP wasn't happy and sent us to A&E, where they took bloods, did x-ray and CT scans. Later that day we were informed he had leukaemia, but due to low blood levels he had to have two blood transfusions later that night.
We were meant to celebrate his birthday on the Saturday, but due to Harrison being ill he was in our local hospital for a few days, until a bed was available at Great Ormond Street Hospital. We were then told what type of leukaemia he had and how they would go about treatment.
It was a total shock that our son was ill. We had to explain to his older siblings that Harrison's blood wasn't working properly, so it was making him poorly. Harrison has now just started maintenance, so still has another 2 years and 4 months of treatment to go. With Harrison being a lively boy he has taken it all in his stride. Luckily we haven't had many overnight stays in hospital, but at the end of May he caught a bacteria which is not very common. He spent five days in hospital, then the next six days going twice daily to make sure his cultures stayed negative.
He has missed a lot, not seeing his friends or being able to go out for the day, as sometimes he would be neutropenic, so was at risk of infections. His older siblings have also missed days out and holidays, like during June half term when Harrison was in hospital. Harrison is just a cheeky little chappy and always smiling.
Update 2nd November 2018
Harrison has had a rough 8 months this year with flu, line infections and bad infection on his lungs.
He is now doing well and he finishes treatment on the 18th December.
Update 7th March 2018
Harrison has been very ill the last 5 months, he has been in and out of hospital with line infections and viral infections. At the moment he is stuck in hospital.
Update 17th October 2017
Harrison is doing well, hospital are happy how he is responding to treatment. But as of late he is struggling with aches and pains in his body now.
Update 5th January 2017
Harrison has been doing well, but has had a few hospital stays because of infections.