Donate to childrens charity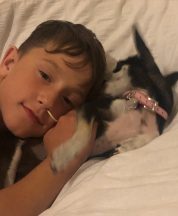 Contact Details
C/O 18 Whitworth Road
Portsmouth
PO2 7RU
United Kingdom


Email Pal
NB: this is a forwarding address for the Pal, we do NOT disclose home addresses
Other Information
Parents/Guardians - Kellie
Interests - He loves scootering and visiting our local skatepark! Liverpool FC. His fave things are Pokemon, fifa 20 and fortnite occasionally.
Favourite Colour - Red
Able to read? - Yes
Able to use hands? - Yes
Visually/hearing impaired? - No
Suffers from any developmental delay? - No
Siblings - aged 3 to 16 wishing to receive post
About - Jude A
Story written 2016
Jude was born at 28 weeks' gestation with severe lung complications. Sadly, shortly after he started to feed he developed problems with feeding and failed to thrive. He fed via jejunostomy for 2 years until he could no longer be maintained nutritionally this way and he started TPN. It soon became clear that fluid volume and electrolytes were an issue and Jude requires huge amounts of both to remain stable. He has to be on TPN 24 hours as he becomes hypo very quickly and cannot grow. Sadly, he has developed portal hypertension and his liver is affected. 9 months ago he listed for transplant after many bouts of line sepsis. He has had an ileostomy formed which has caused many problems as he instersucepts through it requiring a general anaesthetic to reduce. He has had total colectomy which has helped enormously but unfortunately not enough to prevent him from needing a transplant.
Jude is an active little boy who enjoys urban dance and has even won a few competitions! He is very bright and excels at school despite his lack of attendance. He is always happy and takes everything in his stride!
Update 7th July 2020
Jude had 6 months without an admission but sadly became unwell last week and had to go into hospital and we have been coming and out since. His day to day is still tough with ongoing dumping syndrome which we manage we IV fluids. He suffers with hypoglycaemia.
Lockdown has been good for Jude as he has been safe from viruses in the community and I think this is why we have had such a great period out of hospital!
Update 7th November 2019
Jude's been getting back into going to school for the first time in almost 3 years. Getting funding for the right care at school has been extremely tricky.
Jude continues to benefit from his transplant although is currently in hospital before surgery as he has what appears to be a hernia. He will finally get a gastrostomy and be able to remove the big NG tube.
Update 3rd April 2019
Unfortunately Jude is in hospital at the moment and rarely has even a few weeks at home. Jude continues to be septic regularly and is difficult to manage.
Obviously he received his transplant June 1st and his life has changed as he can now eat tiny amounts but developed dumping syndrome which makes life very hard as his blood sugar levels are affected. Jude has developed adrenal insufficiency. Life is very complicated and it's a very difficult road post transplant.
Update 15th November 2017
Jude is currently in hospital at Great Ormond Street with a fungal sepsis and has been very unwell again. He is still unable to attend school so is really missing his friends. Today is day 677 on the transplant waiting list x
Update 15th October 2017
Day 646 on the waiting list. Jude is now on an an IV regime which is quite hard for Jude as he has to sit still! Not an easy task for him. He is cycling IV antibiotics and antifungals now to try and keep him well for transplant. He has been septic so many times this year and it's just not safe. He is desperate to get to school but this is so complicated on this IV regime that he continues to be home tutored (he desperately misses his friends).
Update 5th June 2017
Jude has been extremely unwell with septic shock. He is still awaiting transplant day 513! He is unable to attend school full time as we currently don't have enough nursing. He attends once a week so is desperately missing his friends.
Update 15th February 2017
Jude remains on the transplant list. He has been home from hospital for three weeks after a long admission which kept him in over Christmas.
Sadly Jude is unable to attend school at the moment as he has no nurse to take him and education have yet to put a tutor in place so he is quite bored!