Donate to childrens charity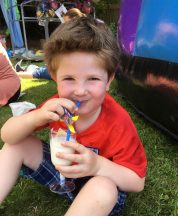 Contact Details
C/O 6 Stonards Hill

Epping
Essex
CM16 4QF
United Kingdom
NB: this is a forwarding address, we do NOT disclose home addresses
Other Information
Parents/Guardians - Lisa and Richard
Interests - He loves Fireman Sam, Paw Patrol and PJ masks. He also likes diggers, tractor/cars and lego. His walking has been affected a little by the leukaemia, he still loves kicking a football around/playing in the garden.
Favourite Colour - Red
Able to read? - No
Able to use hands? - Yes
Visually/hearing impaired? - No
Suffers from any developmental delay? - No
Siblings - aged 3 to 16 wishing to receive post
About - Hugo G
Story written 2016
Hugo was diagnosed with acute lymphoblastic leukaemia (ALL) in July 2015. It began when, completely out of the blue, he wasn't able to stand or walk. Over the following weeks he grew paler, was tired, off his food and his glands were swollen. There were a few trips to the doctor and a hip x-ray and then finally a blood test showed that he has Leukaemia.
Since then Hugo has had six months of intensive chemotherapy, hospital stays and operations. He is now in the maintenance part of his treatment, which will continue until September 2018. Life now is daily chemotherapy and other medication, some of which we can do at home, some of which is done at the hospital. He has weekly blood tests and regular trips to hospital. Life for all of us is very different from our pre-cancer life.
Hugo struggles a little with his walking due to some of the medication he takes, which means he finds it difficult to keep up with his big brother and his friends. It doesn't stop him trying though! He loves being outdoors and playing ball games. He is a big Paw Patrol fan and also loves Fireman Sam.
Hugo has been incredibly brave and always has a smile on his face. He is a very loving, caring and thoughtful little boy. He loves nothing more than playing with his big brother and having cuddles with his mummy. He is quite shy and sensitive, but his confidence is growing everyday and we are seeing a little cheeky side to his personality emerging.
Update 9th January 2019
Hugo finished his treatment in September 2018 and rang the end of treatment bell a couple of months later.
He has been doing really well off treatment so far. His walking had been slowly improving and is now coming on in leaps and bounds. He still needs the wheelchair and isn't as mobile as his little friends, but he's got lots more energy and loves running any chance he gets.
We were lucky enough to be granted his wish of a trip to Paris in December – a wish that was inspired by a postcard he'd received via Post Pals. It was a really special moment and shows just how much the post sent means to the children.
We will still be regular visitors to hospital with frequent checks and follow ups for long term effects, but Hugo is well and such a happy little chap.
We want to say a huge thank you to everyone who has sent Hugo and Henry post over the last few years. It has meant so much to all of us and has truly helped brighten some of our darkest days.
Update 18th July 2018
Hugo has been doing well over the last few months. His walking has improved, although he still needs regular breaks in the wheelchair and sadly he still struggles to keep up with his friends. He is just about to finish his first year of school. School has been great for him in building his confidence both physically and emotionally and he's really enjoyed it. We are now on a countdown until the end of treatment this September!
Update 15th October 2017
Hugo has spent some time in hospital recently with acute liver failure, probably caused by one of the chemo medicines he takes. He's had a little break from the drug and has now restarted at a lower dose. He has also had an MRI scan to check that his walking issues are not neurological or spinal. He's been very brave during it all and it was lovely to come home from hospital to lots of lovely cards. He has started school now which he is enjoying (when he manages to get there!).
Update 19th June 2017
Unfortunately Hugo's walking has continued to deteriorate (a broken leg in March didn't help!). He now has significant muscle weakness in his hips, legs and feet and possible bone thinning, caused by the medication he is on. He is currently unable to walk so is wheelchair or buggy bound. He is having regular physio and is due to start hydrotherapy sessions soon. We really hope he is back on his feet very soon. He also spent some time in hospital with a nasty chest infection a few weeks ago. However, he remains cheerful and always has a smile on his face and a cuddle at the ready. He loves all his post, as does his big brother Henry. Thank you very much to everyone who has sent post.
Update 6th January 2017
Hugo continues to respond well to his treatment and is generally well. Unfortunately his walking has continued to decline and he will be starting physio soon to try and strengthen his little legs. He has struggled a little with the winter bugs and there have been a few visits to hospital, but somehow he manages to keep a smile on his face. He loves receiving post, as does his big brother. They both get so excited whenever post comes through the door, it really helps to lift their spirits and we love seeing their smiles. Thank you so much to everyone who has sent post, it really makes such a difference and is so very much appreciated.