Donate to childrens charity
Link to Post Pals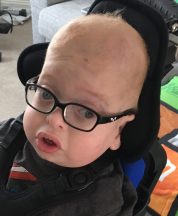 Contact Details
C/O 20 The Paddock
Dawlish
Devon
EX7 0EJ
United Kingdom

Email Pal
NB: this is a forwarding address for the Pal, we do NOT disclose home addresses
Other Information
Parents/Guardians - Lauren
Interests - Music, Singing, Mr Tumble, Peppa Pig, animals (particularly farm), Disney songs and movies, Sensory toys, sensory toys,painting, cause and effect toys.
Favourite Colour - Green
Able to read? - No
Able to use hands? - Yes
Visually/hearing impaired? - No
Suffers from any developmental delay? - Yes, non verbal but understands language
Siblings - aged 3 to 16 wishing to receive post
About - Henry D
*Henry cannot eat, please do not send food*
Story written 2019
Henry was born on 27th July 2015 at just 26 weeks. Henry stayed in hospital for the first 14 months of his life. When Henry came home he needed oxygen during the day and at night. Henry still requires oxygen at night. Henry has chronic lung disease along with other complications. Henry was diagnosed with a rare genetic condition called Costello Syndrome. Due to this condition Henry is much smaller than other his age. Around 400 people world wide have Costello syndrome. In August 2017 a lump was found in Henry's testicle, he was diagnosed with Rhabdomyosarcoma stage 1. Henry had this operated on and had chemotherapy, he is remission from this.
In October 2017 Henry was diagnosed with Hepatoblastoma stage 2 but as he had been well for some time it was decided to watch and see. Unfortunately this progressed at earlier this year Henry had a third of his liver removed, had more chemo and is now also in remission from this.
Henry started Pre-school in September 2018, he really enjoyed his time there and made great progress in lots of areas.
Henry is now in reception at school and really enjoys it, he has a small class who moved with him from Pre school along with his teachers.
Henry is such a strong, happy chap who loves going to school, visiting Little Bridge House (Children's Hospice), spending time with his friends and family. He has been on such a long journey but he is the strongest most determined little chap we know.
Update 1st October 2019
Henry has had a good month. He has been going to school full time which he really enjoys. Henry has just had another stay at Little Bridge House, I (Rachel, Henry's carer ) was able to go with him, this was a really special time. We enjoyed lots of activities together such as the Jacuzzi, messy play, sensory time, walks and music. Henry has made great progress with his communication, he is learning new signs and is able to use  these appropriately. Henry is just getting over a cold at the moment which seems to be lingering but he is coping well with it. Thank you for Henry's cheery post, he has had some wonderful books this month which we look forward to reading and lovely cuddly toys. A big thank you to everyone. A special thanks must go to Kim , Henry's monthly pal who send the most lovely thoughtful parcels. 
Update 1st September 2019
Henry has had a lovely summer. He has been out to lots of places with friends and family. Henry continues to be well (from cancer) although he will always have lots going on for him due to his condition – Costello Syndrome.
Henry had a lovely last minute stay at Little Bridge House (children's hospice) due to a cancellation. Whilst there he enjoyed the jacuzzi and snooze Ellen (sensory room) he also liked going for walks outside.
Henry starts school in September so we also went shopping for uniform and shoes. I look forward to updating you once Henry starts 'big school'.  Thank you all for Henry's post.  
Update 29th July 2019
Henry has been well over the last few months. He had his Hickman line removed (due to an infection) but that means he can now go swimming again, which he loves.
We have just celebrated Henry's 4th birthday, which was fantastic. We stayed in Andover for the weekend and went to Peppa Pig world. Henry has a great day.
Thank you to everyone for Henry's regular post and birthday post.
Over the summer we plan to have lots of lovely days before Henry starts school in September – so grown up !
Update 15th June 2019
On 14th May Henry travelled up to Birmingham children's hospital. On the 15th he went for his surgery.
Henry had a third of his liver removed in order to remove the cancer, unfortunately they found that this had spread to the muscle in his diaphragm, so they removed this also. Henry came around with a very impressive scar, he spent a few days in PICU before moving to the ward but unfortunately Henry needed a bit of extra help with his breathing so returned to PICU.
In true Henry spirit this was not for long and he moved back to the ward again. Henry continued to get stronger each day. Henry found it harder to tolerate feeds after his surgery which is what held his recovery up a little.But on Thursday 30th May Henry transferred back to Exeter hospital which is much closer to home.
He continued to make great progress, healing well and tolerating more feeds. It was decided that Henry could go home on Monday 3rd June, just 20 days after a huge surgery andhe went back to pre-school which he loves.
On the Thursday that week Henry had an appointment to go back and see his oncologist for the pathology results of what was removed. We are delighted to share that Henry's cancer was removed with clear margins even the disease that had spread. This means that Henry is cancer free and is now in remission from both Rhabdomyosarcoma and Hepatic Hepatoblastoma. Henry is truly an incredibly strong child.
Henry has just come back from a lovely week at Little Bridge House. Now the preparation has started on how we will celebrate Henry's 4th Birthday.
Thank you for his wonderful post- Henry enjoys looking at it all.
Update 8th March 2019
On 30th April Henry travelled up to Birmingham Children's Hospital to have his planned operation to remove the cancer in his liver on 1st May. Unfortunately for Henry and his family, just 15 minutes before going to theatre (all gowned up) Henry's operation was cancelled due to a family having a transplant call. Amazing for that family, but of course hard for Henry's family who had prepared for that day and the possible outcomes. Henry came home that day and his operation is now rescheduled for May 15th. Following that very difficult week, Henry had a lovely bank holiday weekend. Spending time with his family and friends. Henry went to the park and on bank holiday went to Crealy adventure park with his friends Arthur and Mabel. Henry enjoyed the rides and feeding the animals