Donate to childrens charity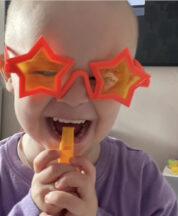 Contact Details
C/O 18 Pinfold Close
Hinckley
Leicestershire
LE10 0FP
United Kingdom

Email Pal
NB: this is a forwarding address for the Pal, we do NOT disclose home addresses
Other Information
Parents/Guardians - Sophie
Interests - Unicorns, Dinosaurs, Pop-its, Insects, Animals (sea and land), LOL dolls, Parks, Sand, Water, Beach, Family, Hatchimals and Blind bags
Favourite Colour - Pink and Purple
Able to read? - No
Able to use hands? - Yes
Visually/hearing impaired? - No
Suffers from any developmental delay? - No
Siblings - aged 3 to 16 wishing to receive post
About - Florence P
Florence was diagnosed with Rhabdomyosarcoma on 1st September 2021, however; we were at A&E and the doctors on the 19th August 2021.
Her tummy was looking larger than normal and looked as though it had a lump.  She had an odd temperature and was going off her food and drink. She isn't a massive eater anyway, but she usually loves her juice!
As a toddler, you don't expect her to have a big tummy like a baby.
The doctor sent us home saying Florence was constipated. Very strange as she was going to the toilet. The doctor found it hard to feel Florence's tummy as she wouldn't keep still and was getting very upset. They didn't give us anything apart from saying to ring back in 48 hours. Which I did, and he then suggested going to A&E.
When in A&E Florence had bloods taken, a urine sample and an x-ray which showed a lot of poo. Florence's bloods came back with an inflamed marker.
We were admitted over night to stay on a ward ready for an ultrasound scan the next morning. The ultrasound showed a 'lump' in Florence's abdomen area.
I immediately thought the C word and we were sent back up to the ward. Later on, they wanted to get an MRI to get some more detailed images of this 'lump'. Florence was sedated for the MRI scan.
When she was coming out of her MRI; a consultant and doctor were waiting to speak to me, they took me into a side room and said this 'lump' that Florence has is 'more than likely cancer'. They immediately wanted a CT scan to check her chest – thankfully her chest scan was all ok.
We were sent home for the weekend but to go straight back to Nottingham on Monday 24th August 2021 where she had her biopsy and a Hickman line put in.
Florence's biopsy finally came back on the 1st September 2021 as Rhabdomyosarcoma and she began her chemotherapy on the 2nd September 2021.
Florence has had 9 intense rounds of chemotherapy. She also had to have a pre-medicine because she had a reaction to one of the chemotherapies she had. She had an operation on the 25th November 2021 to remove her tumour as the chemotherapy had shrunk the tumour to allow an operation. They managed to get all of the tumour however, not all the margins were clear so, Florence had to have 4.5 weeks; 23 sessions of radiotherapy.
The whole time the doctors and nurses had no idea what Florence's tumour was attached to. Until, they opened her up on the operating table. They believe it originated from the bladder and attached itself to the bowel. The surgeons took the majority of Florence's bladder away but, it will grow and expand as she grows. They couldn't take much of the bowel as it can lead to a stoma bag.
Florence is currently having 6 months of maintenance chemotherapy. Florence has had and will still continue to have lots of scans, x-rays and check-ups. There are a lot of side effects to all these treatments she has had.