Donate to childrens charity
Link to Post Pals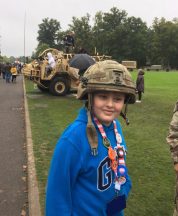 Contact Details
C/O 26 Haygrove Close,

Warminster,
Wiltshire
BA12 8SL
United Kingdom
Email Pal
NB: this is a forwarding address for the Pal, we do NOT disclose home addresses
Other Information
Parents/Guardians - Debbie
Interests - He is interested in lorries, diggers, tractors/ combines, He loves farms/ machinery / construction sites. He likes Disney, Star Wars, Peppa Pig, Build a Bear, dinosaurs. He loves Top Gear, Jeremy Clarkson, Richard Hammond, James May version. Jeremy kept us sane while we were in hospital and Finn's greatest wish is to meet him!!!
Favourite Colour - Green
Able to read? - He's learning
Able to use hands? - Yes
Visually/hearing impaired? - No
Suffers from any developmental delay? - No
Siblings - aged 3 to 16 wishing to receive post
About - Finn M
Story Written 2017
Finn was diagnosed with ALL on the 20.10.2015 after an earache that refused to get better. He was just 3 years old. Our GP sent us to our local hospital and they diagnosed Finn in an hour.  We were transferred to Piam Brown at Southampton two days later. They confirmed Finn's diagnosis with a bone marrow procedure. He started treatment the same day.
Sadly Finn had a reaction to the Vincristine and became very poorly. We spent literally the whole of induction in Piam Brown, seven very long weeks. Finns consultant later informed me that it was one of the trickiest ALL inductions that Piam Brown had faced.
My other son Archie, 8 at the time, suffered enormously. It was a very dark time in our family life.
Finn is now thankfully in remission and in the maintained phase of treatment.
We hope to remain positive over the next three years and try to live a normal life as much as possible although Finn has to have chemo every day.