Donate to childrens charity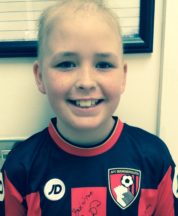 Contact Details
C/O 124 The Grove
Moordown
Bournemouth
BH9 2UA
United Kingdom

NB: this is a forwarding address, we do NOT disclose home addresses
Other Information
Parents/Guardians - Kerry and Dylan
Interests - Football, football, football! Supports AFC Bournemouth and idolises Ronaldo and Messi. Lives and breathes football - playing and gaining as much knowledge as possible about players and stats. Felix is an all round excellent sportsman and loves playing all sports when well. He enjoys XBox gaming, watching YouTubers Spencer FC and Oli White and Star Wars.
Favourite Colour - Red
Able to read? - Yes
Able to use hands? - Yes
Visually/hearing impaired? - No
Suffers from any developmental delay? - No
Siblings - aged 3 to 16 wishing to receive post
About - Felix B
Story written 2016
Felix was diagnosed with Acute Lymphoblastic Leukaemia in January 2016.  It came out of the blue.  Felix was an energetic, sport-loving, football-mad 10-year-old boy who that week had been on a school residential trip.  Before we knew it he was launched into a world of cancer, chemotherapy and hospitals.
Felix's diagnosis means that his life has changed irrevocably.  His treatment will last 3 years and 3 months; when he finishes treatment he will be 13 years old and we have no idea what the long term effects might be.  Felix spends a lot of time in hospital, he can't attend school and all social activities have ceased.  The most upsetting thing for him is that he cannot play football or sport.  We don't know for how long, but this is the thing he misses the most.
Life for Felix now involves daily chemotherapy.  Some chemotherapies he can take at home, or the community nurse visits us, or he has to go into hospital sometimes for up to 5 days.  He has to have regular blood tests, take daily medication for sickness and to prevent infection, regularly monitor his temperature and do mouthwashes to avoid ulcers.  There is no control over any of the treatment, which has meant he was in hospital over Easter, he missed his best friend's birthday party and we cannot plan any holidays.
Despite all of this he never complains.  His little brother asked him the other day what it felt like to have cancer and he replied "it's just normal".  He knows he is different to his friends now.  He cannot fool around with them, he has to be careful in case his port, which was surgically placed in his chest for IV access, is knocked.  He can't even eat the same foods as his friends any more.  To him though he has just adjusted and lives life a bit differently.
Felix does kick a ball around in the garden with his brother and he loves going to watch the mighty cherries, his beloved AFC Bournemouth.  He chills out playing XBox or watching his favourite YouTubers, Spencer FC and Oli White – he idolises these YouTubers!  He is a keen Eastenders fan and his all time favourite TV programme is 'Don't Tell the Bride'!  He is one of the kindest, most thoughtful boys who would do anything to help others.  He said the other day that he can't wait to be an adult so that he can help other kids, like people have helped him.
Being a Post Pal would help Felix by giving him something to look forward to.  This is the key to keeping him positive and looking to the future.
Update 5th January 2016
As Felix has now returned to school and is now on the less intense part of his treatment, he would like to let another child have the opportunity of becoming a Post Pal, as would Talia and Rufus.
We would like to thank you for you love and support. Post Pals made a very difficult time for us, far easier to cope with and for this we are grateful.
Update 6th October 2016
Felix is now in the maintenance phase of chemotherapy treatment for Acute Lymphoblastic Leukaemia. The phase will last until 2019. He continues to take chemotherapy tablets daily, up to 21 tablets a day, have weekly blood tests and regular clinic appointments. He continues to have a restricted diet and precautions still need to be in place because of his suppressed immunity. On the whole, life is much better for Felix and his siblings now that the intense phase of treatment has finished. He is attending school regularly and is back playing football which means the world to him. Rufus loves having his big brother back and going to school and alongside Talia are back to usual sibling stuff. We would all like to thank Post Pals for their continued support. There are still tough days and I don't how you do it, but you can guarantee when things are a bit tough, something will come through the post from Post Pals and perk us all up.
Update 16th August 2016
Post Pals is working tremendously for Felix, Rufus and Talia and truly uplifting their spirits, making them feel special and bringing a smile to their faces.
Felix has just finished the first part of Delayed intensification which involved an intense period of steroids, chemo and unfortunately an unexpected stay in hospital.  We are hoping that he will start the last two weeks of this phase of treatment, depending on his blood counts tomorrow.  The side effects of this phase have seen mood changes, weight gain, total hair loss for the first time and weak legs.  These will gradually subside.
I want to thank you and all your wonderful volunteers for helping Felix cope with this intense treatment whilst acknowledging the effect it has had on his brother and sisters.  For those Post Pals who have provided addresses he has written letters which we hope will be posted this week.  If we have omitted anyone we really do apologise.  Sometimes, it is quite chaotic and I can't always keep track of when and where they open the post!  They are always so excited.