Donate to childrens charity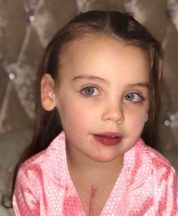 Contact Details
NB: this is a forwarding address, we do NOT disclose home addresses
Other Information
Parents/Guardians - Fay
Interests - Chanel like Disney Princess's, Mickey Mouse, Lol's, being girly with anything hair and loves nail varnishes.
Favourite Colour - Pink
Able to read? - No
Able to use hands? - Yes
Visually/hearing impaired? - No
Suffers from any developmental delay? - No
Siblings - aged 3 to 16 wishing to receive post
About - Chanel M
Chanel's brother has severe nut allergies, please do not send any products containing nuts to this family
Story Written 2018
Chanel was diagnosed antenatally with a rare congenital heart defect know as Hypoplastic Left Heart Syndrome with an Intact Atrial Septum – basically half a heart. She has required four open heart surgeries, the first being immediately at birth (The Worlds Youngest Ever Open Heart Surgery Patient), making medical history and paving the way for others born like her. Her most recent was August 2017 when she was 3 and half years old and was also the hardest physically and mentally for Chanel (The first Fontan on a HLHS/IAS in the UK).
Chanel has and continues to go through a lot in her life – she has been tube fed since birth, had a major stroke at 2 weeks old resulting in weakness to her whole left side and cerebral palsy (but learnt to walk at 2 and half years old with the help of a leg splint), had 24 operations and procedures in total, including 4 major open heart surgeries, but is the happiest, kindest, most beautiful little girl ever, always thinking of others. She is utterly inspiring and teaches everyone around her to always have hope. When Chanel deteriorates again she will need a heart transplant, but we take each day as it comes and have every faith that Chanel will deal with anything that may come her way with the same fight and determination she always has.
Chanel loves all things Disney, especially Mickey and Minnie Mouse and Princesses. She truly believes she is a real Disney Princess just like any little girl should. He favourite is Rapunzel. Chanel also loves Peppa Pig, taking photos, and board games with her two brothers.
Update 2nd December 2019
Chanel has struggled since the beginning of winter, with lots of bugs going around and she takes longer to get better than most but we have thankfully avoided hospital. She had her cardiac review and got another few months ok! She is so excited for Christmas now.
Update 1st September 2019
As of a few days ago and after being tube fed 5 1/2 years (since birth) she is now feeding tube free.
Update 21st August 2019
Apart from her new diagnosis of Epilepsy in January there has been no change health- wise, she has her 6 month check up October/November time.