Donate to childrens charity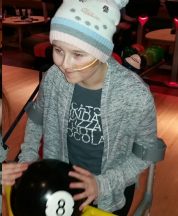 Contact Details
C/O 17 Meridian Road

Boston
Lincs
PE21 0NB
United Kingdom
NB: this is a forwarding address, we do NOT disclose home addresses
Other Information
Parents/Guardians - Karen
Interests - Arts and crafts, sticking and colouring
Favourite Colour - Blue
Able to read? - Yes
Able to use hands? - Yes
Visually/hearing impaired? - No
Suffers from any developmental delay? - No
Siblings - aged 3 to 16 wishing to receive post
About - Brooke R
Story written 2016
In January 2016 we took Brooke to her GP due to swelling of her right lower thigh, which seemed to be increasing in size. The GP suggested an X-ray which showed a malignant bone tumour, so she was referred to a consultant for treatment. She had an MRI scan and a biopsy on the 27th of January which confirmed osteosarcoma. Her chest CT showed two small nodules in her lungs but they aren't thought to be cancer at this time, so it's being classed as localised osteosarcoma.
Brooke had a Hickman line inserted in February, to start three chemotherapy drugs for ten weeks before surgery, then followed by 18 weeks of chemotherapy.
After six sessions of chemotherapy, Brooke had her operation to remove her tumour, she had to have a new hip, knee, and a titanium femur. She is now recovering from the operation and learning to walk again. Brooke still has 12 sessions of chemotherapy left and 12 months of physiotherapy.
Update 25th June 2017
Brooke is well and off antibiotics it seems highly unlikely for it to return now, so she would like to give up her place on Post Pals to allow another poorly child to access the fantastic support. We would like to thank Post Pals and everyone that has sent letters, parcels, e-mails etc. Through a very sad and tough time all this post kept Brooke going and gave her hope.
Update 4th January 2017
Now we are back home and together, Jaye feels she doesn't need to be a part of Post Pals any longer and feels that someone else can benefit from having her place. Brooke has only 3 more preventative meds to go then she can look at getting her central line removed.
Update 6th August 2016
As her hydrotherapy rehab was cut short due to illness, it took a good 12 days for the Doctors at QMC to get her well again. Because of this we are now having to stay in hospital until she finishes all the nasty chemo sessions, which is the end of September. She has already been in hospital for 4 continuous weeks, just another 8/ 9 weeks to go.
Update 7th July 2016
Brooke is still spending a lot of time in hospital, but she is now counting down the number of chemo sessions left to go. Brooke will be spending next week at the Birmingham Royal Orthopaedic hospital having intensive physiotherapy in the hydro pool and gym. We all have our fingers crossed that this will get her walking again.
Brooke and Jaye would like to thank everyone who has taken the time to contact them and sent amazing presents.