Donate to childrens charity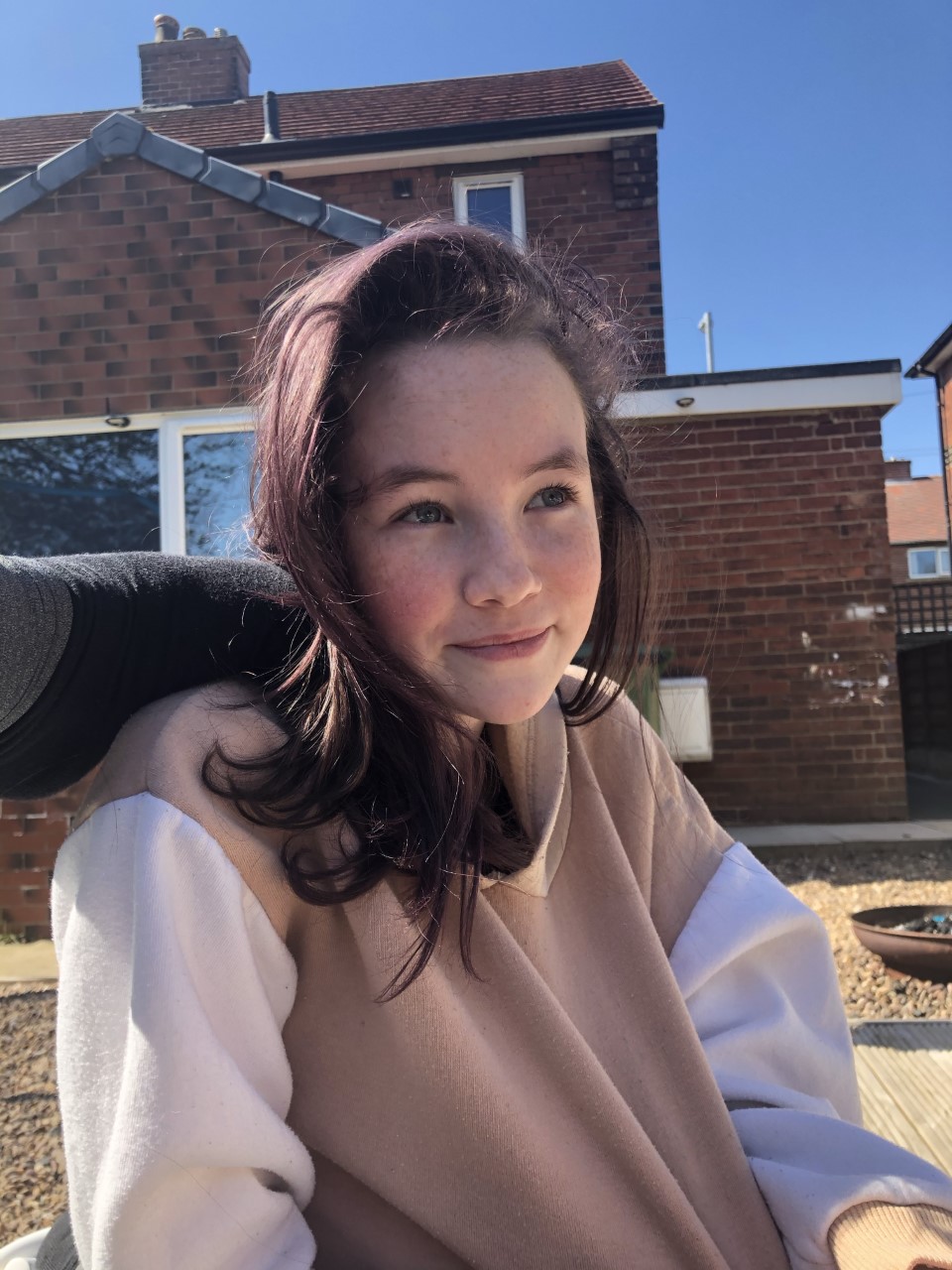 Contact Details
C/O 14 John Carr Avenue
Horbury
Wakefield
West Yorkshire
WF4 6JT
United Kingdom
Email Pal
NB: this is a forwarding address for the Pal, we do NOT disclose home addresses
Other Information
Parents/Guardians - Kelly-Marie
Interests - She enjoys playing sports, watching films, drawing, Harry Potters, jojo bows, nomnoms, reading, make up, gymnastics , dance and sports.
Favourite Colour - Pink and Purple
Able to read? - Yes
Able to use hands? - Yes
Visually/hearing impaired? - No
Suffers from any developmental delay? - No
Siblings - aged 3 to 16 wishing to receive post
About - Brooke H
Story written 2016
Brooke was born on the 18/01/08 at 7:27am, as soon as she was born the midwife noticed she had a distended stomach and she was taken to the special care baby unit. However, things quickly turned serious and within a few hours we were waiting for a bed at any intensive care unit that had a bed. The only hospital that could take her was Sheffield Children's Hospital. The following day Brooke was transferred via Embrace to there. When we were there nobody could understand why my tiny baby had not pooed and why her stomach just kept expanding. She had test after test but still nothing showed up. Finally at four weeks old she was rushed to surgery as an emergency case, where they discovered she had a perforated and twisted bowel. She had to have 10cm of her bowel removed and had an ileostomy fitted,this meant having to have a stoma nurse come in daily to ICU. At five weeks old she was diagnosed with cystic fibrosis, this also happened to be my other daughter's fifth birthday. At 11 weeks she had the ileostomy reversed. However, this did not stop Brooke from getting infection after infection, and she remained in ICU for five months, before finally being allowed home to her family. Throughout her stay she was hooked up to many machines, as she was also nil by mouth for four months.This was due to all the infections, surgery procedures and diagnosis of CF she had been through, so she needed lots of medication to keep her alive.
Since leaving hospital Brooke has suffered with an eating disorder, struggles to gain weight (currently weighs 2 stone 10lb at 8 years old) She also takes many daily medications, nebulisers, has physiotherapy and still after all this fights life like every day is her last. She is such a strong girl who enjoys every aspect of life.
Update 25th March 2022
Brooke us doing amazingly since starting the Kaftio in October 2020. She hasn't had a single admission or bowel blockage since starting it. Brooke is back dancing now and had her first competition last week although she ended up in A&E as she sprained her foot, it was weird being at the hospital for something normal!
Update 15th June 2021
We are just plodding along watching Kaftio do it's magic. Brooke has put on about 4 stone since starting Kaftrio in October , brilliant from a medical point of view but as she is nearly 14, weight gain is not something she wants too much of. She is due a full check up next month so hopefully we will have more news on the CF front. Regarding kidneys- all is stable and it's just a watching game, we are waiting for gastro appointment regarding the thickning bowel – but last appointment all was well. Brooke is back dancing so hopefully she can build her fitness back up after being away from it for a year. Her first competition is online next month – fingers crossed.
Thank you for all your letters, cards and gifts – you're all super stars! X
Update 26th March 2021
Brooke has been on Kaftrio for 6 months now and wow… weight has gone up 2 stone, she can actually wear age 11-12 clothes, usually we used to buy 6-7 leggings, but she can actually wear skinny jeans and they fit – no bagging anywhere. She's just gone back to school and is doing great. Her lungs seem great too. She hasn't had a bowel blockage since starting Kaftrio, which is amazing as that was a regular occurrence. All in all we are blessed to have Kaftrio.
Update 7th February 2021
Brooke started Kaftrio in October and the improvement is amazing- lung function is up 10%, her weight was up 1/2 a stone and her chest is clear!
It was thought she had IBD but after further investigations it became clear that the thickened bowel wall found last year is actually just Brooke's bowel and it should not cause any problems, the problems with her bowels are CF related – so that was a relief. Hope you are all staying safe, and thank you for all the cards/letters/gifts. You are all special people.
Update 7th June 2020
We are still waiting for the results of her last set of tests for the gastro team to confirm the bowel issue. The Nephrocalcinosis department have confirmed they are happy is she is stable and the Cystic fibrosis team are happy with lung function, weight and over all with her cf at the moment. We are happy with the news this week regarding the amazing new drug Kaftrio hopefully being available to Brooke within a few months!!
Brooke is not back at school until September but she seems happy with being at home and has handled lockdown and shielding extremely well!
I hope you all are keeping safe and fingers crossed normal times are not too far away. xx
Update 21st April 2020
Brooke is doing ok considering she's an active child with the lockdown, health wise she's grown pseudomonas again, so is on another 3 month treatment, which sucks!
We are also waiting for gastro specialist appointment regarding the bowel issue that flagged up during the Nephrocalcinosis investigations, it is thought that maybe Brooke also has Crohn's disease as well as Nephrocalcinosis and cystic fibrosis, which also sucks!!
Thanks for all the post guys- and please stay safe during these uncertain times. xx
Update 28th November 2019
Where to start? Brooke is having a tough time lately, having recently been diagnosed with Neprocalcinsosis (can't spell it ) kidney calcification, we also got tildes after a scan 2 weeks ago she has gallstones however these should pass without any help, during the scan they also found the lining/wall of her large intestine is thickening so this needs further investigation and then to top it off yesterday we got the call to inform us she has pseudomonas!! Which is not great for her lungs!! She was extremely upset yesterday as I think she's starting to understand how serious her conditions can be!!
Thank you for your post it really does make her smile xxxx
Update 2nd October 2019
So the kidney specialist has confirmed Brooke has Nephrocalcinosis in both kidneys not just 1 as first thought. They think it may have been caused by the TPN she was on as a newborn but that can't be confirmed. It's a life long condition that needs to be checked every 6 months and there's a few things we need to try and balance, as some of her CF treatments can worsen the Nephrocalcinosis, but obviously without the CF stuff it's life-threatening so we need to try balance everything so that both conditions don't cause anything for each other (confusing I know). Thankfully no medication is needed yet as it's been found early enough to prevent it from worsening. Also instead of putting Brooke through the same sort of tests twice, the two consultants are going to do them all at the same time and use the same results, probably her CF annual tests!!! So that's a bonus, my crazy child likes to mix things up that's for sure.
Update 1st October 2019
We are just waiting to see the new specialist regarding the Nephrocalcinosis. In regards to her Cystic Fibrosis her weight is up, height is up and lung function in the 90% … go Brooke
Update 2nd September 2019
Brooke has recently been diagnosed with Nephrocalcinosis, so as well as battling CF she has this to contend with, as well as starting high school – but in true Brooke style she is taking it all in her own stride.
Update 10th August 2019
Brooke is having a great year so far, with some amazing weight gains and growth. The consultant actually said "in 11 years she's weighed 3.5st, yet in 6 months she's put a stone on, its amazing"
Brooke is now looking forward to the next adventure in her life in September – high school
Update 16th June 2019
Brooke has had an awesome year so far health wise actually putting on a ridiculous amount of weight for Brooke anyway.
Update 10th February 2019
Brooke has had quite a year battling CF, but she's a tough cookie who takes it and deals with it!! Her weight took a drastic drop over Christmas due to having the stupid flu bug thing, so we are fighting hard to try get some back on.She's also suffering with a lot more coughs and bowel problems than normal, but again we're just battling through!! She's still in high spirits and continues to take part in her out of school activities!! Thank you for all the cards and gifts, much love.
Update 2nd November 2018
After a tough year with Brooke's bowels ,yesterday was a shock at clinic, we had the best ever clinic with weight and height up ( now up to 4 stone at nearly 11 years old) and best ever lung function test at 97%! We are still not out of the woods regarding her bowels, but we have had the best most positive clinic, which is an amazing feeling.
Update 15th September 2018
Brooke is struggling – this year has really tested her with her lungs and bowels, however she is a fighter and refuses to let CF beat her.
Update 18th July 2018
Brooke has a tough year with her CF, she's been in hospital again due to a blocked bowel, luckily no surgery was needed, however plenty more medication unfortunately.
Other than that she's doing good. Thanks for all your beautiful gifts/cards and letters
Update 8th January 2018
Brooke's condition has really started to show its full extent this year- having her lung function up and down all year, taking longer to clear coughs, having blocked bowels, losing weight drastically and breathlessness more often. Brooke is starting to understand a little more now and for a 9 year olds parent it's heartbreaking to listen to her say she just wants to be normal. Her daily medication is more than an average adults monthly intake which is hard for us to see her struggle with her "normal routine" when all she wants to do is get up and play.
Update 2nd October 2017
Brooke is ok at the moment- she had her first breakdown this week about having CF, lots of tears about her wanting to be "normal"!! This was truly heartbreaking for me. Her health is a bit hit and miss at the moment – needing treatments more and becoming more breathless after activities. We will be getting her checked at next clinic in next couple of weeks.
Thank you for all letters and gifts Brooke and siblings have received.
Update 22nd August 2017
Brooke is doing really well especially after the last couple of months, she's got her lung function up into the 80's again which is super considering the lung damage that was caused from that awful infection.
She's continuing her activities and annoying her siblings this summer and is looking forward to going into year 5 in two weeks, thank you for all the post and gifts including a big thank you to the extra smiles team.
Update 5th June 2017
Brooke's had a really tough time for the last couple of months, for the first time in 6 years CF took a grip and she is struggling to get rid of this infection in her lungs, it's already caused some permanent lung damage to the right lung, which is really disheartening for us all.
She's been in and out of hospital for about 5 weeks and is currently still on two lots of IV medication 3 times a day, as well as intensive physio sessions plus 3 x nebuliser a day. It's taking its toll on the family but Brooke being Brooke is just taking in her stride and plodding along, even going to school and trying to be normal with her long line in. All in all a tough few months, but we won't let CF beat us! Thank you for all the gifts and cards and an even bigger thank you to Post Pals Extra Smiles!
Update 1st May 2017
Brooke has started to feel the effects of CF recently – having a cough that won't go, trying different antibiotics and back to twice daily physio and nebulisers. We've had clinic and the consultant says it's the start of the decline. We were also shocked to discover that Brooke's CF genes are class 1 and 2 mutations are on her records as severe.
She is still ok within herself so that's a bonus I suppose. She also doesn't understand the full extent of her condition which is a blessing.
She is still very active doing all her clubs to help her lungs try to stay clear.
Update 4th January 2017
Brooke has had a continuous cough for a month or so. We have tried extra antibiotics for 2 weeks like usual, but this hasn't cleared it, so we are currently on the second 2 week course and hoping these will work. The next check up is February so fingers crossed it's cleared before then, otherwise she might need to be admitted for IVs. We have all had a fantastic Christmas enjoying the sun of Cape Verde. Came home for Christmas Day to all her presents.
Thank you to every single person who has sent any post/gifts to all our family, including me 🙂 We really appreciate it and wish you all a super year xxx
Update 4th November 2016
Brooke has been to clinic again since our last update, she has put a very small amount of weight on but grown over a cm in height!
She's been having a lot of aches and pains which is unusual and I'm quite concerned, I have mentioned them to her consultant who says to keep an eye on her.
She has recently started swimming lessons in the hope it will also keep her lungs clear! Other than that nothing major has happened, we are just plodding along trying to stay well. Thanks to all who have written and sent gifts
Update 2nd October 2016
Brooke has been doing quite well since our last update, she's had a few coughs but nothing major, she's still struggling with food and weight gain but that has become the norm. She's still taking part in her dance and other activities, and recently took part in an inter school cross country competition – to take part is an amazing achievement for anyone, to come 2nd by been pipped on the line for 1st place for a young girl who has cystic fibrosis is an even bigger, amazing achievement and that is what Brooke did- she came 2nd out of about 40 girls from our district!! She did collapse over the line and did struggle to breathe but with me there we brought her round quite quickly so no hospital treatment needed!! I was the proudest Mum in the whole world that day, she just never ceases to amaze me!! She's also had her dance exams this weekend and performed brilliant. Thank you post pals for all the kind encouraging words she receives, it's very much appreciated!
Update 6th September 2016
Brooke is doing really well at the moment, at last clinic she had a little tickle so she is on extra antibiotics as a precaution. Her weight is still a concern, but I think we are all getting used to the idea that Brooke will only put tiny amounts of weight on each clinic visit. Thank you everyone for all your post.
Update 7th August 2016
Brooke's doing quite well at the moment, she has got a slight cough which we need to keep an eye on. She lost weight at her last clinic, so we need to keep an eye on that too.
Other than that she's doing well, enjoying the school holidays. Thank you for everything that the children have received, we are truly grateful.
Update 7th July 2016
We are having a tough eating month, for some reason Brooke seems to be eating less and less and the last thing I want is for her weight to drop, as she hasn't got enough to lose. I'm going to let the clinic know when we go. She's also been a bit chesty, but nothing I'm too concerned about at the moment. She is quite well in herself thankfully and has just had a dancing competition.She danced amazing and made it to the final in under 12 street dance, which is an awesome achievement at 8 years old! Thank you to all you amazing people for all the letters, cards and gifts that all my children have received, we are extremely grateful.
Update 2nd June 2016
Brooke has been to clinic this morning for a check up, her CT scan has come back clear so that's a massive positive. She has gained 200g in 8 weeks, so there's still lots of concern over that! In herself she is still doing well, lots of exercise to try keep her lungs healthy. She has recently started athletics as an extra activity.
However, she's had a pretty tough bank holiday weekend, on the way to Chessington World of Adventures we were involved in a serious car accident on the motorway.Our car was a write-off, but somehow we all walked away with minor whiplash.Brooke and Kendall were in the back seats and took most of the impact, causing both to bang their heads and more serious whiplash!! However we tried not to let it spoil our weekend.
Update 3rd May 2016
Since our last update Brooke had to have a CT scan due to the drop in her lung function, we are still waiting on results though. She handled it very well, even having a cannula fitted without numbing cream. She has started to become more breathless after exercise, which is unlike her, so hopefully at next clinic we can get that mentioned. She has started another activity to try and help with more exercise- running, so hopefully this will help build her lung function back up. She is fine in herself, but she is starting to understand she's different, and gets upset regarding her illness- which is awful for us.
Thank you for all the gifts/cards they've received, we are truly grateful.
Update 2nd April 2016
Brooke has been to clinic again since our last update, she had a small weight gain and a big height gain so we're hoping that this means she's getting enough nutrition. Consultants are still concerned about her weight though. Also her lung function has been dropping over the last year, so we are just waiting for a CT scan for her lungs, to see if there is any damage that may be causing this. She has also been falling quite regularly, but we have been advised to just keep an eye her, as it could be due to the massive height gain. Also we have finally found out what her second gene is, it's an extremely rare one and not much is known about it.But this will help the other 3 children when they are older to decide if they want to find out if they are carriers. Other than all the above she is doing well in herself and is looking forward to going back to school after the Easter break. Just want to say a big thank you to everyone for all the gifts and post that has made my brave princess smile.
Update 3rd March 2016
Brooke is doing quite well at the moment, she doesn't have a cough which is great for her lungs.However, we are struggling convincing her to eat her meals. This is not good for her weight gain, because if she does get a cough it will be harder to fight infection. She has started to try do her own medication with supervision, which is fantastic.
She's doing really well at school and is still dancing regularly to try and keep her fit.