Donate to childrens charity
Link to Post Pals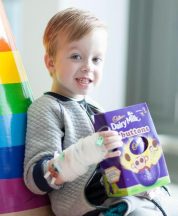 Contact Details
C/O 47 Brooke Avenue
Garlinge
Margate
Kent
CT9 5NG
United Kingdom
Email Pal
NB: this is a forwarding address for the Pal, we do NOT disclose home addresses
Other Information
Parents/Guardians - Samantha
Interests - Blakely enjoys computers and ROBLOX, he has started drumming lessons and enjoys anything musical.
Favourite Colour - Red and Blue
Able to read? - Very basic words - like his name
Able to use hands? - Yes
Visually/hearing impaired? - No
Suffers from any developmental delay? - No
Siblings - aged 3 to 16 wishing to receive post
About - Blakely A
Story written 2017
Blakely failed to thrive as a baby and was enterally fed from a few weeks old. He failed to meet his key milestones and then enterally feeding caused him excruciating pain. At nine months old Blakely was started on TPN on which he has thrived and has caught up on all his milestones. Unfortunately, TPN comes with great risks and none greater than sepsis; Blakely has had sepsis approximately 80 times in his life and is now on his 11th Hickman line. He is rapidly running out of access and each hospital admission is becoming harder with Blakely being more aware of what is coming next.
Update 9th February 2019
Blakely's health has been much more stable over the past few months and now has one night off TPN!! However, he is starting to struggle with day-to-day life and explaining his emotions and feelings.
Update 2nd September 2017
Blakely's health has been a struggle the past month but is slowly improving and with the start of school coming we are hoping for a good spell of health over the next couple of months. Blakely loves swimming and loves being in the water. Thank you to everyone at Post Pals for brightening Blakely's smile when he is having a bad day.