Donate to childrens charity
Link to Post Pals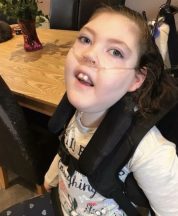 Contact Details
C/O 8 Ditton Way
Ipswich
Suffolk
IP3 8GL
United Kingdom

Email Pal
NB: this is a forwarding address for the Pal, we do NOT disclose home addresses
Other Information
Parents/Guardians - Debbie
Interests - Ava is a huge Disney fan, especially Belle, Cinderella and Moana. Smelly body lotion and noisy books.
Favourite Colour - Purple
Able to read? - No
Able to use hands? - No
Visually/hearing impaired? - No
Suffers from any developmental delay? - Yes, but understands everything you say to her.
Siblings - aged 3 to 16 wishing to receive post
About - Ava S
Ava was starved of oxygen around the time of her birth. She was extremely poorly as a newborn and was rushed to intensive care for specialist treatment. Unfortunately, Ava sustained a massive brain injury and suffered lots of seizures. Her prognosis was not good, so on the advice of the hospital we switched off Ava's life support machine and prepared for her to pass away. However, this determined little girl decided that it wasn't her time to go and has decided to show the world just how much love and joy she can bring into everyone's lives.
Due to the brain damage Ava has, she can't walk, talk, swallow safely or use her body the way it was supposed to. She requires full adult support 24/7. She is fed through a gastrostomy tube into her tummy, is suctioned frequently to remove the saliva from her mouth and airways, and is oxygen dependent.
Ava has fought sepsis three times and has spent time in intensive care due to a twisted colon, which was removed and she lived with a colostomy bag for nine months before surgery successfully rejoined her bowel, and then again for a respiratory arrest.
Ava has lots of medications during the day and often uses a nebuliser to keep her lungs healthy.
Despite all of these problems, Ava is a very happy and sociable little girl who is loved by many.