Donate to childrens charity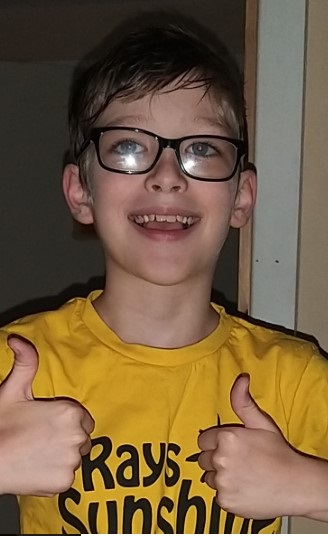 Contact Details
C/O 44 Middle Cross Street

Leeds
West Yorkshire
LS12 1NR
United Kingdom
Email Pal
NB: this is a forwarding address for the Pal, we do NOT disclose home addresses
Other Information
Parents/Guardians - Sara and Dave
Interests - Performing Arts and gaming, Roblex figures and Pokemon cards.
Favourite Colour - Orange
Able to read? - Yes
Able to use hands? - Yes, but has difficulty with fine motor skills
Visually/hearing impaired? - No
Suffers from any developmental delay? - No
Siblings - aged 3 to 16 wishing to receive post
About - Aidan H
Story written 2016
Since he was born, Aidan has been in and out of hospital with regular chest infections and viruses which really knock him for six. He now has a portacath and goes into hospital for two weeks every three months for IV antibiotics to be put through his portacath to try and keep him well. He is also fed through a gastrostomy after it was found he had an unsafe swallow.
As yet, we do not have a full diagnosis which explains Aidan condition. It is believed he has an undiagnosed genetic condition. We do know he has Ehlers-Danlos Syndrome which makes fine motor things such as writing quite difficult. He has to use special pens to help him write. He has recently started to enjoy Lego which has been really good at developing his fine motor skills.
Due to the number and frequency of his infections and viruses it is thought he has an issue with his immune system. He goes into hospital for a day every three weeks to have an infusion of immunoglobulin to try and boost his system.
Despite all this, Aidan is a happy chappy and nobody who meets him ever forgets him!
Update 18th June 2021
Both Aidan and Rhiannon are currently receiving some new referrals and both looking at tests being carried out in the near future. Aidan also had a few days in hospital last week, his first for a while. Rhiannon especially is having a bit of a hard time with pain being a very real problem. They both continue to appreciate the letters of support they receive from Post Pals!
Update 26th March 2021
Both kids have been having various appointments with Rhiannon especially needing more referrals and even a hospital admission. We have been shielding again so things have been generally quiet. We thank everyone who thinks of us for the post. They have brightened what has otherwise been a very tough year.
Update 1st November 2020
Both children have now returned to school, but at the same time appointments and tests that had been on hold are now coming in thick and fast. A couple of new things for both of them has also meant new referrals. But as always, they continue to take them all in their stride.
We once again thank everyone who has sent post. This last 6 months has been hard on all of us complex families, but the post they receive always makes them smile.
Update 20th August 2020
Aidan has Ehlers Danlos Syndrome alongside other yet undiagnosed genetic conditions. He has daily pain in his joints, suffers random reactions, struggles to eat and drink due to swallowing problems, so has a feeding tube. He has had a few recent appointments and now has extra medication.
Update 1st October 2019
As things stand, we are still waiting for certain consultant reports to come through. This will hopefully give us a better plan moving forward, for both of the kids. Things have been a bit all over the place recently, but the post they both receive always brightens their day, which in turn makes us smile. It really does have a cheering affect on the whole family during the darker days. For that, all of us thank all of you
Update 1st September 2019
Aidan has been struggling recently unfortunately. This is due to an increase in his pain levels and also more fatigue. He has been having a few more falls too. As a result, we have had a few long meetings and he will have a couple of new referrals as a result. These also apply to Rhiannon as it's best if we get them both looked at together to get the whole picture. Aidan continues to be his usual smiley self and takes most of it in his stride, however we have had a few more tears recently. The post he receives from Post Pals is always guaranteed to bring a smile. So thank you one and all.
Update 24th June 2019
Aidan is holding his own at the moment! We have had to increase one of his medications to keep things in check. We have a big meeting coming up to help us decide on the way forward for him. It is also looking likely he will need a trip to theatre in the very near future.
Update 17th November 2018
Aidan is having a bit of a mixed time at the moment. He is very stable from a chest point of view which is awesome as this was a major area of concern for everyone. However, this stability is throwing up a number of other concerns as they become obvious. A new referral to one specialist has also led to a further referral to another. His joint pain and fatigue are also on the increase which is being monitored closely. From a stomach and eating point of view there is no change. Still suffering pain but doing his best. Despite all this, he continues to be a smiley happy chap. And nothing makes that smile as big as the post he receives from you amazing people. Thank you
Sibling Rhiannon is also struggling with her joint pain increasing, but she is facing it head on and with such strength.
Update 10th September 2018
Aidan continues to really struggle with pain in his gastrostomy, as well as increasing pain in his joints. He has now been referred for more testing too, connected to problems that have re-emerged after the immunoglobulin therapy stopped. We will hopefully get these tests soon to move forward.
Update 2nd June 2018
Aidan is finding things a little bit tough at the moment. He is really struggling with pain and his energy levels are low. There has been a deterioration in his joint issues and we are waiting to see his consultant in the next couple of weeks about this. His gastrostomy was changed in the last couple of months,but it sadly hasn't helped the issues he has been having. It's even left us with a stoma site which is actually more "leaky". He is also waiting for further swallow tests as a couple of his team still have concerns around his ability. Despite all this he continues to be a happy boy. The post he receives especially brightens his day. A huge thank you to everyone who sends him and sister anything.
Update 2nd January 2018
A huge thank you to each and every one of you who has sent Aidan H and Rhiannon cards and parcels during December. Between his birthday and Christmas, Aidan received so many beautiful cards. A massive thank you to everyone who sent anything during 2017. It was a huge source of comfort and smiles during a very difficult year.
It has ended with Aidan back on the surgical waiting list, waiting for his problematic gastrostomy to be changed. We are also having a number of issues with weight gain, meaning that we have had to reincrease his tube feeds. There are also re-referrals back into a couple of therapy services due to some deterioration, as well as widening gaps between him and his peers.
Update 4th October 2017
Aidan is currently having a rough time with his feeding tube. We are therefore waiting for a surgical review to try and get it moved and changed. He is also finding school much more difficult this academic year, leading to many phone calls and emails.
Rhiannon has now started high school. A few teething problems, but on the whole she is getting the much needed support to get her through. We also have an exciting month coming up so watch this space!
The post they both receive brighten their days so much.
Update 21st August 2017
Lots of appointments at the moment for both children. A few tough days for Aidan. Eating has not really progressed meaning we have had to delay dropping more of his tube feeds. His gastrostomy has been giving him one or 2 problems too meaning we suspect it may need to be changed soon. A couple of busy exciting months coming up so we are doing absolutely everything to keep him going!
Thank you as always for the lovely cards, gifts, emails answer general well wishes. They make those darker days just that bit brighter giving us a light to see through them.
Update 5th June 2017
Aidan has had another busy month of appointments but still continues to be unable to drink due to his swallow not being safe. He has also enjoyed another short course of hydrotherapy and we await a final assessment on the impact it has had and whether we can add this in as a long term treatment. June will bring another couple of big meetings to discuss a way forward/next steps. This month, we have also had Rhiannon's birthday, so we have had parties and family time which he has thoroughly enjoyed.
Unfortunately, Mum has spent time in hospital again but is slowly on the mend now. We also have Rhiannon undergoing a minor operation on the 8th of June so hospital continues to be a factor for us as a family.
Post Pals continues to be a shining light for the children and we thank everyone who has sent cards and parcels. Sorry that we haven't been able to thank you all personally.
Update 1st May 2017
Aidan can now eat, he has been doing relatively ok. He has restarted hydrotherapy for a month, which he absolutely loves. He has also had another swallow test to see if he can start drinking but unfortunately he failed this. As a result, he has ended the month with a chest infection. While he is feeling unwell with it, he is not allowing it to stop him and so far we have managed to keep him out of hospital. Once again, your letters and parcels have been a big highlight of another generally difficult month within the family. Each and every one received bring huge smiles to the faces of both children.
Update 2nd March 2017
Tough start to this month with Mummy in hospital. Aidan is doing quite well though. He has had a chest infection but for once we managed with just treatment at home. We have now also been able to progress from purees to some normal foods and he is loving it! We have yet to find something he doesn't like!
Rhiannon has also found out this month that she will need her 6th ENT surgery, but we have yet to receive a date for that.
Your letters and cards continue to be a great source of joy and comfort to both children, so thank you.
Update 4th January 2017
Both children received so much Post in December! Aidan had both Christmas and his birthday to celebrate! Lots now coming up in the coming months for both of them. Lots of tests and a couple of new therapies. Thank you so much Post Pals for your continued smiles.
Update 4th November 2016
Good month overall for Aidan. Kicked off with a great weekend at Chessington!! It was great to spend time with other kids and parents who understand just how difficult it can be when your child is unwell, especially when it comes to chronic conditions. Thank you Post Pals. His infusions continue. We are still trying to persevere in getting him eating orally. This is proving to be very slow going though. Rhiannon has had extra referrals added to her list. November is going to be busy as we have lots of appointments, meetings and an admission for Aidan. We are hopeful that all this will give us a bit more direction overall in terms of treatment and care for both of the children.
Update 2nd October 2016
Nice quiet month for Aidan really. A couple of hospital reviews and back to school! The latter is wearing him out but we are monitoring this. Both Aidan and Rhiannon love receiving post and will sit together to open any that comes. It's just about the only time they aren't arguing! Thank you all.
Update 5th September 2016
August has been a fairly quiet month for Aidan. Still had a few appointments, but no real big ones! He has remained fairly stable health wise. One or two small blips but they have been handled without the need for admission! However, we have noticed a drop in his energy levels with fatigue kicking in much quicker than before. He does have a new wheelchair coming following a reassessment, so hopefully this will give him back some independence. Now counting down the days until the return to school.
Update 7th August 2016
While not 100% well, Aidan is currently in a reasonable spell for him, but is still having problems with moving forward in terms of eating. We do have a couple of big appointments coming up in the next month or so, which we hope will help give us some answers moving forward. Aidan is still loving receiving his post and we have to read them over and over to him!
Update 7th July 2016
Aidan started the month in hospital having IV antibiotics. While there he received his brilliant Minion balloon, which is still going strong! He has also had a difficult month with gastrostomy problems and is in pain.
Both Aidan and his sister received lots of lovely cards and letters as well as a few gifts so many, many thanks. They both love receiving post.
Update 2nd June 2016
Aidan is finishing the month back in hospital for his planned IV antibiotics. He has actually done pretty well this time, and even though he was starting to be unwell as he came in, he wasn't as poorly as he has been at this stage in the past. He is still loving receiving things from Post Pals so thank you all.
Sibling Rhiannon has also had a couple of appointments and will also now start to receive some of the support she needs.
Update 2nd April 2016
Aidan started the month in hospital, finishing off some IV antibiotics. He then had to go back into hospital for a gastrostomy change. We had a couple of fairly good weeks but he has ended the month with another chest infection. So far, we have avoided admission and have everything crossed, so we can manage at home. The post he has received in his first month as a Pal has been amazing and certainly put smiles on the faces of both him and Rhiannon. Thank you!
Update 3rd March 2016
February has been a very busy month for Aidan. The most exciting thing for him was being accepted as a PAL! He spent the last two weeks of the month in hospital for his antibiotics. This was a very difficult admission with lots happening. One good thing to come out of it was that he had a swallow test. As a result we can now start introducing tastes. This is the first step in a long journey to eating again. We look forward to seeing what March will bring!