Donate to childrens charity
Link to Post Pals
We have won an award!
Jun 2, 2008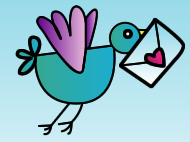 We have some brilliant news – Post Pals has won "The Queen's Award for Voluntary Service"! One of only 76 given out this year to charities and organisations throughout the UK!
We have some other good news too. Pal Alice P is finishing Chemo this month as well as Jacob H who is finishing 3 and half very long years of chemo. A big congratulations to them, it would be great if we could get lots of congratulation cards sent to them.
Last year Post Pals took part in "The Great British Duck Race" where 170, 000 sponsored rubber ducks were floated down the Thames. We raised over £100 but are hoping to double that this year. If you would like to sponsor a duck you could be in with a chance of winning £10,000 or another great prize.
Tomorrow (3rd June) we will be in The Sun – the largest selling newspaper in the UK. We are really hoping lots of people will log onto our site and send a card, email, little gift or letter and brighten a child's day.
I will sign off with a picture of Alex William with his Post Pal cards on his birthday.