Donate to childrens charity
Link to Post Pals
Smiles in a box!
Nov 23, 2011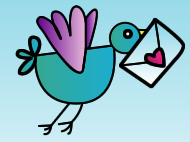 Wow, what a week last week was for Post Pals. Alongside normal post we sent 123 balloons! It was quite a feat of planning, organisation and most of all kindness that saw 123 smiles being created!
Trustee Steve works for City Link, he spoke to them about Post Pals and they asked how they could help. We scratched our heads for 5 seconds before realising we could do what we have wanted to do since we begun (which by the way is 8 years ago next month!) SEND A BALLOON TO LOTS OF KIDS! Balloons by Post kindly gave us a generous discount, while we picked a design for each child (including a bat design for a child with an obsession about bats,a Mickey balloon for a child who adores Mickey cartoons etc) they planned how to blow up 123 balloons in one day! City Link kindly agreed to pick up all 123 large boxes and deliver them the next day for free. They only just managed to squeeze them into one large van!
Here is a tiny selection of the smiles created, I wish we had room to share them all.
Seraphina being a "Seraphina in a box", its blurry as her Mum said she was being 'a gigglepants' (can you believe only a few days before she was rushed to hospital in a high dependency ambulance and is extremely poorly at the moment?).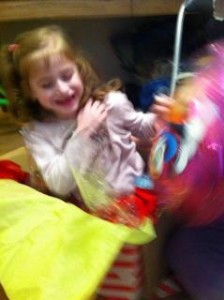 Lewis peeking out behind his balloon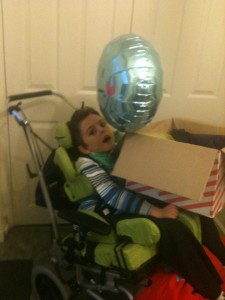 Caitlin had just come out of hospital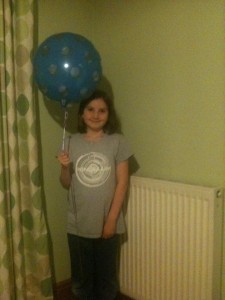 Courtenay's raised a smile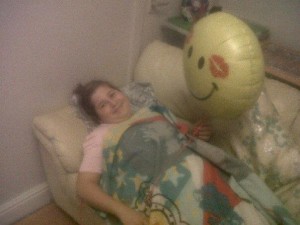 James wouldn't stop crying every time his Mum took me out of his chair and therefore away from his balloon which he played with non stop!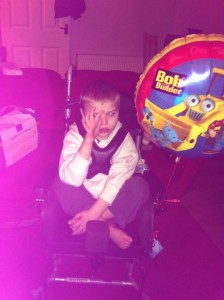 Do you think Nico liked his?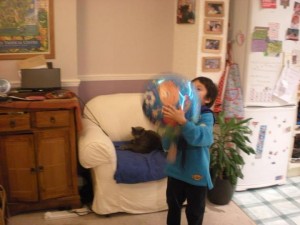 Megan and Joe (Megan had an 8 hour operation yesterday and is need of TLC)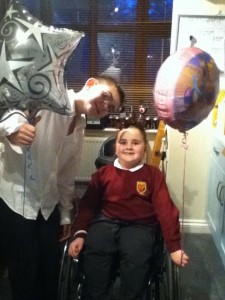 Aaron had been sent home poorly from school that day, here he is with his brother Matthew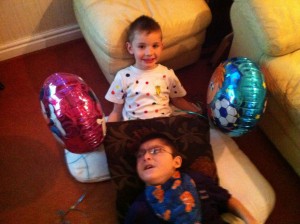 And finally Lennon and Isla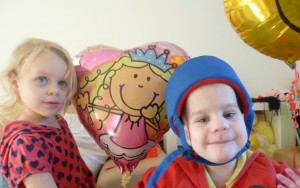 A big thank you to Balloons by Post (especially May), City Link (especially Sam) and our fundraisers who kindly fundraise and donate to make these smiles possible.
If you would like to donate to fund projects like this, please see our donate page.