Donate to childrens charity
Link to Post Pals
Samantha H
Apr 16, 2008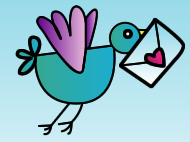 We are very sad to say that Samantha H passed away on the 15/04/2008.
She loved receiving post and probably received more than any other Pal. One day she was crying during chemo and nothing would stop her crying. They gave her the post she had been sent and out of the card tumbled some confetti stars. Instantly, she stopped crying and spent the next 20 minutes making pretty patterns.
She inspired many around the world and will be missed by so many people.
Thank you to everyone who took the time to send some post to Samantha. Sympathy cards can be sent to the address on her page and please keep sending cheerful post to her brother Louis.
"It's not how long a star shines, what's remembered is the brightness of the light."