Donate to childrens charity
Link to Post Pals
Pyjamas Parade
Nov 6, 2009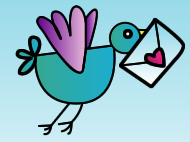 Last year Harry's sister Ellie smashed the Post Pals fundraising record by organising 'On wheels for Post Pals'.
This year she is fundraising again and it's set to be bigger than ever! On the 14th of November, Ellie and a band of friends from school with be doing a sponsored walk in their PJ's. The event is "Pyjamas Parade" and they have put so much work into it! They plan to spend the whole day in Stafford collecting (they have all the licences) and at dusk are having electric candles and pictures of the Pals we have lost so they are remembered.
If you live in or around Stafford please pop down, tell your friends or even take part in the walk.
The event was kicked off with a trip to London for Ellie, Harry, their friend Megan, and Mum Sue, to meet Fearne Cotton and interview her about why she supports Post Pals. As a result, Ellie's school is now supporting Post Pals and the Teenage Cancer Trust this year.
You can sponsor Ellie online by clicking here or by sending cheques made payable to "Post Pals" to Ellie's usual forwarding address which is 18 The Oaklands, Church Eaton, Stafford, Staffs, ST20 0BA or through our donate page and let us know its sponsorship for Ellie.
Daniel M's siblings are also walking in memory of their brother, to sponsor them please make cheques made payable to "Post Pals" to their usual forwarding address which is 146 Silkmore Lane, Stafford, Staffordshire, ST17 4RJ or through our donate page and let us know its sponsorship for Daniel's family.
Not only are they busy raising money for us but they are also raising awareness, in and around Stafford, and through the media – Ellie has just done a radio interview which is fantastic!
The money raised will be used to send post to the children. Most recently we sent sky lanterns (you write a wish on them then watch them float away) which the children loved but which cost us nearly £600 due to the fact we are supporting 130 children at the moment!
If you would like more details please email Sue via us on info@postpals.co.uk
Thank you to Ellie, Sue, and everyone who is helping.