Donate to childrens charity
Link to Post Pals
Post Pals party!
Jul 23, 2008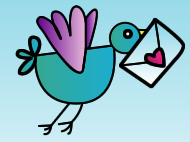 We had the first ever Post Pal party on Saturday to celebrate Post Pals turning 5 this summer. It was a great day enjoyed by some of the families we have supported over the years and the volunteers who have stuck with us, making a difference day in day out.
The party was in Surrey and people travelled from all over. It got off to a great start with icecream and Abbie's Fund had kindly arranged a fantastic entertainer who was a ventriloquist with a variety of little friends who had the children laughing, singing and joining in.
The children (and quite a few adults!) sat memorised throughout the whole show, and once it had finished we moved out into the garden for a BBQ. Thankfully the weather was lovely, and three companies had been very generous with donations. After a while Dawn brought out the most amazing cake which had been made and donated by Debbies Sweet Art although it seemed a shame to cut into it!
We tucked into the cake, a chocolate fountain and a huge selection of yummy deserts made by Harry G's Mum Sue, including 2 Danish deserts which non of us had tried before.
Volunteer Karen (who had travelled from the Isle of White) and her friend Marie had arranged a raffle with lots of prizes, and Cliff had arranged a teddy bear one. As there were so many prizes the children got extremely excited as their numbers kept being called out, and they went home with an armful of prizes.
Amelia's Grandmother Angie had brought along some helium balloons and we released one for every pal who has passed away, as we let them go we read their names out. We also had a vase of 10 flowers with each child's name on.
The photo is of Angie just poking out from behind the balloons, Kat, Viks and Jamie (Abbie's brother) at the front.
All the children went home with goodie bags donated by Marie.
It was a lovely day, the weather despite the forecast was great, and we all had a good time meeting people we have known for years.
I have some special thank you's to say.
Buccleuch Foods for the luxurious burgers
Pierces bakery in Bookham for the large buffet which everyone enjoyed
Ken Davey in Bookham for his award winning sausages
Maria for the goodie bags,
Abbie's Fund for the entertainment, prizes, items etc
Debbie's Sweet Art for the perfect cake which went down a treat!
Harry G's Mum Sue for all the deserts
Emma and Jan for working so hard to keep things running smoothly on the day
Bill for doing the BBQ for hours
Dawn and Steve for providing some of the food, drinks, a lot of time, and for letting us use our house for the party (and I should add thank you to them for letting Post Pals take over the house, the garage, the loft and just about every spare inch of the place!)
And most of all, thank you to everyone who came along.
We hope you had a great day.