Donate to childrens charity
Link to Post Pals
Post Pals party 2011
Jul 1, 2011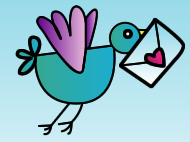 On Saturday the 25th we held our annual party which see's volunteers and families coming from all over the UK to celebrate – this year Alan (from Scotland) took Courtenay (from Wales) crown for longest distance travelled although Karen from the Isle of Wight still has hers for most modes of transport used in one day!
When the kids arrived they quickly jumped on our bouncy activity centre or climbed our giant slide – we couldn't believe that 2 year old Toby made it up, I'm told every single time he got to the bottom he would hold up a little finger and say "one more time" before scurrying back up and sliding down again! People also tucked into our giant sweet bowl and wonderful cupcakes from Heaven is a Cupcake.
Kyra (Jayde D's sister)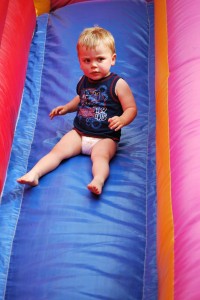 Toby (Zachary H's brother)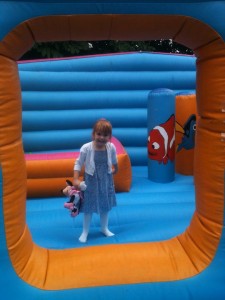 Ruby J
There was also face painting from Pirate Scrumpy who proceeded to do a fantastic show and take them on a magical adventure which resulted in some treasure for each child. Thank you to Daisy's family for organising it and Johanna from Octopus Parties for doing such a great show.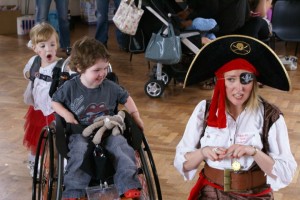 Most of the girls had flowers painted on their arms by Pirate Scrumpy but Tyanna (Courtenay's sister) requested being made into "a dude".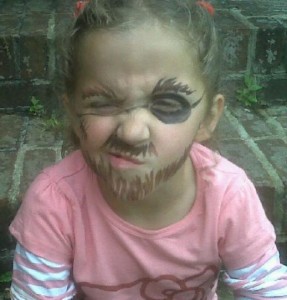 After lunch there was lots of chatting, and lots and lots of playing, from crazy golf (which the adults enjoyed too!), to playing with streamers and trumpets and of course the slide was in constant use! As all the children either have an illness or disability (or a brother or sister with one) the families can relax and not worry, Poppy and Dominic decided to compare 'Tubies'. Harry's family always say its "the one day of the year we don't have to pretend to be 'normal".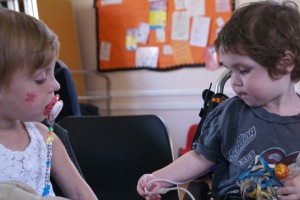 Poppy and Dominic comparing their tubes
We then had a visit from a caricaturist who did the most wonderful drawings of all the children who wanted one done, she was great at just sitting chatting to them while drawing. Dominic couldn't help but have regularly peeps at how it was coming along.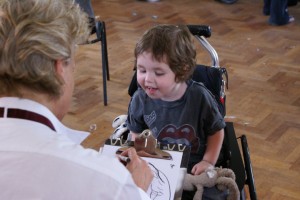 Dominic B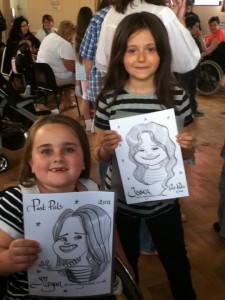 Jessica M and Megan H
Thank you to Helen from Drawn by Helen.
We then drew our raffle which had lots of prizes on (we like to make sure each child wins at least a few times), a big thank you to Jill and 7 and ¾ year old Grace who had dropped by some amazing bunting Jill had made the night before and ended up wrapping lots and lots of prizes to make them look pretty!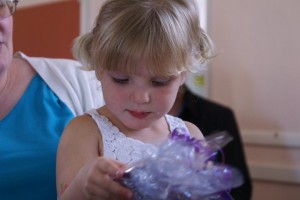 Coral (Poppy H's sister) with her prize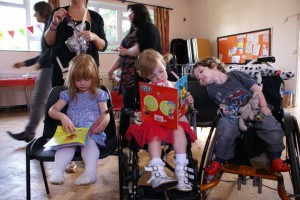 Ruby, Poppy and Dominic checking out their prizes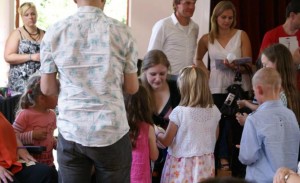 Viks getting the kids to choose tickets (Thanks Ian for taking over the shouting out of numbers!)
Then we tucked into our amazing cake designed just for us and kindly donated by Lucy Lou Cakes.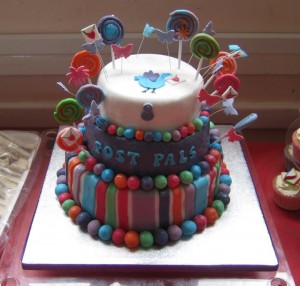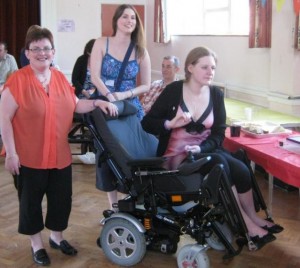 Kate W, Kate D and Viks cutting the cake, some how we have gone from being known as the Post Pal Girls to the Three Stooges!
It was then time for the saddest but very important time of the day, the releasing of 31 balloons with forget me not seeds in, the number grows every year but it was an honour to get to know and have made smile all 31 Pals who sadly passed away since Post Pals started. A volunteer spotted a balloon which looked just like one of ours and had a tag on by a road in Norwich (we released them in Surrey) although the road was too busy to stop and get it, hopefully that means that one day beautiful forget-me-not's will be growing at the road side for motorists to see.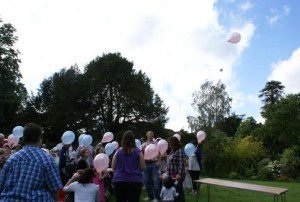 The kids then played a little more before collecting party bags or candy kebabs (party bags for the younger ones, kebabs for the teenagers) and a noisy ball for Harry, it was then time for our good bye's.
So many people came to our party and lots of people made donations/gave discounts to make the party possible, it was a wonderful day and I look forward to seeing you all next year!
Here are a few more pictures…
Being disabled didn't stop Eleanor going down the slide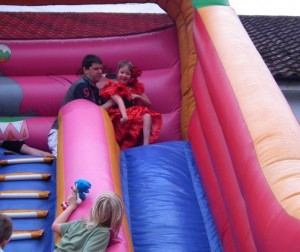 Nor Kate D and Viks!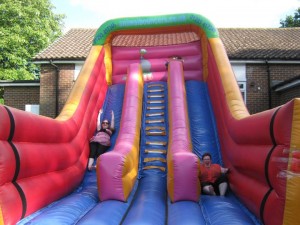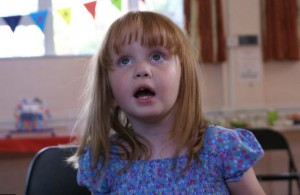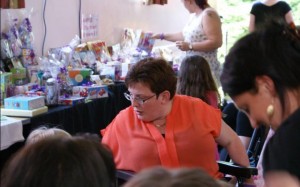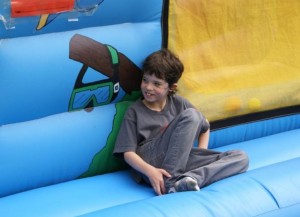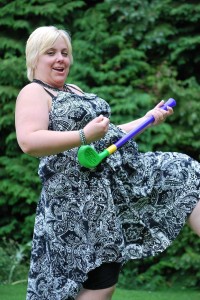 And the smile in a photo that sums up the day…