Donate to childrens charity
Link to Post Pals
Make A Difference Day
Sep 20, 2009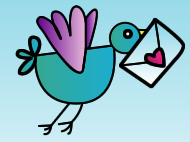 October 31st is National Make a Difference Day. We would love it if YOU would like to make a difference to seriously ill children through Post Pals.
It is run by CSV who can provide you with T-shirts, balloons, posters, information on running an event, some thank you for volunteering certificates etc all for free. Just go their website here and register your activity.
Maybe your child's school, Brownies, Sunday school or club could have a card making club that day, where they get together and make cards for the Post Pals children.
Maybe you could be sponsored to wear a Halloween outfit that day.
Maybe your parent and toddler group could have a mass drawing/painting day and send the art work off to the Post Pals children to decorate their hospital walls.
Maybe you could have a Halloween themed cake sale.
Or run an apple bobbing game where people pay a small entry and win a prize.
Maybe a group of friends can get together and write letters.
Or everyone in your office spend a few minutes sending emails to the children.
Maybe you could have a nice evening together and ask everyone to bring a small gift with them to send off.
Maybe you could host a party with the proceeds going to Post Pals, there are lots of companies that do them like Virgin Vie, Body Shop, Jo Magdalena, Ann Summers (I'm not linking that one!), Strictly chocolates, Pamper parties, there are hundreds on Google.
The possibilities are endless!
When you have come up with an idea, don't forget to register here and not only will you get advice and goodies but you will also be entered into the awards and be in with the chance of winning some great prizes! Your local paper might cover it too if you email them to say what you are doing and why.
If you are unable to do it on 31st of October, any date around there is fine.
Not sure if your event will make a difference? Take a look at this video for how Post Pals helps children who normally don't have much to smile about.
Please tell all your friends, family, Blog readers, Facebook etc.
Thank you!