Donate to childrens charity
Cookies!
Apr 26, 2007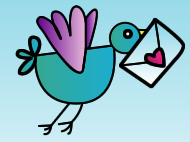 During the month of May, Post Pals is running a campaign to raise awareness of the neurological condition ME (which the team have), raise some funds to make a difference, and post lots of SMILES on peoples faces.
We are baking cookies and sending them through the post with a choice of awareness ribbon or star shapes both with "ME" written in red icing on. We have an option of 2 flavours – ginger or plain. They will be wrapped in backing parchment to keep them fresh, bubble wrapped to protect and then brown paper. Included in the package will be an A4 information sheet, a great and subtle way of teaching people about ME. It even has a bear on the corner proudly wearing his blue ribbon and will say they are from you and a space for a message. Perfect to send to friends, family, yourself as a treat, a friend with ME, children on Post Pals etc.
To send 5 cookies for £3, or 10 for £4.50 including P&P, please send a donation via Paypal at info@postpals.co.uk or cheque made payable to Post Pals marked Cookie Project and send to PO Box 278, Leatherhead, Surrey, KT23 4WN, with the following information:
Senders Name:
Senders Email:
Senders Address:
Message (under 200 characters):
Name of recipient:
Address of recipient:
Awareness ribbon or star shape:
Depending on the sucess of the cookie project, Post Pals will consider running this project later in the year raising awareness for some of the detressing conditions that effect our Pals and their families.
Back to our Pals. Thank you to people who continue to send post be it a card, email or present. Gifts don't have to be expensive, here is a picture of "Superhero Christian" with his costume he received, it maybe a sticker, cardboard and a piece of red fabric but was enough to spark his imagination.
Promotional give always can also be sent to Pals, our resident freebie hunter Katie Plant kindly keeps an eye out online, and found these red ears for Comic Relief. Here is a photograph of Milly and Lucy enjoying theirs;