Donate to childrens charity
Link to Post Pals
BREAKING NEWS – Oldest Volunteer!
Apr 8, 2009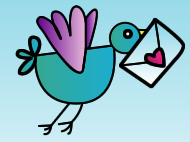 Breaking news! Post Pals is proud to have volunteers of all ages – our youngest volunteers have been toddlers who draw pictures, and our oldest around 90. That was until this week…
The residents of Leonard Perkins House had a busy session making finger puppets for the children, and the oldest even joined in, at the very grand age of 106!!!
Thank you to everyone at Leonard Perkins House for making the Pals smile!