Donate to childrens charity
Link to Post Pals
A round up of 2009 (ok a month late, I know!)
Feb 4, 2010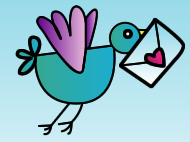 Sorry this entry hasn't quite been finished – editing in pictures and links will be done soon!
Well, what a year it has been! Another one has flown by with its ups and downs, but over all Post Pals has made an amazing difference this year!
We got the year off to a good start with being featured on the Channel 5 news!
January is always a quiet month with not much post being sent so we have to work extra hard to make sure lots of smiles are created. This was helped with balloons from Bizzy Balloons, cards from Moonpig and cute jewellery from Jo Magdalena and we kept it going into spreading love on Valentines day. February wasn't all good though as sadly Anthony passed away. We had contacted the Thomas Ball Charity to ask if they would be able to send one of every Lush bath bomb to Anthony and his brothers but sadly he passed away sooner than expected. It did provide a big smile and lots of nice smells for his brothers after his funeral though (they also sent the same to Milly and Alice later in the year). We had sent quilts to Anthony and his brothers, and he was buried in his brothers (so they could keep his to cuddle).
In March Madison finished her chemotherapy, so we sent her a very funky t-shirt designed by one of our volunteers. We have several designs from "yippee no more chemo for me" in several colours, "yippee no more keto for me" (for children coming off the ketogenic diet) and "Chemo, been there, done that, and all I got was this lousy t-shirt". If you would like to order one then please email us.
We also asked if people would sponsor projects and several people did – thank you. Two Post Pal children even donated a whole months pocket money each. Here is a picture of Seren with her bear.
April also saw the residents of Leonard Perkins House get involved in making the children smile by knitting finger puppets. The oldest was a gentleman who was 106 – I think that must be some kind of volunteering record!
May was filled with asking people to vote for us to win £500 from Surrey Heart of the Community. Thank you to everyone who did vote as we were awarded the full £500 to put on the summer party. We also spent a lot of time admiring the Pals quilts which volunteers had made just for them.
Milly with her girly theme and Alice with her dog themed one.
William and his transport quilt
Alan S with his quilt
Talking of Alan – in 2009 his Mum said;
Alan has been feeling really down and sad about 'His Life' and this is really tearing me apart seeing my beautiful boy like this, wanting to be in his words "normal". We also got a call yesterday to say Alan had an infection which requires a two week course of antibiotics which i must say couldn't have came at a worse time, another med to fit in to all the other he is not happy about taking. Just as we got the call a parcel from Kim (Post Pals) came and when he opened it he really cheered up and I explained he is special and not just us care about him that other people do too and that made him feel good. He sat for a while and then asked me, "does Callum get parcels and cards from people", I said "not from Post Pals – only extra special people do and you are one of them", it seemed to make his day so here's hoping we can beat the blues he has at the moment.
June was a quiet month but with lots going on behind the scenes!
July got off to a great start with Zachary H's wish. He wanted to see the Wiggles live, but his parents could only get seats near the back. They asked if there was anything we could do to get them closer to the front. Well we did one better, front row tickets were donated and he got to meet the Wiggles themselves! Thanks to the Wiggles, their management and Birmingham Arena.
We then had our now annual Post Pal Party! Last year it was somewhat of a squeeze to fit us all into my house and garden so our new treasurer Jan offered her house and garden to us for a fantastic party. Jan is a very organised person and did a lot of the work in the lead up as well as on the day itself. Thank you to Heart of the Community for funding some aspects, to Animals Bouncers for the Nemo Castle as it caused a great deal of excitement for the children (and some of the trustees but less said about that the better!), Ken Davey for the reduced priced sausages, Pierces bakery for doing our buffet at cost price, for donating the burgers (which went down very well), and everyone who came along or supported us. There had been a lot of rain and several passed through heavy showers to get to us, but the sun shown for the whole party. We had the wonderful "Puppet lady" (as the kids call her) back and she had them roaring with laughter. One very poignant moment happened during her show and Harry who has autism liked the dance one puppet was doing and decided he wanted to dance with it. His sister went to pull him back but his mum Sue said "no, today is the one day we don't have to be normal". That's the special thing about the Post Pal party, you don't have to explain anything to anyone, everyone understands and nothing matters. We finished the day with a balloon release, one for every Pal we have lost along the way. Although they are no longer with us, they will always be part of Post Pals and always remembered.
August was spent fundraising so we could send fire lanterns to the children. They were a big hit!
In September, Harry G, his mum, sister Elly and a friend called Megan, as well as my family and I, travelled to London so Elly and her friend Megan could interview our patron Fearne Cotton about why their school should support Post Pals this year and to kick off their "PJ parade" fundraiser.
September wasn't all good though as Katie passed away in hospital in her mothers arms. She always enjoyed her post and was especially pleased when the previous year she had received a letter from one of Santa's elves saying she was on the good list.
This photo of her always makes me smile.
October was filled with trying to find volunteers for our Christmas schemes and Lorna and Maria did a wonderful job of organising it all.
November was the busiest month ever I think, both for myself personally and for Post Pals!
It started with Harry G's family fundraiser "PJ Parade" where several people stood for many hours in the high street collecting donations despite it being bitterly cold. They were joined by lots of volunteers and people from Elly's school, as well as Daniel M's family who stayed to the very end to raise every penny possible. They finished the day with a moving candle light walk with a photograph of all the Pals we have lost, so they could be part of the day and people who hadn't been lucky enough to know then could see them.
On the same day of the fundraiser, I was in London after being short listed for the Red Cross Humanitarian Citizen Award. Ninety people and groups were nominated, and lots short listed. They called out the winner of the group category, and then the individual – it was my name! Apparently I turned very white and looked a bit vacant for a few minutes!
I also gave 2 talks in November to local groups. The first one to Effingham Villagers as they had been supporting us this year. It was the first time I had ever done a talk and I was worried I would put everyone to sleep! It went extremely well though and at the end everyone did some messages on postcards for the children and lots of people kindly gave us donations. A couple of days later our doorbell went at 10am, it was a lady from Solo's (a subgroup of the villagers) to hand us more donations to support the children – we had spent it by Midday sending light up fairy wands with sweets in and chocolate cars to the kids. I then did a talk to Box Hill Villagers who also kindly did some postcards and gave donations. A big thank you to them all.
December was a busy month again with lots and lots of post being sent! Volunteers helped the reindeer send letters to the children (its hard to write with hooves) and Seren was especially over the moon that they knew she was being brave in hospital and sending her a get well soon card, how many children in the whole wide world get a "Get well soon" from the reindeer? Elves sent parcels of goodies and other elves sent letters, along side all the other Christmas post. Cat and Dan also joined Vikki for 2 mammoth long wrapping sessions so we could also get cards and pressies sent out. Just before Christmas we had a phone call to say the people at Maggot Drowning had raised an AMAZING £750 for us so we are busy planning how to use it!
All in all its been a brilliant year, but we need everyones support to keep sending smiles to the children, you don't have to say much, just a few lines can create a smile!
I will sign off with a montage I did, it has some sad images at the start but the second half is full of smiles, make sure you have your speakers on.