Donate to childrens charity
Famous Friends at Christmas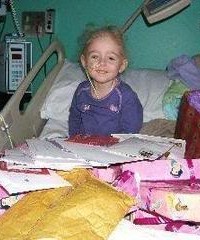 Thank you for reading our campaign to make lots of seriously ill children smile. We are simply asking people in the public eye to send a Christmas card to a child and ask a couple of friends to join in.
Post Pals is a small charity run by volunteers who are ill themselves and supports children (and their siblings) with cancer, undergoing transplants, or other life threatening conditions, through the sending of cards, letters and little gifts, all year around. This gives the children something to smile about each day, makes them feel cared about and over time builds their self esteem. 
Volunteers sending post have ranged from toddlers drawing pictures for hospital walls, an 106 year old knitting finger puppets, a selection of cuddly toys and pets 'writing' have also been very popular and when Fearne Cotton sent a picture to a child with relapsed Leukaemia it was apparently '1000 cool points for the photo and a million cool points as she even addressed the envelope herself!'
How to help:
Send some cheerful post (Christmas card, general card, signed photo etc) to a child of your choice from here
Ask 2 friends in the public eye to take part too
We know there are a lot of people who would like to make a child smile with happy post but despite running for 10 years very few people have heard of us. The majority of our volunteers have come from Fearne Cotton's Twitter, Russell Howard's Good News feature which can be seen here and Carrie Fletcher's YouTube channel
Other ways to help:
Tweet/Facebook/ask fans to log onto our site 

www.postpals.co.uk

 and send a card, letter or gift to a seriously ill child

Write to some of the children at any time during the year – a card, letter or little gift is guaranteed to cheer up a bad day
Join our celebrity supporters page (coming soon) with a quote and your name
Let us know if you would be willing to meet a Post Pal child or ring the child/leave an answer phone message
Donate a signed item for us to fundraise with (we have no regular funding from anywhere or fundraising budget)
If you're able to donate tickets to any event or show we have children, teenagers and young adults who would enjoy a break from their reality (Fearne arranged X Factor tickets and the teenager talked about the day for years (she has sadly since passed away).
If you have any questions or would like to help please drop us a line on viks@postpals.co.uk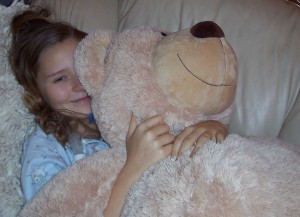 Nikita with a bear sent from a volunteer (sadly Nikita passed away a few weeks later on Christmas Eve), her family said post was the only thing that made her smile in her final days