We are very sad to say that Samantha passed away last night (15th April 2008) aged just 5 years old. Thank you to everyone who has taken the time to write to Samantha throughout her time on Post Pals. Sympathy cards can be sent to the normal address on Samantha's page.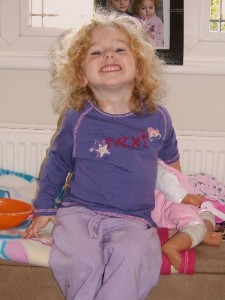 Samantha 18/03/2003-15/04/2008
Story written 2005
Samantha was diagnosed with Neuroblastoma Stage 4 on October 21st 2005 after intensive tests which included Xrays, CT scans, bone-marrow tests, blood tests, urine tests and a biopsy of the tumour was taken from her tummy.
This nasty aggressive childhood cancer which affects under 100 children in the UK each year has spread throughout her little body.
Over the next 6+ months our 2 year old little girl will have to endure intensive chemotherapy, surgery to remove the tumour and a kidney, Stem Cell Rescue (like a bone marrow transplant but Sam will receive her own bone marrow back, in stem cell form, which is like baby bone marrow seedlings) and further Chemotherapy.
Samantha or "Sammy" as we call her is such a brave little girl and the whole family is behind her to help her fight the cancer every step of the way. As parents our biggest task is to keep her smiling throughout and her spirits up, and would appreciate any help no matter how small with this as laughter after all is the best medicine.
Statistics will show that she only has a 25 % chance of beating this but as Cancer beater and Tour de France Champion Lance Armstong said "If Children have the ability to ignore odds and percentages, then maybe we can all learn from them. When you think about it, what other chance is there but to hope? We have two options, medically and emotionally: give up, or fight like hell".
Story update January 2008
We have found out that Samantha's cancer has returned. She had been having pain in her arm which she is currently on Morphine for. An MRI scan showed a "large black mass" which is the Neuroblastoma.
Update 16th April 2008
It breaks my heart to write this, but brave princess Samantha passed away last night.
Update 12th April 2008
A huge thank you to each and everyone of you that has been kind enough to send Samantha an e-mail, card, gift, filled out her guestbook or have simply sent a positive thought her way. The love and support she has received is appreciated more than you could ever know. It is incredibly moving to think that she has touched the hearts of people in every corner of the world. What everyone at Post Pals does is priceless and really makes a difference to peoples lives. Each day when the post arrives, both Samantha and Louis are so happy to see they have mail and gifts. There have been several little cuddly toys sent which she insists sleep with her at all times.
This is an impossibly difficult time at the moment and it seems a little inappropriate giving daily updates on her condition which I am sure you can all understand and I'm also very aware that any parent of a recently diagnosed child with Neuroblastoma may one day be reading this site to find out more information, the most important thing to remember is EVERY child is different.
Update 6th April 2008
Samantha's condition has worsened at a rapid rate as this truly awful disease begins to take over her tiny body.
Samantha is now back home and on morphine, although not in pain and she spends most of the day asleep. It's heartbreaking to see her in this way and looking so ill. In only a week she has gone from being the life and soul of the party to a very poorly girl with black eyes and various lumps and bumps beginning to show and has very little energy.
Despite spending most of the day asleep and awaking very upset, every now and again she will return with a joke or a giggle. She really is an inspiration.
Update 5th April 2008
We have had the worst possible news.
Samantha's Bone Marrow results have just come back and revealed the Cancer is everywhere and that further treatment or chemo could just make her worse and we may have to consider pain relief only so she can enjoy the time she has left.
All the doctors now agree that chemo would be pointless, and right now we feel so numb and in so much pain, trying to stay strong for both Samantha and her little brother…
Thank you so much for all your love and support, please continue to follow Princess Samantha and her journey.
Update 29th March 2008
Samantha had a Bone Marrow Aspirate on Monday, so we are awaiting results of this to see what we can do next.
As for Samantha how is, she of full of life, laughing, singing and smiling as always.
Update 5th February 2008
We have very bad news. Samantha's Bone Marrow is full of Neuroblastoma, which means she is currently unable to have Stem Cell or MIBG treatment. She has started Etoposide chemo, and will scan again in a month's time.
Update 9th January 2008
Samantha is currently on morphine for a bad arm. A scan showed that Samantha has relapsed and Neuroblastoma has returned.
Update 24th July 2007
Samantha has completed treatment and we now have a very anxious wait, hoping this disease never returns.
Her next scan is September.
Update 18th February 2007
Samantha is now back at Pre School and approaching her 4th Birthday. Currently taking Retonic Acid, she has a very, very anxious wait to see if she is clear from this nasty disease. She has won the battle but hoping to win the war.
Update 31st October 2006
Samantha is near to the end of her treatment; she has several months of Retonic Acid and has many scans on the horizon which we pray will show that she is NED! Please keep fingers crossed for good news.
Update 25th May 2006
I was having a difficult time with chemotherapy but I have been full of energy and having a great time recently. I've just got back from a little holiday. There is still Neuroblastoma in my bone marrow so I'm starting another 2 rounds of TVD chemo on Monday.
Update 7th March 2006
My Block 1 of 7 days TVD chemotherapy finally finished at around 6pm today which was a huge relief, but I still made it back home for 9pm, and made everyone smile as the first words to come out of my mouth when I opened the door were "HOORAY I'M HOME!"
Update 1st March 2006
It's the first day of the month along with the start of my latest round of chemotherapy today in a bid to try and rid this nasty disease from my bone marrow once and for all. I am due 2 blocks, each block consists of 7 days of chemo, after this I will be taken for the usual scans to see if it is succeeding in reducing the cancer from my Bone Marrow. You may remember my previous treatment meant being hooked up to chemo for 24 hours at a time, so Mummy and Daddy were very worried at the thought of this stage lasting for 7 days at a time. However it's not as bad as it first sounded because today's chemo is only for 15mins, don't get me wrong, it's no walk in the park, but much better than we were expecting.
This chemotherapy is called TVD and is a new treatment so keep your fingers crossed for me this week as I fear as the week goes on we may have familiar tales of temperatures, blood transfusions etc.
Update 10th February 2006
Despite being dosed up on Morphine and Epidural I awoke properly at around 6pm last night and my first words were I Want Toys…..I want Toys….I want Toys…I Want Toys! It was quickly explained to me that I cannot sit up or move a great deal, so I settled down to a few books as a compromise and allowed Mummy, Nana Pam and Nana Diane to read a few lines each when I called their name.
So I can be monitored closely I am on a open ward which is very close to the nurses and have quite a few babies close by which I love as I love little babies, I'm not sure if Daddy is so keen on the crying through at night. Not that we got any sleep because every hour throughout the night I was woken up and asked to wiggle my toes, bend my legs and ice was rubbed on belly to see if I could feel it. This was fine upon until around 2am when even a patient girl like me got fed up with the routine. Imagine being woken up at 3am and told to wiggle your toes whilst you felt awful. I must admit to being a bit of a rebel and said no to all questions and simply requested that I wanted to go to sleep.
As for today I still feel a little groggy but guess that's down to the morphine and epidural but at least I don't feel any pain. Mummy was a little worried about me because I kept getting a little twitch in my arm today but I'm sure it's nothing to worry about.
I'm quite excited about tonight though as word on the street is that Daddy's friend Simon has dropped off loads of presents from people through Post Pals. I will thank you all properly tomorrow and let you know what I got and maybe even a picture of me.
Update 9th February 2006
Samantha returned after around 5 hours and is very sleepy; our little girl has wires coming from everywhere now. As you are all aware by now she has her NG Tube in her nose and 2 little wiggleys coming out of her chest but now she also has wires coming from her hand, foot and back too.
She is also on morphine and epidural to stop any pain caused from the operation, however enough of the bad stuff, you will be glad to hear that the operation went well and was a success. The team that was operating on her did not need to remove a kidney and they believe they removed the entire tumour which is fantastic.
Samantha is very tired and will be for a few days, but sure she will be back with a few stories of her own very soon.
Update 6th February 2006
Arrrrgh! This sickness is driving me nuts now, last night was my worst night and I was sick every single hour during the night. I can handle the sickness but getting no sleep is starting to get me down a little as I just feel tired all the time. Doctors think it may be the tumour lying funny in my stomach, so hopefully things will be much better after Thursday when I get this nasty tumour out of my little body.
We had some bad news today, as I have suffered a slight setback in my treatment. The Doctors have advised that the results of my Bone Marrow scan have come back and they are still showing traces of the cancer. This means that they will not be able to perform stem cell rescue (transplant) after the operation and I may have to endure more chemotherapy.
Over the next few weeks we will be advised on what treatment and options I have ahead of me, but feeling a little down, knowing even after my big operation, my uphill hill battle against Neuroblastoma still has a very long way to go. Not the best of days I'm afraid but not being the kind of girl to feel sorry for myself, I will just carry on with a song and a smile and feel more determined than ever before to beat this nasty disease.
Update 23rd January 2006
I've been very poorly lately with sickness and I have shingles. I have finished my chemotherapy and my tumour has shrunk, we are waiting to be told if my bone marrow is clear.  The Doctors said my big operation to remove the tumour will be on February 9th, so I'm starting to feel like my battle against this nasty disease is moving forward.
Update 30th December 2005
Samantha made it home Christmas Eve night and was able to wake up Christmas Morning and open her presents from Santa like most children. She was so happy, playing with her brother and even sat down and tucked into Christmas dinner at the table with everyone, complete with party hat. Unfortunately she had to return to hospital Christmas Day night and has been in and out since. Chemotherapy starts on Friday so it's New Years Eve in Hospital.
Thanks to Georgies Fund for support, huge thank you to Lauren my Elf this Christmas who sent the biggest box of gifts from USA which had so much time and effort put into. Grafton Junior School, thanks to all the children who made Samantha Cards. Julie Barrett who made Samantha Pal of the month on her card making site and Samantha had so many cards everyday. To each and every person who sent a card, e-mail, or gift which kept Samantha smiling throughout a difficult Christmas in Hospital, thank you.
You guys really are stars of the brightest magnitude, I have witnessed first hand the joy and pleasure that you bring to a poorly child's face and it's a magnificent sight. Samantha was so sad some days but her smile lights up the room when we bring her cards to open of gifts from Post Pals.
We appreciate it more than you can possibly know, to put a smile on a child's face is priceless.
Update 12th December 2005
Had my worse night yet since treatment began last night as my temperature remained over 38, Blood Pressure is still very high, sickness and diarrhoea all night long.
Despite being only 2, I'm a big girl and never wear nappies, however for the first time last night I had no control at all and had to wear nappies again, which is something I don't like doing at all and got a little upset about.
Update 11th December 2005
I woke up in a great mood thanks to so many people at Post Pals who put so much time, effort and thought into sending me cards, presents and e-mails. I had so many special gifts I had a smile on my face all morning and will be thanking you all very soon.
My Post Pals Elf Lauren deserves a special mention for sending a HUGE box of goodies all the way from USA, there was lovely drawings and pictures all over the box and the thought that went into the box and its contents is appreciated more than you know. This also goes to everyone who sent cards.
In the afternoon, I became very poorly and my temperature rose to 38.9, I also became very sick and my infamous NG tube came out again. If that wasn't enough I'm also having a nasty time with sickness and diarrhoea. I have felt poorly all day. Round 5 of Chemotherapy has wasted no time in knocking me back.
Update 9th December 2005
Mummy had a little scare last night when I appeared to have a reaction to my medicine or food again and went straight to sleep and awoke very teary. The Doctors kept me off my feed last night and monitored me closely but I'm fine again, so it's business as usual today. Although feeling good, it time to prepare for yet another bout of chemotherapy again.
The Doctors also revealed that my tumour before treatment was approx 6×5 inches but the Ultrasound scan now shows it at around 3×2 Inches which is fantastic news as it shows the treatment is shrinking the tumour as planned. We are still awaiting the Bone Marrow test results though but I will keep you all posted.
Daddy's friend tells me I have 2 massive parcels from Post Pals and loads of cards too, so quite excited about opening them too, sounds like some more fun pictures coming your way.
Update 7th December 2005
I was sick again last night and my NG tube had to be pushed back in for the 2nd time within a few hours, something that I don't look forward to at all, my screams could be heard throughout the ward as it wasn't very nice at all.
Daddy and me then slept until 09:15 am this morning, and I woke up to CBeebies with a song and a smile, so looks like I am in for a good day if that's anything to go by.
A huge thank-you to the mum of Pal Daniel B, who sent me a lovely present. She very kindly brought me a lovely new doll, and we all know I have a soft spot for dolls, my new doll has been keeping me company in my hospital bed with me. Viks at Post Pals also sent me some cool gifts including a wicked glow stick which I had a good old fashioned rave with.
I hear that I have some more prezzies coming too! What a lucky girl I am, I will let you know as soon as I open them, YIPPEE!
Update 4th December 2005
Despite problems with my blood pressure I am home from hospital for the first time since November 5th! Having a great time playing with my brother and decorating our Christmas tree. I have to return to hospital at 8pm Sunday night to be wired back up to the machines again. I will be in hospital all week again as the Doctors will be performing various tests to see if it I am responding to the treatment, so keep your fingers crossed for me.
Update 26th November 2005
I can confirm that I have Chicken Pox! I have now been moved to a different hospital ward to my own room and not allowed to leave the room, so things could get interesting over the next few days when they try and stop me sneaking out to the playroom.
My chemotherapy (round 4) has been postponed at the moment and I am now on even more medicines to get me well again very quickly so they can resume treatment.