Donate to childrens charity
Link to Post Pals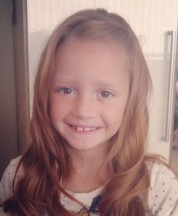 Contact Details
C/O 16 Park Avenue
Sleaford
Lincolnshire
NG34 7JQ
United Kingdom

NB: this is a forwarding address, we do NOT disclose home addresses
Other Information
Parents/Guardians - Lucy and Alan
Interests - Loves learning about animals, space, the world, how things work. Anything Disney related, especially The Lion King, Beauty and the Beast, Frozen. Going for walks, the seaside. Loves zebras and giraffes, arts and crafts, drawing, colouring, painting, her iPad, her two guinea pigs (Bella and Rose).
Favourite Colour - Pink
Able to read? - Yes
Able to use hands? - Yes
Visually/hearing impaired? - No
Suffers from any developmental delay? - No
Siblings - aged 3 to 16 wishing to receive post
About - Ruby J
Story written 2009
Ruby is a true fighter! She has battled with her condition since birth, which in total means she has spent half of her life so far in hospital.
When she was born they discovered she had a extremely huge bladder which is very rare. She also has problems passing her first bowel movement. After weeks of tests she was sent home. They didn't know what was wrong but they hoped for the best. However 3 months later we were admitted to hospital due to vomiting and dehydration. It was the first time we learnt about 'pseudo obstructions' of the bowel which happen randomly and can be life threatening. For the entire year we would be home for 2 weeks, then in hospital for 2 weeks.
She has struggled with her condition for a long time now. Spending so much time in hospital can be very difficult. There is nothing that would cheer Ruby up more than getting letters from friends wishing her well. She loves opening post. She loves all things girly and pink!
She is a true star and always smiles. She is our beautiful angel. She has been through so much.
This year has been none stop tests and procedures. So much so that she is starting to get fed up and feel a bit down. All her amazing doctors at Great Ormond Street have decided that she is going to have some surgery to make her life better. The second week in December she is due to have major surgery on her bladder, stomach and bowels. They are hoping this will make life easier for Ruby.
She would really appreciate some smiles through the post!
Update 14th July 2015
Hello everyone! Ruby is managing ok at the moment. We just got out of Great Ormond Street hospital where sadly all the tests shows that Ruby's condition has deteriorated somewhat and she now needs further intervention. At the moment we are replacing IV fluids at home. There have been big changes to her medication and it's been a bumpy ride so far! She loves keeping us on our toes! Although it's a lot of extra work for us and also it's sad that it has come to this, Ruby is responding well to all the new treatments and her blood results are improving. So we have fingers crossed!
Ruby has been with Post Pals for many years and sadly with our hectic life I've never been very good at keeping you all updated. When I heard there's a long waiting list I decided that now is the right time to move Ruby on. I would rather another child take the space now whose parents could regularly update you and because Ruby has benefitted from Post Pals for a long time and I think somebody else should get a turn!
We have met some amazing friends through Post Pals and too many to name – but you all know who you are! We often write to you personally when in hospital to try and distract Ruby, so although I may not update online very often, I know you are up to date on Ruby.
One person I met through Post Pals and miss greatly is Angela. We wrote to each other every week right up until her passing. She was a remarkable woman who taught me a lot about appreciating life and being kind to others.
Another relationship formed through Post Pals was with Rissy Brown, Harry, Ruby and later Phil! They have written to Ruby regularly, send her awesome monthly projects and have just been downright fabulous! I'm very thankful that they are in our lives and look forward to staying in touch, lots of meet ups and attending the wedding of the year!
There are so many people to thank! Anne Bennet has sent Ruby a card every week since she joined Post Pals! Unfortunately I was never able to say thank you as she never left her address, but I hope she sees this! Alison Lawton has been so lovely to Ruby over the years. We love getting post from Natashja too! Ruby has had letters and gifts from all over the world, including a card from every pupil in a class in South Korea and lovely cards and gifts from Israel! Naughty Nanna always makes Grandad laugh!
We have made a lovely friend called Karen Wall. It has been so wonderful to get to know her and we will definitely continue to be in touch in the future and hopefully one day meet up! She always sends Ruby amazing cards and letters and Ruby loves hearing from her!
I would also like to thank our two Emmas. As Ruby calls them "Emma Isle of Man" and "Emma Badger". Both of these lovely ladies have written to and supported Ruby from the very beginning! I can't wait for Emma Isle of Man to get married and get her happy ever after. We are so incredibly chuffed for her and hope to stay in touch for a very long time to come!
Post Pals has provided Ruby with some lovely treats like the Post Pals party which was awesome! Viks also gave us a prize she had won and so Alan and I got to spend a night in a luxury hotel in London! Fabulous!
Thanks so much for all the love you have shown us as a family, I can't ever thank you all enough!
Update 9th March 2015
Hi guys, I just wanted to send a big thank you for the lovely letters, cards and gifts, that Ruby has received over the last few months! I can't tell you how much difference they make to her! She wears her Cath Kids bag and purse everywhere she goes, thanks so much!
Not really much to update… Ruby is doing well and managing to attend school. She has a very good attendance this year and even got a certificate! It's the first time really that she has been well enough to attend for a full term with only a couple of days off for appointments. Ruby loves school and is so determined to go that sometimes she would only make it to lunchtime before she was sent home in agony. But there has been no pain for a good few months now and would you believe it her work has really improved and she's moved up a table! Just goes to show that previously she was only behind because she needed so much time off, bless her! She is a trooper and will give anything to be at school surrounded by her friends.
The love of Disney is still going strong, I don't think she will ever be tired of it (or me!) and we are really looking forward to seeing Cinderella and also Pan when it is released this summer! It is almost her birthday and she has asked for a party at home with her best friends! A Hawaiian Luau party (Yep – in April! I will have to turn up the heating!!) and she is already planning the cake I am to make! She's so happy right now! She still needs all her care and is connected up to her drip every night and has all her extra "bits" but that's all fine! As Ruby always says she doesn't mind all the medical stuff if it actually works and right now it's working!
Thank you all for all you do!
Update 29th September 2014
Well Ruby has had a lovely few months! She still needs 24 hour care and to be connected to her drip every night but she isn't in pain and she has ENERGY! It's sooo lovely to see and it has been a long time coming!! She has been seen in clinic and for the first time in about 2 years she has gained weight – phew! Happy mummy!
Ruby's obsession with all things Disney continues and as a family we are definitely Disney addicts! Our favourite films are Pocahontas, Lion King, Toy Story, Rapunzel, Aladdin, PETER PAN! Actually, all Disney films!
She is very happy and very thankful for the post she has received. Thank you to Ben for the Disney post, Ruby thinks you have the second greatest job in the world! The first greatest being a cast member at WDW of course! Thank you to Rissy, Harry and Ruby, for your lovely post as always – you know our girlie so well! Thanks to Karen for always staying in touch and we can not wait to hear how the concert went! Big hello to Emma IOM and also a thank you to Natashja! Thank you to Anne Bennett who has sent Ruby a home made card every week since Ruby joined Post Pals! Thank you to everyone who has sent a letter to my girlie because you make the day brighter and put a smile on her face! Now that she is feeling a little better I feel she may be able to reply to some letters now.
Update 12th July 2014
Ruby is doing well! She just got her school report and it is all A's which is remarkable considering she had so much time off! She has really come on with her reading and she seems to have an affinity for art – I think we all suspected that though!! The head teacher commented on what a caring and happy young lady she is, with a huge smile for everyone! Well it's safe to say I'm bursting with pride!!
Ruby has had a really good month and it has been such a long time since I could say something like that. She struggled on for the whole of last year in so much pain, bless her heart. She loves school and every morning she would beg to go to school even if she was in pain. She would say "I can just lie down for a bit if it gets too bad". She struggled on and then went through big surgery and complications but thankfully that has obviously solved the problem. We are so excited that she will be able to have a summer of fun and smiles and laughter.
We know how lucky we are. We have seen some very dear friends really struggle this year and have hated seeing Ruby's special friends, Poppy and Daisy, go through so much. We have everything crossed that Pops gets her call soon because it's about time she got to enjoy special family times. We are also thinking of some very special people who lost their darling daughter, who was and is, a shining light that brightened up the lives of everyone that met her! Fly high Lydia Xxxx
Update 10th June 2014
Ruby is such a happy girl and makes the most of every single day. She has been through some terrible times of late with extreme pain and surgery and complications, but even on the days when she was so sore she couldn't move due to surgery, she would still try to find the good saying "it'll get better won't it mummy". I'll always admire her strength, how she picks herself up every time, dusts herself off, and carries on with a smile and a hug for everyone she meets. She really does bring extra sunshine into the world and I'm so lucky to be her mummy, I can't quite believe it!
I just thought I'd update you a little on Ruby's interests these days. She now has a real thirst for knowledge and loves to learn about the animal kingdom, space, the world and how things work. She loves visiting the house where Isaac Newton grew up near us! She loves everything Disney, especially The Lion King and Lion King 2, Beauty and the Beast, and loves Frozen. Her most prized possession is an illustration from the man who drew the original Simba, who found Ruby through Post Pals! I wish I had his address to send him a thank you but we were in hospital and I misplaced the address! She loves going for walks and to the seaside when she is feeling well. She likes to go on her iPad on her bad days and loves watching Arthur episodes. Her favourite animals are still zebras and giraffes! She has 2 guinea pigs called Bella and Rose. Rose is the boss but Bella is really really cheeky! She enjoys arts and crafts and spends a lot of her time drawing or colouring and painting.
Update 28th February 2014
Ruby is in hospital at the moment. She had a massive bowel obstruction which was left for a week before being found on a test at The Royal London. She had emergency surgery to resolve all the blockages and adhesions. The surgery itself was a success however she has suffered huge set backs post op. She firstly developed pneumonia and then a collapsed lung and needed oxygen. She also has fluid on her lungs. Then after 10 days of high temps they finally discovered that she has collections of fluid in her abdomen from the surgery which are obviously infected and are causing her pain. They would usually drain these using ultrasound, however Ruby's are in too precarious a location to risk it. We are trying higher strength antibiotics to try and reduce the infection. If next week there is no improvement we will have to go back to theatre and start all over again, which they REALLY do not want to do, as it is a huge risk 2 weeks post op and the bowel could easily be badly damaged.
Poor angel has really been through it. She's fed up of the non stop medical stuff. During times when she is pain free we are doing arts and crafts and I want to say thank you to the lovely people who have sent things. Thank you to Rissy, Karen, Emma C, Emma S and all our other lovely friends for your support. We are sticking the cards on Ruby's door and it's about half covered now!
Update 19th February 2014
Ruby had to have emergency surgery last Friday. It was quite a big op and she was very poorly indeed.
I just want to say thank you to everyone who has donated to Post Pals and made it possible for them to support her. Today we received a gorgeous bunch of balloons! Thanks so much guys for your amazing support!
Update 7th August 2013
Ruby has had a good month! It has been a long long time since I could say that! I'm so thankful to Great Ormond Street for listening to my suggestion on a drug they had never used and deciding to go for it. Ruby has been quite well since starting it! So lovely for her to be able to play outside and see her friends etc! So for once I am able to do a positive update, yay!
I just want to say thank you for all the post that has been sent to Ruby over the last few months… There really are too many to mention. You are all wonderful! Today Ruby got a really cool parcel from Harry, Rissy and Ruby, full of goodies about planet earth! Just Ruby's kind of thing, although I don't know who enjoyed it more – Ruby or Daddy!
Also thank you to Karen Wall who has really been such a support and rock over the last year and half – we're so glad we met you through Post Pals. Karen plays piano and dedicated a whole section at a concert performance to Ruby! I'm overwhelmed and just wish we could have been there!
Our lives have benefitted so much from Post Pals – mainly due to the wonderful people we have met. One amazing lady wrote to Ruby for 2 years and in the end we became great friends and wrote to each other every week. She supported me when my Dad passed away and then I was with her during her battle with illness and she wrote to me a few days before she passed away. She will always be in my heart and I just think we're blessed to have Post Pals. Thank you!
Update 5th June 2013
Ruby is having a bad time of things at the moment, she has an obstructed bowel so her tummy is ginormous. She is amazing and has been wanting to go to school and give things a go. She's a real trooper. She even joined in at football today which is remarkable. She hasn't eaten for over 3 weeks as her stomach is not working. She is really fed up. We have been liaising with the hospital and so far we have been able to stay at home. Fingers crossed!!
She's feeling really poorly some days so your post really cheers her up! Thank you guys!!
Update 3rd April 2013
Hello again. Nothing has changed since the last update. Ruby is on a new medicine which seems to help her tummy, we really hope this continues and she can have a few months being well. Last year she was so poorly all year. Even though we were home for most of, I find some of the worst times are at home. Sometimes it is a relief to be in hospital… But I'm really thankful that we are home. Some of Ruby's friends are having to spend a lot of time in hospital away from family… I really feel for them, it's just so difficult.
It's Ruby's birthday this weekend and Ruby is having a build a bear party! We're doing it at home. She's so excited! We hope she is well enough to enjoy it.
Thank you for writing to Ruby. The craft bits you send her are an absolute god send when she is having a bad day… we often do the craft kits when she is in bed/lying down and it takes her mind off things. THANK YOU!
Update 5th March 2013
Hi guys. Well, so much has happened since we last updated you. In December Ruby went to theatre 3 times in 2 weeks. One was emergency surgery at our local hospital and the other two were at Great Ormond Street. Since then things have been really bad for her. She's lost an awful lot of weight, is very weak and frail and has been having an awful lot of time off school. She has been having an awful lot of intense pain which has resulted in trips to A&E a few times to get stronger pain relief. Ruby's condition is not getting any better, if anything things are progressively getting worse. She has been unhappy quite a lot lately, which I can understand. She's gone from being so carefree even with all her "bits" and interventions, to being unhappy at home and quite often in pain. She misses playing with her friends at school and wants to run around at lunch time again. She is still my smiley girl but I can see it is affecting her so much. The doctors at GOSH are trying to help and trying different medication so hopefully we will find something soon that can help her get back to being happy Ruby.
In our last update we told you that Ruby was expecting a little brother. Well he was due at the end of December and was born on the 17th December. Unfortunately Rhys was stillborn. It's been a very difficult time for us as a family. We are used to dealing with illness, operations, pain, but put this on top of everything and we are really being tried. I am so thankful to have my amazing Husband who is the most wonderful Daddy ever. He holds Ruby when she cried and soothes her, he helps me take care of all her medical needs like putting up her drip and changing her Ileostomy bag, gives her her countless medicines and endless hugs. We are such a great team and there's so much love. We can get through anything together. I am really tired and fed up though as you can imagine.
Please keep sending Ruby happy post! Anything to keep her occupied when she is at home off school. She loves colouring in and someone sent her a wonderful personalised colouring in book that they had made with all her fave characters… that really made her day! Thanks so much for writing to my girl and keeping her happy!
Update 19th August 2012
Ruby has had such a lovely hospital-free summer so far! She was in and out from January to April and was really poorly. We just couldn't get to the bottom of it. In the end we found out that her Port-a-cath had become defective and was leaking fluid out onto her skin, which in turn caused her skin to breakdown, and a lot of pus was sitting on top of the port. So each time I put a needle in there some of that bacteria was entering her bloodstream. We are very surprised that she did not become critically ill… but it rumbled on for months undetected. We went to QMC and had a new line put in. Since then she has been great. Her TPN (she can not eat much so has to have a liquid feed into a main vein overnight) has been reduced from 7 to 5 nights… and so far so good! She has been eating more too, which she is very happy about.
Ruby finished her first year of school with a great report and 75% attendance which we never thought would be possible! The most amazing thing of all in our eyes was on sports day! She was having a great day health wise and came 2nd out of 8 in her race. It was a photo finish between her and a boy! Things like this that seem so small to other people mean so much to us. It was not long ago that she was having physio in hospital due to repeated surgery leaving her unable to sit up never mind walk… and now here she is running on a good day. She has also started football lessons. We have also moved house!
In other news, Rapunzel and Flynn Rider (Ruby's fish) did not enjoy the house move and have unfortunately gone to fishy heaven. She really really wants a guinea pig… so if anyone has one and can tell her what it is like, the responsibility etc… that would be wonderful!
WOW so much to tell you all!
Other big news in our house is that Rubes will be having a baby brother or sister after Christmas… Last Christmas she asked Santa for a brother or sister and as you know Santa always makes wishes come true!
Thank you so much for everyone that has been sending cards and letters to Ruby… it means so much to her and us! Thank you for the monthly project too… we really look forward to seeing what the theme is and she really loves those parcels!
Update 3rd February 2012
Hello everyone! I'm sorry we haven't updated in a while but things have been pretty hectic. Ruby has missed around 3-4 weeks off school because of ill health which we hope is finally being resolved as she had her first full day at school in a long time today – YAY!
I haven't updated since Christmas and just want to say a huge huge thank you for the amazing gifts you sent her this Christmas! I'm so sad to tell you that we didn't get to write back because my husband lost the list I made on Christmas morning which had your names and addresses on for thank you's. He thought it was normal rubbish. I was so so so upset… There were tears! I hate the thought that I can not thank you all for your gifts. Please – if you read this and you sent Ruby a present for Christmas and have not heard from us please email us through the send an email button on Ruby's page near the postal address. The glittery thank you cards Ruby made are here ready to go – but no addresses!
A big thank you to Emmabadgermaisy for your continued post and smiles that you give Ruby! She loves hearing about what you have all been up to and congrats also!! Emma IOM, thank you for everything, especially writing to Alan… It's usual for the Dads to get any post and he does as much medical stuff as I do so it was nice for him to get some recognition. THANK YOUUUUU Libby for the lovely Christmas present and goodie box you sent Ruby – I think you know she will be eternally grateful. Thank you to Karen who sent Ruby the most unexpected box of treats and lovely card!! We are writing back ASAP, it was so lovely to hear from you again! Thank you to the pupils at Dussindale Primary school who made Ruby beautiful cards – they really are special! Ruby will write back soon! Thank you Kaci who sent Ruby a lovely princess book and picture – Ruby will write back soon!!
There have been quite a few trips to hospital this month and she hasn't been as well in herself, spending lots of time on the sofa, so your wonderful cards and letters have really cheered her up and given her something to look forward to. Thanks a million!!!
Update 28th November 2011
Ruby has done quite well since our last update! Ruby's trip to Disney world was amazing and you can view the pictures if you click on the link to my blog above. She had the best time and created memories that will last a lifetime.
Ruby adores school and begs me to let her go on a Saturday and Sunday! I'm trying to see this as a good thing! She is little 'Miss Independent' now and wants to do everything by herself. She loves going on the laptop and Daddy's phone… and at parents evening they commented on how wonderful she was on the computer. I am trying to work some magic to get her an iPad!! I know a few other children we have met in hospital have them and it seems to be a real asset for them. Very educational and fun. Watch this space!
She is excited about Christmas and just so happy. She is still on her TPN drip but the doctors have said to have 2 nights off per week. Whilst this is good news for her liver, we are a bit worried about her weight and how poorly she sometimes feels when she goes a night without it. Fingers crossed it works out ok!
Thanks so much for the post received this month, it makes Ruby really happy! Especially when she is having a bad day on the settee missing her friends and then granddad brings some exciting post round! Thank you!
Update 16th September 2011
Ruby had many tests at Great Ormond Street during out admission in July and we are still awaiting the results, but working on the theory that no news is good news.
Ruby has been well. Had a few blips though. She was admitted to hospital in early August as she had an extremely high temp, she had to have IV antibiotics in case of having an infection in her blood, but thankfully after 2 days the results came back clear! Just a normal kid's bug. Also, she is anaemic now – she has not got enough iron in her body. She is so pale it is unreal and some days I think she glows! Some days the anaemia really affects her and she gets extremely tired and will not walk anywhere at all, but then other days she is running around all day. They are hoping to put more iron into her TPN drip that we give her overnight and hopefully this will improve her energy levels (and mood!).
Ruby started school this week. Ruby had the best time and Mummy cried lots! At first she wasn't sure about having all these new rules… but she has come round now! The support in school is very very good and I am really happy with the level of care. She will always have at least one fully trained assistant with her. Well, now I don't know what to do with myself. I have been Mummy nurse for the last 4 years and now I'm not needed!
This week we are going to Disney World Orlando!! Make a Wish have granted Ruby's wish to go there and she is so excited!!!!
Thank you all for the lovely letters, cards, and gifts that you have sent ruby – it really brightens her day! Thank you Emma, Maisy and Badger, you're always thinking of Ruby! She loves hearing what you have been up to!
Update 29th June 2011
This month Ruby is being admitted to Great Ormond Street hospital again. I can not remember the last time we had a planned admission. There are some very different emotions to work through. Every year Ruby will need this MOT to see how the artificial feed into her veins overnight is affecting her body. It can have serious implications for get liver, kidneys and bone growth. We did all these tests before she commenced TPN (Total Parenteral Nutrition – all your essential fats, vitamins, minerals and fluid given via a drip into a central line placed into a main vein in her chest) so these tests will be done to compare the difference.
They decided on the date very last minute and were very inflexible so we're now having to miss our summer holiday to the Lakes with our friends. Ruby was very excited about going to Beatrix Potter World and seeing Peter Rabbit. We are always determined to stay positive though and hope that if she is well enough after all her tests we will find something really really fun in London for her to do as a reward for being brave as always!
Ruby had her first taster day at school and LOVED it! She just can't wait to start. We also met Ruby's new one to one assistant and started some of her training. I think she was a little overwhelmed at how MUCH training is needed and just how many "bits" Ruby has! There will also be 2 other fully trained members of staff at the school and a dedicated medical room for her! She has inspected it all and it all meets her approval (phew!).
Ruby had a fab time at the Post Pals party and loved catching up with all her friends from hospital and meeting new friends!! Thanks for a wonderful day; we had a really lovely weekend!
Thanks for writing to Ruby; she really loves your post! She will appreciate it even more this month as she really dreads these tests, especially tests on her bladder.
Update 21st April 2011
In the last few months Ruby has been enjoying the best times of her life. I can not believe I am about to say this but she has not had an admission to hospital in 4 months!!!! I never ever thought I would be able to say that! Ever since Ruby was born we would be in hospital for more than 50% of the time. Two weeks in, two weeks out, and then last year she was in hospital from January until September. That was a very hard time. She struggled so much but always had a smile on her face, even on the worst days. Some days she did not have the strength to even sit up. But she would still have a smile for everybody. She really is my amazing girl, and I am so proud of her because she NEVER GIVES UP. Not even at the lowest points.
We are so happy to be enjoying some family time at home together! She still has 24 hour care needs. We take turns to do the nights and 3 nights a week we have a carer to look after Ruby so we can get some sleep. Every night at 6pm she goes on her TPN. This is a fluid that is fed into a vein near her heart, through a pump, much like a drip in hospital. It contains all her calories, vitamins, minerals and fat. Ruby can't eat much but enjoys nibbles of foods and likes to try anything she can! She also has a variety of other tubes that need to be connected at night time. She never moans, grumbles or gets fed up with her situation. She knows that all her 'bits' on her tummy are the very things keeping her 'well'. She accepts her life and all the medical care she gets, as she appreciates everything so much! She adores nursery, no doubt because she spent so long in a hospital bed without many friends. She loves meeting people, playing outside, the sunshine, the grass… all the things that we take for granted but are so precious to her.
Medically she is doing well – she is putting on weight and growing. Excellent news! We also removed her permanent catheter that was through her stomach as she has been urinating on the toilet all by herself! The doctors told us this would not happen, that she would always need a catheter, but here we are, Ruby using the toilet and gone from wearing 2 nappies to wearing knickers! We still leave a catheter in overnight because she needs it with all the fluid she is on overnight! We are so proud of her!!!
Thank you so much to everybody that sent Ruby a present for her birthday, she is a very lucky girl indeed! She has been hard at work making works of art which will be sent to everyone that left their address. She loves hearing from you all. Ruby's favourite kind of post is cards. She loves bright cards, and obviously anything with a fairy / princess / bunny rabbit on is always a winner. She keeps all her cards! She also likes it when people make up stories for her and put pictures in, especially if Ruby features in the story. Emma IOM always sends these and Ruby loves them!! She sent a picture of the Fairy Bridge on the Isle on Man and this has sparked so many games, stories and dreams! It really is the thoughtful things that don't cost much that really have an affect!!! She loves all her presents too. Today we got quite a few art and craft parcels for Easter which she loved! We can't wait to get stuck into them this weekend!!! We got one anonymous parcel with a photo frame kit, Easter egg, magnet kit and more… it's wonderful and so thoughtful! Thanks to whoever sent that!!!
Update 1st November 2010
We have been home for 2 months now and we are LOVING IT!! Ruby has a lot of complex medical needs which means she has a Stoma bag, a catheter through her tummy, a central line for her TPN (all her calories and vitamins are given through this as she can not eat) and a Mickey Button into her stomach to ease pressure that builds up. We are very lucky that Ruby's Daddy and I can care for all of these needs at home now instead of in hospital! She now has a portable TPN pump which means that she can get out and about, nothing can stop her now! It will be a very rare occasion now that would mean us having to go back into hospital. She has spent over half of her life in hospital and 8 months this year (January – August!). We are so happy that we can finally be at home together! It is an awful lot of hard work and stress but it is all worth it when we see her smile in the morning. As soon as she wakes her first question is 'Is it nursery today?'! She adores it and goes 5 afternoons per week! She has missed a few sessions due to appointments and her tummy but the nursery understand – she is adored by the staff and loved by the kids. She already has 2 parties to attend this month – her diary is much more exciting than ours!!
Health wise Ruby is doing well. She is managing small amounts of soft foods which is fantastic – she has put on weight and for the first time in 18 months she has grown taller – YAY a major milestone for us! In the last 2 months she has grown 3 centimetres. Her weight was static at 10.2kg for a year, but now she weighs 12.8kg! Whilst we celebrate these achievements we also know that none of this would be happening without the TPN and that essentially Ruby's bowel has failed. That is sad, but at the same time we are happy that she is doing so well on the TPN.
Thank you so much for all the post that has been sent to Ruby, she has had some lovely letters, cards and gifts. We can never thank you all enough. A big shout out to Grannie Ruth who always manages to cheer us all up even on the worst days (including Granddad!) and to Angela who is facing her own battle as we speak but who has never failed to send Ruby a card every Monday since last December. Know that we are thinking of you and think of you as one of the family! Thank you also to Jenny and Ben who have been spoiling Ruby rotten!!!! Also to Rosie and Mandie who know the secret to a girls heart! And of course thank you to our special friend on the Isle of Man – Ruby thinks it's so cool to get post from someone living on a little island!! Thank you to everyone else too – you're amazing! I have some special photos of Ruby in her Ballerina outfit to send out, you should all get one soon! That's if I have been good and kept your address – I'm afraid sometimes Daddy lets Ruby rip open her cards and presents and doesn't save the addresses so I can't say thank you. Don't worry though – he's been told!
A while ago somebody sent Ruby the complete Peppa pig collection series 1-3 to watch on the computer. I never sent a thank you as she was quite poorly at the time, but I just wanted to mention this as it really has provided days upon days of endless entertainment for Ruby and I can't emphasise how it has been invaluable. It has been a constant companion at home, in hospital, and in the car for months now and was such a thoughtful gesture – thank you! As you have probably guessed Ruby is obsessed with Peppa Pig, she adores her. I have to admit Mummy and Daddy love it too and often find an hour or two had drifted by with all 3 of us laughing at Daddy Pig and Co!
Thank you Post Pals for always planting a smile on Ruby's face, she lives for Sundays when Granddad brings the post round!
THANK YOU FROM RUBY THE BALLERINA, LUCY AND ALAN.
Update 13th August 2010
Hello everyone… I don't really know where to start! If you click on Ruby's caringbridge link (there is a link at the top) you will be able to read her journal and everything she has been through lately.
We are now at Great Ormond Street and they have decided to take the food away from her (again). She is struggling with this decision and keeps asking why she can not eat anything even though she is not poorly. They want to see if they can get her on a milk diet and wean her off the TPN which is giving her all her vitamins and calories etc into a main vein through her central line. There are big risks associated with TPN, but we are very worried that we have tried and failed with this milk plan numerous times over the last 6 months at QMC and feel it is pointless doing it again. We believe she needs a strong motility drug like Cisapride which we believe would allow Ruby to go home and eat food. Patients in America are on this and do well. It is unfair that Ruby is suffering because of where she lives. I really hope my next update will be more positive. We have been in hospital now for 7 months none stop. In that time we have said goodbye to one house and moved in to another (although Ruby and I have not seen the new house at ALL!). We hope and pray that we will be home soon with a plan that allows Ruby to grow and develop and get on with her life! Nursery starts in September and I just hope and pray she will be able to go.
Thank you so much for the post that you guys have sent! Thank you to Rosie and Maddie who have sent Ruby some amazing gifts and the letters and cards that Rosie send are always so much fun, she loves them! Thanks to Angela (we are thinking of you) and to Arlene and Lambie! Also to Kim Lawrence and Steph who always make Ruby SMILE (and me!!! Thank you Steph)! Also a big shout out to Anne Bennett, I don't know if you read this though! Emma… you should be getting something extra spesh in the post that Ruby made! Badger, we love you and hearing your stories, you are so cool! A big big thank you to Maria Broomfield who has supported all 3 of us and kept us going even though things haven't been easy for her! A special lady!! Also, THANK YOU VIKS for giving Alan and I an amazing night out in London all expenses paid – memories that we will carry with us for the rest of our lives. Thank you to all the other wonderful people who send post to Ruby, you can't know how much it means to us! 😀
Update 30th April 2010
Ruby has been in hospital for over 90 days so far this year alone. So that would be nearly two years if you add it all up. We really thought that this year Ruby's health would be sorted and we would be able to spend time home as a family. But the surgery she had at Great Ormond Street in January didn't turn out as expected and rather than making her better it has made things much, much worse. I wait until she has gone to sleep and shed buckets of tears for her. To see your child suffering and wasting away in pain is the WORST thing imaginable. But then there are days when Ruby's tummy allows her to have fun and be pain free. We cherish those days and live them to the full!! Even when Ruby's bowel has gone into an obstruction and she is so so ill, she still manages to have a smile for everyone and she is just the happiest little girl in the world. She amazes me more and more with every day that passes. If you asked Ruby about the last 3 months she would tell you they were fun. She's got friends in hospital and the nurses love her. The surgeons, nurses and playworkers shower her with affection and attention and she really is surrounded by love on a daily basis. She has Mummy and Daddy living at the hospital with her 24/7 giving her all the care and support she needs. We need to be here with her and will do whatever it takes to make her feel content and secure.
Last week Ruby ate 3 meals a day for 8 days. YAY! We really thought we had a breakthrough, but unfortunately she went into a terrible obstruction where her bowel and stomach just shutdown completely and sadly she ended back on IV fluids for the first time in a month. She has been in terrible pain this week… I don't know how we got through the last 3 days. But we did, somehow. And now we are trying to get her back on her milk and start trying again… but how many times will we try before we admit she needs more help? Will my darling angel never be able to eat again? She adores food so much its heartbreaking.
But we would get her through it and support her all the way, if it meant an end to the pain. We think we may be being sent back to London, because our hospital doesn't really know where to go from here. One thing is for sure though; they will never give up because they love her too much! Let's all hope and pray that when I update next month I have some positive news. We will NEVER give up fighting for Ruby! Our shining star!
WOW! I cannot believe the amount of post Ruby has received this month. You all care about her so so much. We have been amazed and blown away by the love shown to Ruby during this hard time. It really is difficult for her at the moment. She has been in Hospital since the beginning of Jan and that's no life for her. The amazing response we got after the Russell Howard show! The postman came in his car after work one day because there was too much to carry… WOW!
We always write back to people that send her gifts and if she is well enough we often write back to cards, but this month it is physically impossible! So if you sent Ruby a card, letter or email – THANK YOU SO MUCH!! I can guarantee that you put a smile on her pretty face. She loves hearing from you and what you are up to!
Update 14th February 2010
WOW, you have made these last 2 months so much easier for us! Thank you all so much for everything you have sent. I am sorry if i haven't sent you a thank you note, it is because we have had a very rough month. I really do try to thank everyone, but i know that some of the best presents and letters have not been responded to. This is because i kept thinking i will write a proper letter, but never got chance to because i was waiting for things to get better and they haven't! THANK YOU!
Update 3rd January 2010
Hello everyone! Well what a difference Post Pals has made to little Ruby's life. To say 'thank you' seems insufficient! She has received the most wonderful cards, letters, postcards and presents from the kindest people! We will try to thank everyone individually who have left their address details, but to everyone else, I can't thank you enough! You really brightened her month. Especially when she was in hospital on Christmas Day! When we got home on Boxing Day she had a huge pile of presents and cards waiting for her, it made her so happy!
Ruby's surgery in December was cancelled at the last minute. We were really disappointed, because we just don't know how much longer she can go on like this. Since then she has had 3 admissions to 3 different hospitals, 3 ng tubes, 6 cannula's, and 4 Pseudo Obstructions. The longer Ruby waits for the surgery the worse her condition will be in later life.
We got the date – it's the 15th January. So we will be in London from the 14th for 2 weeks and if anyone wants to cheer Ruby up please send a little hello to her at the hospital!
Ruby J, Rainforest Ward, Great Ormond Street Hospital, Great Ormond Street, London, WC1N 3JH
The surgery and recovery will be hard. Ruby is having an Ileostomy and a GTube (Gastrostomy). So when she wakes up she will have an extra bag and tube. I know she will cope fine; she is the most amazing, strong little girl! She will be very sore, so any nice letters to cheer her up would be wonderful!
Update 11th December 2009
I would like to thank the lovely people that have been sending Ruby post and presents! She's so happy right now, it's really making her week. Thank you all.