Update – Shortly after writing this Tori passed away. She never found out what happened in the film but was sent a special gift from the publishers of Fantastic Beasts. The gift has gone to our Pal Connor who Tori made lots of handcrafted Harry Potter things for. Between Tori's birthday and funeral she has funded 4 families to go to Chessington when Covid is over.
Our lovely volunteer Tori sends the most amazing post to seriously ill children, often all handmade and more often than not Harry Potter themed! From making chocolate frogs to Luna Lovegood bunting, she puts so much time and creativity into them. Last week she was busy planning a Harry Potter Zoom quiz night for the children we help.
Tori now needs us, sadly her cancer is terminal and she was admitted to hospital on her birthday. She struggled through a long 4 years on the lung transplant list and worried about not getting to see the next Harry Potter. Her donor gave her 7 more years but now she is sad that she won't get to find out what happens in Fantastic Beasts and Where to Find Them 3.
Please help us reach out to those involved in Fantastic Beasts and have them let Tori in on the secret!
Tori also has a birthday fundraising page here which she is watching and a place for people to upload a birthday video here, it would be amazing for her to have a video from anyone involved in Harry Potter or Fantastic Beasts.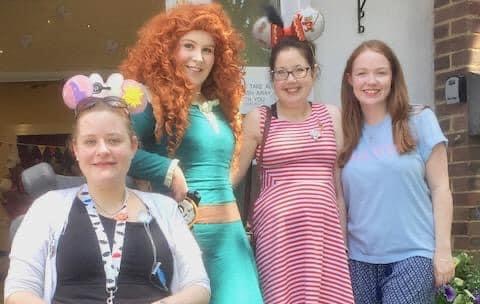 Tori (in red) at the Post Pals party
If anyone is able to help please message us on viks@postpals.co.uk or on 07748697475 and we will put you in touch with her parents.