Before I share an article written by Katherine to celebrate a big milestone in the Dottie scheme, I would like to take this opportunity to thank Clare for her hard work and dedication to Dottie.
Clare is unwell herself but puts lots of energy into creating amazing adventures and over seeing a team of helpers including Katherine who wrote this article.
We would like to name Clare our second Star Volunteer.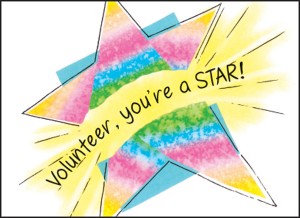 Now onto Dottie…
Dottie the Dalmatian is celebrating her 101st newsletter going out this week (and that doesn't include all the postcards that she has also sent out)! Clare, who has ran the Dottie project since it started nearly 6 years ago, was asked to write a piece for the website, but she is very busy with Dottie stuff so she asked me to write something instead!
I haven't been with the project since it started. I stumbled across Dottie the Dalmatian on Facebook two and a half years ago and became involved in writing to pals from my dogs (Millie and Fly, and now the latest doggy addition to our family, Moss). Through the Facebook page I became friends with Clare and, after being asked if I could get some photos over the summer of 2014 for the newsletters, Dottie arrived at my home! And then the madness began …
I've received a lot of strange looks from people when I'm posing Dottie for photos, some people ask what it is for, some people just snigger, some people look at me like I'm crazy,but it is all worth it, working to get photos to send off to pals. We've had some great adventures visiting puffins, a sensory room, reindeer, working sheepdogs and last year we even reached the summit of Ben Nevis! While some people think what I'm doing is odd, many of those at places we've visited have been more than happy to help with getting photos and even get hands on with Dottie so that she can do things like shearing a sheep!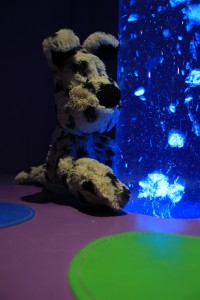 My dogs have also being subject to joining in with Dottie, Fly patiently getting dressed up as a medieval jousting steed so Dottie can pretend to joust, and Millie posing with Dottie on her back as if carrying her down a mountain. Not to mention all the other photos of them posing with Dottie. They have accepted Dottie as part of their lives, though I think even they felt like drawing a line when it came to wandering around the snowy hillsides with 'Olaf' the carrot for the Frozen newsletter!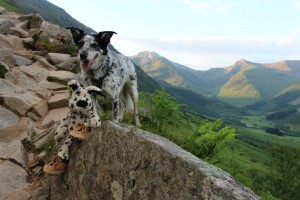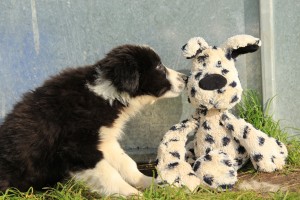 The summer of 2014 is now winter of 2016, and Dottie the Dalmatian is still with me here in Scotland. While you may think that ideas would start to dry out after having Dottie for a year and a half, there are still adventures I'd like to take Dottie on but have yet to get around to doing and things to do that we have yet to get done, not to mention the photographicchallenges Clare sometimes asks me to do. Of course, I don't want to go spoiling any surprises about what Dottie might be getting up to next so I'm not telling what those ideas are! Besides, Clare already has a vast album of Dottie photos to work her way through … which is possibly one of the reasons why so much of her time is spent on the Dottie Project! Clare does amazing work putting the pictures and stories together in newsletters, planning everything out well in advance, with the exception of a few fast-track newsletters that are rushed out to pals, and I look forward to continuing to work with her on the photography side of the Dottie project in the future!