For those of you new to Post Pals, welcome. We are a small charity run by volunteers (who are ill themselves) helping make seriously ill children and their siblings smile as well as supporting bereaved families through the sending of cards, letters and gifts.
Once a year we hold a relaxed party which is an opportunity for all our families around the UK to come together. The kids have so much fun amongst others who understand (one year lots of children decided to compare their tubes with each other) and the parents can relax. A family said "it's the one day of the year we don't have to pretend to be normal" and another said it was the first time their severely disabled daughter had ever been included as people often don't see past her disability to the little girl she is. This years party is on the 29th of June in Surrey.
We are only small and the party is a struggle for us financially (but worth every penny and every bit of the time it takes) so it was suggested we publish a list of things we need or would like, the list is long and varies from expensive items, to secondhand things and right down to our need for used sweet wrappers to make the children smile! We have Paypal, Justgiving and can accept cheques or bank transfers as well as having the items sent to us, which ever is best for you. If you can help us in anyway please contact us on viks@postpals.co.uk.
Thank you for taking the time to read our list.
Entertainment
-Singing Hands, they sing and sign, this went down so well last year with lots of kids joining in, one of our pals who was 10 at the time also moved her hands during it for the first time in her entire life!
-Octopus Parties, the wonderful Johanna does face painting and an interactive show taking kids on wonderful adventures, last time they went under the sea to try and find the pirates treasure. She signs during this and includes children of all abilities.
–Giant slide (always the biggest hit)  Thank you Mr Hodgers
–Bouncy castle and bouncy ball pool (for gentle play/severely disabled children) £100 Thank you Rissy and Harry
–Mickey Mouse costume £75 (to buy rather than hire) Thank you to Faye and her Dad
–Minnie Mouse costume £75 (to buy rather than hire) Thank you to Faye and her Dad
Minnie and Mickey Mouse will make their first appearance at the party, having fun with the kids. After the party they will be shipped around the UK so the children can have visits from them at home, in hospital or at the hospice. We have a Peppa Pig suit from the same company which is excellent quality and about the same price as hiring it for a day would be.
-Air swimmers (like this http://tinyurl.com/abj8ntf)  clown fish and angry bird, second hand is fine if you have one laying around. We plan to have these swim out mysteriously and interact with the kids. Thank you for Kati for the Angry bird swimmer
– Helen the caricaturists, we had her 2 years ago and everyone was so excited and thrilled with them and the parents loved the reminder of a special day http://www.drawnbyhelen.co.uk
–Nail/tattoo station. We would need both a couple of volunteers and also the nail varnishes (and anything to decorate them with) either loaned or donated and some tattoos donated with some for both boys and girls. We have had a few offers from people to do nails, we will be replying to them soon
-Experienced facepainter, our Octopus party entertainer does face painting but if another face painter would be willing to come along it could speed things up and give Johanna more time for the show.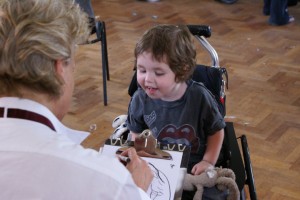 Food, both bought and homemade
-Buffet normally £400 (depending on how many are coming) from Pierces our local bakery
-Drinks, snacks, sweets, treats, allergy free/special diet food, normal comes to around £200, if you know a company or can donate an item like fancy sweets, fruit flowers/fruit presented in a fun way, nice snacks or anything would be gratefully received (party in Surrey).
-Big cake, we would love a special cake to celebrate our 10th birthday to be enjoyed at the party by everyone.
–Cupcakes, we would love some whether its one large amount (around 150 cupcakes) from one person/place or smaller batches from several people. Thank you to Gary (Hollies Dad) for offering to make 100 of his wonderful cupcakes and Melanie (Sapphire's Mum) for offering to do 50 cupcakes
Other things
–Party bags Thank you to Olivia and her friends
–Hall hire £90 Thank you John
-Party bits and bobs, plates, cups, streamers, paper lasers (these went down so well last year and parents ended up targets although one pal found it funniest to unravel the whole thing then get her dad to wind it back up) I got them from here but didn't have enough for each child who wanted to join in), bubbles, table cloths, cutlery, straws etc. This tends to come to around £200 but happy to accept a packet or two of blow outs, a pack of streamers etc.
-Raffle prizes, we hold a raffle at the party where the kids are amazed that they keep happening to win (a few say they have never been so lucky before, once a girl kept saying 'its me again, and again, I'm the luckiest girl in the world'!). We tend to have mostly kids stuff but with some prizes for parents/teens too. We also have a ball on October in Surrey (Effingham golf club) to fundraise as we would like to expand and help more children whose cancer is terminal as well as extending into burns units, we are looking for raffle prizes and auction items for this too so if something isn't suitable for the party we can put it to good use
-Candyfloss machine, does anyone have one we can borrow or donate (the type that you get at events rather than the table top ones that don't produce much).
-Party invites, we don't normally send invitations through the post but if anyone makes cards/invites it would be a lovely touch.
-Helium for the balloon release, 3 of the 'party canisters' that party shops online sell or a canister of helium (the size of the ones you get in the shops).
-Forget-me-not seeds for the balloon release, about 10 packets.
-Big car to help on the day, we live less than 5mins away from the hall but only have a small boot in our family car, if someone who has more space could help by doing a few runs to the hall and back it would save us a lot of time!
-Photo booth, these are very popular at the moment and I know kids would have a lot of fun. Looking for someone who can take the photos but also supply props (things like silly hats), there seem to be a lot of companies doing this at the moment and tons of ideas on pin interest/google.
–Photographer, we would love to have a professional to take photos on the day. We have had a few offers from people to do photos, we will be replying to them soon
-Video, as its our 10th birthday we would love to have a space where people can record their thoughts about Post Pals and also capture some of the fun of the day so looking for a volunteer with experience and a camera.
-Mickey/Minnie items, someone said they can get Mickey ears for £1.05 each and it would be nice to take home to remember meeting Mickey/Minnie with, looking for either someone to sponsor or if you are able to donate other Mickey items.
-Lucky dip prizes, little things for the dip, there is a girls one and a boys one (done in postal sacks of course!)
Getting families to the party
Our families are all over the UK but we all like to come together. Some families are unable to afford the petrol or hotel stay (if they come from a long way, and a lot of children need to be hooked up to IV pumps early evening which couldn't be done traveling they stay over).
If anyone could sponsor a family, contribute to petrol or works for/is able to get a discount for Travel lodge it would be much appreciated. It tends to be about £100 per a family.
Sunday outing
As its our 10th birthday we would like to make it a birthday weekend, we are based very near to Chessington World of Adventures so plan to do a group outing there on the Sunday. We will approach Merlin to ask them to donate tickets for the families who qualify but some won't qualify for example if a PP family has lost a child. The things that would help are
-Tickets to Chessington, if you know someone who works there and has any free tickets they could donate or if you could sponsor one (there's lots of vouchers for buy one get one free). Tesco reward points can be used to purchase tickets
-Donations for lunch,  we plan to offer families a choice of McDonald's things (burger, wrap, salad, happy meal etc) as people with dietary problems can find out in advance what they can have unlike different restaurants there. Any donations including discount coupons, luncheon vouchers or any type of discount would be helpful.
-T-shirts with our logo so families can spot each other, looking for them to be printed or sponsored, happy to have 'sponsored by' on.
The total dreamlist of things of extra things that we can't afford and aren't essential but would be dearly loved so posting on the very tiny off chance someone might be able to help!
-Inflatable candyfloss stall (the things kids dreams are made of!). It costs £695 to buy here or can be rented from here
-Confetti Canon or exploding balloons (with flutter fetti/tiny balloons in), either someone to do it for us or having the things needed donated and we do it ourself on the day.
-Hall decorations, the hall is fantastic but very drab, we hang up our nice bunting but nothing else as we can't justify using donations on decorations however we would love a lovely looking hall, I was thinking of balloon decorations that some companies do but open to any ideas/offers.
-Craftrobo not for the party but for creating funky cards all year around, asking incase someone has one they no longer use
Other ways to help make poorly children smile
-Although we have a party once a year we create smiles on all the other 364 days by the sending of cheerful post. We are always in need of people to send a cheerful card, little gift, postcard or for children to draw pictures.
-Drink can rings, a volunteer turns these into jewellery and sells them to raise funds
-Starburst (opal fruit) wrappers for a volunteer who makes them into bracelets for all the Post Pal children.
-Ball, we are holding a ball in October at Effingham Golf Coure please email viks@postpals.co.uk if you are interested.
-Craft, join our craft volunteers on our Facebook for ideas and ways to make the children smile, whether your a beginner at card making, sew, knit or make anything else you can create smiles
Below are just a few photographs taken at previous parties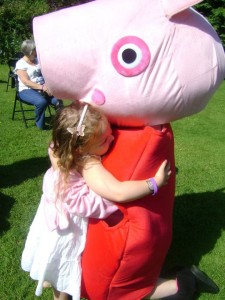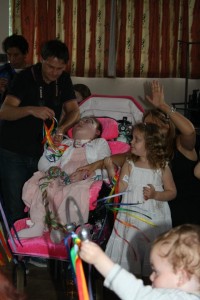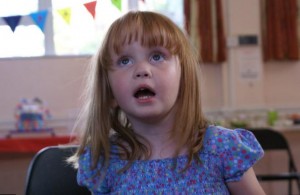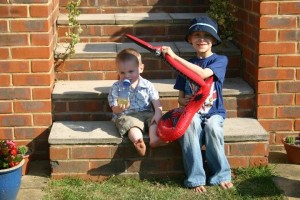 Ashely enjoying the party (sadle he passed away 2 months later)
I will leave you now with a smile which summed up the party so well