Donate to childrens charity
Link to Post Pals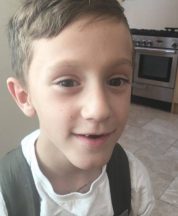 Contact Details
C/O 21 Summerhill Road
Cowplain
Hampshire
PO8 8XD
United Kingdom

Email Pal
NB: this is a forwarding address for the Pal, we do NOT disclose home addresses
Other Information
Parents/Guardians - Kellie
Interests - Football, theatre, dancing, pantomime, playing his ipad, reading, WWE and any sport related subject. Loves receiving match attacks, loves minecraft and lego
Favourite Colour - Red
Able to read? - Yes
Able to use hands? - Yes
Visually/hearing impaired? - No
Suffers from any developmental delay? - No
Siblings - aged 3 to 16 wishing to receive post
About - Jude A
Story written 2016
Jude was born at 28 weeks' gestation with severe lung complications. Sadly, shortly after he started to feed he developed problems with feeding and failed to thrive. He fed via jejunostomy for 2 years until he could no longer be maintained nutritionally this way and he started TPN. It soon became clear that fluid volume and electrolytes were an issue and Jude requires huge amounts of both to remain stable. He has to be on TPN 24 hours as he becomes hypo very quickly and cannot grow. Sadly, he has developed portal hypertension and his liver is affected. 9 months ago he listed for transplant after many bouts of line sepsis. He has had an ileostomy formed which has caused many problems as he instersucepts through it requiring a general anaesthetic to reduce. He has had total colectomy which has helped enormously but unfortunately not enough to prevent him from needing a transplant.
Jude is an active little boy who enjoys urban dance and has even won a few competitions! He is very bright and excels at school despite his lack of attendance. He is always happy and takes everything in his stride!
Update 5th June 2017
Jude has been extremely unwell with septic shock. He is still awaiting transplant day 513! He is unable to attend school full time as we currently don't have enough nursing. He attends once a week so is desperately missing his friends.
Update 15th February 2017
Jude remains on the transplant list. He has been home from hospital for 3 weeks after a long admission which kept him in over Christmas.
Sadly Jude is unable to attend school at the moment as he has no nurse to take him and education have yet to put a tutor in place so he is quite bored!