Donate to childrens charity
Link to Post Pals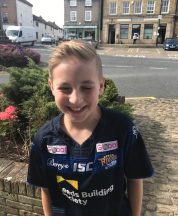 Contact Details
C/O 10 Mattison Close
Leeming Bar
Northallerton
North Yorkshire
DL7 9ED
United Kingdom
Email Pal
NB: this is a forwarding address for the Pal, we do NOT disclose home addresses
Other Information
Parents/Guardians - Emma
Interests - Jack has a passion for rugby league both playing and watching (Leeds Rhinos). Playing on PlayStation. He collects Lego spends hours building models. Jack and Luke have fun playing with Nerf guns. Jack is also interested in the armed forces, particularly the Army. He likes Pokemon. Recently developed an interest in fast super cars!
Favourite Colour - Blue
Able to read? - Yes
Able to use hands? - Yes
Visually/hearing impaired? - No
Suffers from any developmental delay? - No
Siblings - aged 3 to 16 wishing to receive post
About - Jack T.S
Story written 2015
Jack is 9 years old and has cystic fibrosis, an inherited life threatening condition. He was diagnosed at birth and required his first ever operation at just 22 hours old. He had meconium illeus which resulted in a part of his bowel being removed.
Since his diagnosis Jack has been in and out of hospital numerous times, often for long periods, and has had several operations. As a result of his cystic fibrosis, at the age of 2 years he was diagnosed with liver disease. Jack has suffered from numerous complications from cystic fibrosis and recently had surgery to stop him from being able to vomit. Previously he would vomit daily, resulting in weight loss and damage to his fragile lungs. Jack takes in excess of 60 tablets a day and also has daily physiotherapy on his lungs.
Despite all the things he goes through (invasive and time consuming treatments) Jack very rarely lets it get to him. He is a happy and active little boy who is always smiling.
Update 1st October 2017
Jack has just started a two week course of IVs following the results of sputum cultures which shows he is currently is battling four different bacteria infections in his lungs all at once. Luckily his lung function remains high and stable which is a huge relief with everything happening all at once right now!
We are still awaiting a surgery date for his gastrostomy operation, the longer this goes on the more apprehensive Jack becomes. He really doesn't want the operation as it is. He's very angry about all his medical issues at the moment and still is struggling to attend school, we are lucky if he manages an hour or two a week. He really misses his friends and is tremendously worried about their reaction should they find out he has a tube in his stomach when he does return.
Since having the NG tube removed, Jack has been in a significant amount of pain every day. He can't sleep or even eat properly with it at the moment. He is pretty miserable. We really are hoping that he won't have to wait much longer – it's already been a month and he's supposed to be listed as urgent.
We are also still waiting for his team to repeat his Continuous Glucose Monitoring test as his last results were a bit abnormal so they want to keep an eye on the potential development of CF Related Diabetes.
Update 31st August 2017
Yesterday we were at the hospital seeing the neurologist for the first time. Jack had a test done which is supposed to indicate whether or not it's likely that epilepsy is causing his blackouts/seizures.
This test involved placing sensors all over Jack's head which then sent information to a computer. He was made to sit there (while also being recorded by a video camera) with his eyes closed for a period of time before being asked to open them again over and over, it then progressed to having a light placed directly in front of his face which would start off flashing slowly before finishing at a very high speed. It was like a disco in there!
After 20 minutes of eyes open/eyes closed and lots of disco lights the test was complete. Of course they wouldn't tell us any kind of result, instead saying that it would take 2-3 weeks for them to write up a report of findings and deliver it to Jack's consultant. I'm hopeful that it will be fine
We are back at LGI again today for his CF Clinic and follow up of the NG Tube experiment and of course the newly added blood sugar stuff!
Hopefully today Jack can have the tube removed ready for starting school and we can agree on a way forward from here.  He's certainly worked himself up with excitement that he may be losing the tube today anyway!
Fingers crossed that today's appointment goes well, it's one I am nervous about.
Update 6th June 2017
Jack has been having an horrendous time over the last 6 months, but especially over the last month or so. He has been in and out of hospital since January and his last admission was 3 weeks long.  Jack has been in constant pain for weeks on end, with problems going on within his bowels. He is so so fed up, misses his friends, rugby and even school – it's been over a month since he last made it in.
He is so exhausted from trying to deal with the pain. Nothing so far has helped to ease the pain except for morphine, but that is not ideal given the side effects it can cause on the bowels. He is getting very little sleep, neither is mum as the screaming in agony continues through the night. We are trying to make him as comfortable as possible but feel like we are fighting a losing battle.
Jack is so down in the dumps and fed up with it all, he feels that nobody is doing anything to help. At the hospital just yesterday, Jack went to pieces and decided to refuse all treatment. He was shouting at everyone that he had had enough of being poked and prodded, and having things done to him that are not very nice or things that he didn't want to have done, and yet he was in exactly the same position. He now thinks that none of it is worth it, he's going through so much and still in so much pain and lost everything good in his life. Hospital is so far away from home, he's lost his social life, rugby, school – everything! I feel so bad as his mother when he's in so much pain and pleading with me to make it stop and I can't.
Update 2nd March 2017
Jack has had a very unsettled 5 weeks or so now, all relating to his gastro issues. Every time we seem to make progress and be 'back on track' he seems to revert back to where we started.  He's managed to stay out of hospital for the last 14 days, but we are still having daily contact with the team to try and get this right. The poor boy spent his birthday poorly at the hospital too.
Last weekend was probably one of the better ones, which saw him able to take part in half of his rugby training on the Saturday, despite being sent home from school on the Friday, and even compete in a festival of matches on the Sunday. By Monday afternoon though I received that all too familiar call from school again. Hoping things start to change soon!
Update 4th January 2017
We'd like to thank every single person who took the time to send us a Christmas card, there were so many! Thank you also to the boys' Elves and other people who sent Christmas gifts. We are in the process of doing personal thank you's but it's taking longer than I'd like due to health problems. They are all very much appreciated and brought lots of smiles to our house.
Jack has a really long day ahead of him on Monday. We will travel the 100 mile round trip to see his team where his annual review will take place. This is really important. It takes the majority of the day to complete and can be a drag. On the same day he also has to dash to meet with the immunology team for the first time. I'm quite interested to see what they have to say.
Jack has been really struggling emotionally with his condition lately. We found that he had been chucking his medication and generally avoiding doing any treatments or doing very little. This has happened on and off for the last few years now. I'm worried that he's going to undo all the hard work that has kept him well recently. No doubt the team psychologist will pop in on our visit.
Update 6th November 2016
Thank you to everyone who was kind enough to send post to Jack (and Luke). I want to apologise for my lack of thanks and acknowledgements these past few months. We've had a difficult time at home as daddy has been away again and mummy was also in hospital for a while, so online activity has been low.
Jack has had a good month, no need for any new medical intervention and he doesn't need to go to clinic until next week – he's managed a good 6 weeks away from hospital, which is great!
He has recently started up with his chest, but given that his brother has had a horrible cough/cold lasting a few weeks, it's hardly surprising that Jack has picked this up. I'm hoping that he will be able to fight this on his own but we are back at clinic soon anyway, so can get help then if it looks like he's struggling.
Jack is still waiting for his immunology appointment, which seems to be taking a lot longer than I had hoped – something to chase up next week.
All in all though a very positive month. Fingers tightly crossed now to get us through these winter months!
Update 2nd October 2016
Jack has gone back by about 5 years in terms of how he deals with needles. He had got to be so good at it, to the point that he would just sit there relaxed and tell the nurse to just do it when they were ready. For the last 3-4 visits though he seems to have regressed, each time getting worse.
Jack has been extremely lethargic over the last 3-4 weeks which is really really unlike him. He gets wiped after rugby and even after being out with his friends for any period of time will end up with him coming back shortly after and declaring that he is'shattered'. He will then go get changed into his pyjamas and get in his bed. Also anyone that knows Jack, knows that he is such an early riser – 5am early. Recently though, I have been having to wake him later to make sure I can get him to school on time. School too seems to tire him!
Jack has also been a bit weird chest-wise. He has been starting up with a chesty cough which gets to the point I think right, I need to ring his team, only for it to disappear again. It then restarts up a few days later?! Really bizarre and something we've not experienced before.
His team have taken bloods to try and find the cause for Jack's lethargy and in the meantime have added in yet another medication to 'cover him' in the event it turns out to be a different bug/bacteria.
We are still waiting for Jack's immunology appointment to come through and obviously the results of the tests from yesterday.
Thank you all for your continued support
Update 6th September 2016
We have just come back from holiday, it did Jack the world of good! He has just entered into his last year of primary school – year 6!
Jack has had quite a good month, we are still awaiting the antibody transfusion and clinic and hopefully this will happen before winter comes round. Always a bad time of year. Fingers crossed.
Update 8th August 2016
Jack recently completed a two week course of IV therapy for his current infections and lung function decrease. He is still growing the pesky micro-bacterium! Nineteen long months of a rigorous regime of treatment and counting – yet is still persists! At the end of his IVs Jack's lung function had increased quite a lot, which was great!
We learned that Jack also has an immune deficiency problem. Boo! Not a complete surprise as this was the third time that they had repeated the relevant tests and each time they have all come back too low. He will have to have all his vaccinations repeated after his IVs as they haven't taken at all and he's at risk from pneumococcal etc, etc. He has now been referred to an immunologist to be seen in their clinic, where they will likely give him regular boost infusions of immunoglobulins through his port. The consultant said this possibly will help in his fight against micro-bacterium too. Fingers crossed!!
Update 12th July 2016
Just to let you know that Jack started his IV therapy today. He's not feeling very good at all – his drug combination is very powerful and makes him quite ill. We have opted to try and do them at home and hope that Jack remains well enough to complete the 2 weeks with us rather than the alternative of spending it in hospital 🙁 We also learned today that Jack has an immune deficiency and therefore now has another new team of people alongside all the others, the immunologist. Daddy is away with the army so we are all having a bit of a rough time.
Update 7th July 2016
Jack is having a bad time with his lungs at the moment and will be starting a two week course of intravenous therapy from next week. His dad is away with work and has been for a number of weeks, so it's a very challenging time for the family at the moment.
Update 2nd June 2016
Jack is doing well at the moment and his lung function remains high.
Update 6th May 2016
Jack has clinic again on Monday. He is having some tummy issues at the moment, which we will hopefully be able to better manage after clinic next week, but is otherwise still doing reasonably well.
Update 2nd April 2016
Jack is doing really well. His lung function is up and stable and he's playing lots of rugby. He's had a lovely Easter and is enjoying the break from school and hospital.
We are awaiting results from CT Scan and Dexa Bone Scans but anticipate that these will be ok.
Update 3rd March 2016
Jack has had a really positive month. After a two week course of some pretty intense and nasty IVs, Jack's lung function has increased by 20%! The highest that it has been in years. Touching lots of wood that he remains on this high for as long as possible, he's worked so hard and deserves this break.
Thank you to everyone sending cards to both boys, they both enjoy it so much.
Update 13th February 2016
Jack has had a very good month. He had his two weeks of IVs and they did him the world of good. His lung function leaped right up to the highest that it's been in years! It was a tough couple of weeks but it was obviously needed and very worth it. He is now able to play rugby again, which he is thoroughly enjoying along with keeping up with karate!
He had a lot of tests done at his post IV appointment and we await the results of those in a few weeks time. There have been glucose tolerance tests (for CF related diabetes), liver scans (to check on his liver disease), kidney and bladder scans (for his stones), as well as a CT scan to monitor what this bacteria he is fighting is doing to his lungs. Fingers crossed that most come back good!
Update 5th January 2016
Over the Christmas period the children have had an enormous amount of post, it's been so exciting for them. We would like to thank everyone who sent a card to the boys and to the lovely people who chose to be our family's elves! The boys have had some lovely thoughtful and generous gifts. We would also like to thank the schools that have spent time with their classes making cards for Jack and Luke. To receive a huge bundle of handmade cards was lovely and the children had such fun looking at and reading them all. One school also chose to be an elf to the boys and what a huge surprise that was! They both received so many cards and gifts from that it was unreal, their faces were a picture.
We truly do appreciate each and every person who chooses to get in contact and create the smiles we see on our children's faces. We try to reply to as many as we can and will always post to Post Pals Facebook page and group to thank as well. If it sometimes takes a while it's not that we have forgotten or do not appreciate it, it's just that we are either in hospital, at appointments or that maybe Jack isn't doing so well. If we miss anyone it is not intentional.
After such a wonderful clinic last month things have turned again. We had to bring Jack back to the hospital early as his lungs were not good, particularly in the lead up to Christmas. After finding that Jack has dropped 14% off his lung function and he has lost about a kilo of weight, his consultant took the decision that Jack requires another two week course of IVs. These will start on 12th January. We also found out that despite being on a rigorous and tiring treatment for the last 12 months solid, the serious bacteria that is infecting Jack's lungs is still growing in there, and is showing no signs of disappearing yet. This was a bit of a blow considering the amount of extra treatments that Jack has had to endure for the last 12 months. He will have to continue this regime for the foreseeable future in an attempt to eradicate the bacteria from his lungs. The IVs that he is to start on are powerful and quite nasty, they will make him sick and very tired. We are not looking forward to it at all, but know that it is necessary. We are fortunate that we are trained and able to administer these at home, providing that he doesn't get too sick and are very grateful for that. Let's hope they get his lung function better again!
Jack has also seen his urology surgeon and his urology consultants over the last few weeks. Things have been better in that department lately so that is good. His kidneys are a little enlarged and his levels are slightly high. The plan is to have ultrasounds every 12 weeks to track any changes and hope that no more stones occur. If they do his surgeon will deal with them as necessary. We are also supposed to try and collect any small stones or debris when we can…That could be a challenge!
Update 2nd December 2015
Jack had a fantastic clinic! I am so pleased that he is back on track again, his lung function has recovered and back up to a massive 87%!! His weight was up and he grew a cm in height! All great things, especially when they all happen at once! He also had his port flushed. His team are extremely happy with him from a CF point of view this time and therefore don't need him back for 6 weeks! In the meantime they are going to liaise with his urology team and surgeon,, in preparation for Jack's appointment next month to try and get to the bottom of the kidney side of things. Hopefully they will figure out why his kidneys are producing stones and hopefully come up with some sort of plan. Onwards and upwards – well done Jack!! Jack also got to enjoy a make a wish shopping trip where he spent time in a limo which took him to a shopping centre to buy some toys. He had a great time.We are all looking forward to our first ever IV free Christmas 🙂
Update 1st November 2015
Jack has been having a lot of blood in his urine, which has been persisting since February. Eventually, about 3 weeks ago he had a camera put into his bladder, as so far all other tests have been inconclusive. On his last liver ultrasound the sonographer happened to notice a lot of debris in his bladder, the recent camera procedure however turned up nothing.
Jack has never been in any pain or discomfort the whole time that this has been happening until Wednesday of last week. By Friday it had got increasingly worse so I took him and a sample which was a horrible brown colour, full of grit and little stones to the GP, so that they could look at it, as I was unsure where to go with him or what to do next. Between the GP, CF consultant, urologist and surgeons they decided that they wanted him to be admitted into hospital immediately.
They were concerned that although he had passed some kidney stones, that there may be more that had got stuck, given the amount of pain that he was still in.
It turned out to be a horrible stay as firstly Jack's dad is out of the country with work, so I had to desperately call on people to help with Luke, Jack's younger brother, and secondly due to dramas on the ward he was staying on. Eventually tests, scans and X-rays were completed, and as they couldn't see any obvious stones or blockages and the fact his urine was returning to a more normal colour, he was allowed home on Saturday evening.
He had a good day all day Sunday until the evening, when he was in some considerable pain again and his urine was again red in colour.
Clinic day was on the Monday, so we again made the long two hour round trip to hospital.
Jack has lost 10% lung function and his chest sounds bad. He is quite productive at the moment, so a good sample was sent to the lab. We also learned that he is still harbouring the most harmful of bacterias in his lungs, even after nearly a whole year's worth of aggressive treatment for it! They are going back to the drawing board on that one.
We had to wait a very long time at the clinic, as his consultant wasn't happy with Jack's kidneys and the amount of pain he was in, and so called the surgeon to come and see him.
We chatted for some time about possible causes and she came to the conclusion that none of the causes really fit, and that he was actually just very unlucky. It's a very uncommon thing in children and he has none of the predisposing factors.
She has spoken to the lovely surgeon who carried out Jack's nissens operation, and who happens to be a urology surgeon who has agreed to take him on. We therefore have to carry on with our pain management plan in the meantime, and look out for certain symptoms, meaning that we would have to return him immediately.
It's been an extremely tiring few days for all three of us.
Update 15th October 2015
Jack has just been discharged from a stay in hospital due to a surgical procedure and a steady decline in lung function.
The procedure went well and after two weeks of IVs his lung function has improved. His chest still sounds bad and there is a lot of physio work needed at the moment to try and help him move the extra mucous. We are working hard with him for the next two weeks, when his consultant will review the situation again.
Jack has been back to enjoying rugby since being discharged and even won himself a trophy and a medal which he has nattered on about all week!
Thank you everyone who had sent post, he particularly enjoyed Helen's Leeds Rhinos drawing which has taken pride of place in his room.
Update 7th September 2015
Jack has had a really good month as he's been hospital free and is keeping reasonably well. This means that he has been able to indulge in his number one love (rugby) a lot more! As well as playing in a number of festivals, we took him down to Wembley to watch his team, Leeds Rhinos, win the Challenge Cup. He was also able to go to a couple more matches over at Leeds. He's been a very happy little boy!
With school returning this month though, we are hit with a great big dose of reality.
Jack has clinic next week and then the following week he gets admitted for his investigatory procedures to try and find out the cause of his kidney/bladder troubles. Fingers crossed that it will be a straight forward in and out situation!
Both Jack and Luke have been enjoying hearing from Dottie the Dalmatian – Luke gets so excited when he spies the paw printed envelope land through the door!
Thank you to everyone who sends post, the boys really do appreciate it.
Update 3rd August 2015
Clinic for Jack went well. Weight stayed around the same and he grew a whole centimetre! His lung function had dropped a little bit but remains stable. A good clinic appointment overall and we don't have to go back until early September!
We're just waiting for his investigatory procedure with urology now. Hopefully we won't have to wait too long!
Update 4th July 2015
Jack started IVs for his chest at the beginning of June and these were being administered at home, as I always have done since he was about 18 months old.
Unfortunately this time he suffered a reaction to one of the drugs and after being seen in clinic and sent home again, then later admitted onto the ward and then discharged again, Jack found himself as an inpatient once again!
This time though they have discontinued two of the three drugs he was having and replaced it with another. This seems to (fingers crossed) have solved the previous issues.
His team have resorted to giving him the drug that they really didn't want to. It's known for its horrible side effects and really was/is the last and only drug available to Jack. It was kind of a last resort/back up plan. So I guess now we have nothing to fall back on.
Anyway, daddy was staying with him as I've had my own health issues to deal with and it's been incredibly hard for us the last week.
It's always nice for Jack when daddy is staying in with him as he gets to have some respite from the ward. He was allowed out one day and they went to watch Jurassic Park together, followed by tea out!
As always, many thanks to those that have helped out, and also to those sending post – I was swapping with Jack's dad and taking it up to him then.
Update 1st June 2015
Impromptu clinic visit today! Only 3 weeks since we were on top of the world about how well he was doing, rejoicing at the fact he was given an 8 week break until his next appointment. He has been having breathlessness on and off for a while, but maintaining his lung function well, so us and his team decided to see how he went.
Friday night, from what seemed out of nowhere, a nasty cough developed. Over the weekend Jack's chest has rapidly declined. He has been struggling to breathe, producing loads and loads of sputum and having trouble sleeping with it all. He's woken in the night struggling and asking for physio to help clear things to allow him to breathe better. He's even asked to go to the hospital, bless him.
It seems that the mucus is intermittently blocking his lower lobe of his lung, preventing air from reaching there. If we don't keep the mucus moving there is danger of a partial collapse. His samples have been sent off (fingers crossed that there are no new bacterias growing down there!) and he is going to be starting a two week course of IVs and see how he does from there.
I'm a bit gutted and honestly surprised about how fast this happened, but hopefully he will be fighting fit again soon.