Donate to childrens charity
Link to Post Pals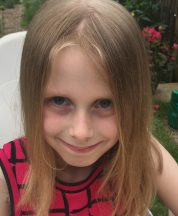 Contact Details
C/O 2 Arundel Close
Kings Sutton
Banbury
Oxfordshire
OX17 3QZ
United Kingdom
Email Pal
NB: this is a forwarding address for the Pal, we do NOT disclose home addresses
Other Information
Parents/Guardians - Carina and Dave
Interests - Superheroes, Superman, Minecraft, Star Wars, Rolblox, dinosaurs, ocean life, animals, arts and crafts.
Favourite Colour - Red
Able to read? - Yes
Able to use hands? - Yes
Visually/hearing impaired? - No
Suffers from any developmental delay? - No
Siblings - aged 3 to 16 wishing to receive post
About - Isla W
Our beautiful daughter, Isla, was diagnosed with a Wilms' tumour on her seventh birthday. Our journey began in April this year when Isla had blood in her urine. She was prescribed antibiotics but they didn't work. Following lots of different tests, where the results kept coming back as normal.
After we discovered a swelling on her left side she was sent to the hospital for an ultrasound and MRI and was diagnosed with a Wilms tumour in her kidney.
Since then Isla has had four weeks of chemotherapy and she's due to have her kidney removed on 22ndof May. The stage of her cancer is still unknown, so we don't know how many more weeks of treatment she's going to have.
She was so healthy until now and we didn't have any idea that the cancer had been growing slowly for all this time. She is now feeling the side effects of chemo and the last month has been extremely difficult for Isla and it's going to be a long journey for her.
Isla's sister Enya was also a member of Post Pals and underwent chemotherapy for a different condition.