Donate to childrens charity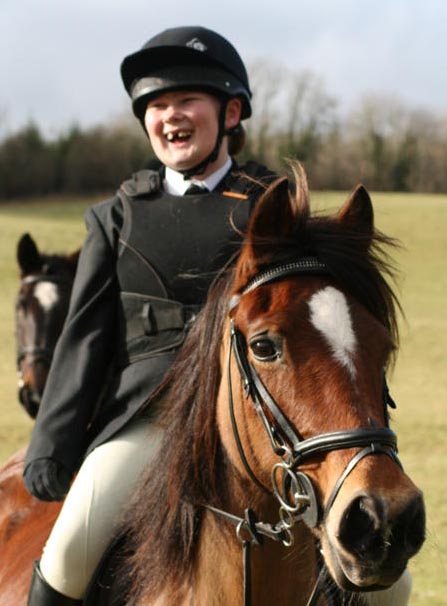 Our Pal - Anna-Mae C
Born: 09/04/1996
Status: Moved On
Contact Details
NB: this is a forwarding address, we do NOT disclose home addresses
Other Information
Parents/Guardians - Ann and Andrew
Interests - Loves make up, LUSH products, drawing, writing letters, anything girlie and glitzy, horses and swimming.
Favourite Colour - Red
Able to read? - Yes
Able to use hands? - Yes
Visually/hearing impaired? - No
Suffers from any developmental delay? - No
Siblings - aged 3 to 16 wishing to receive post
About - Anna-Mae C
Story written 2005
Anna-Mae was diagnosed with CMT in December 1997. I think I had realised there was something wrong, but was living in total denial. After all, Anna was almost two years old and still couldn't stand. We had the diagnosis one day and she embarked on her treatment plan the following day. This was very hard for us all, but within a few months she could stand.
She spent the next five years having her legs put into plaster every month for a week, but this non invasive treatment seemed to work really well.
There were lots of highs and lows. We were told that she could go blind and deaf and be in a wheelchair full time, by her teens.
She has continence problems, which are on going, and this does leave her feeling inadequate.
Then in approx 2000, out of the blue and totally unexpectedly, we were called into hospital to see a Dr. that was coming down from Bristol to meet with us. At this meeting we were told that she had a second and totally unrelated disease called Cherubism. Neither Andrew nor I had ever heard of this condition. It was explained to us that the bones in Anna-Mae's face, were being eaten by tumours. She has many benign tumours that will grow very aggressively, and may leave her beautiful face very disfigured. She had only cut 8 teeth, and they are all misplaced in her mouth. Some are upside down while others are back to front; she even has one to erupt up into her nose cavity. Andrew and I both struggle with this condition and still find it hard to come to terms with.
The problem is the two diseases are not compatible with each other. The CMT which is a form of muscular dystrophy means her balance is very poor, and she has many falls, but the Cherubism, dictates that her face must not be injured. This is because her bones are paper thin and very fragile, and the tumours run a risk of malignancy and/ or rapid and aggressive growth if they suffer trauma.
Anna-Mae is an inspiration to us all, with her zest for life and her courage. She openly tells the general public, that may be staring or making comments about her teeth, just what her conditions are, and invites them to ask her questions, making people aware and helping people to understand. She is a very popular little girl in the town, and very special to all that know her.
Update 7th April 2015
This month has mostly been up with a couple of downs. Mollie and I went up to Leicester as we qualified for the Winter National Championships. What a fantastic weekend we had. Mollie was a real star and we won our championship class and got a 3rd in the open team test. I was competing alongside Olympic riders. I felt very privileged to be there. I think I slept for 2 solid days after our return and once the adrenaline had worn off. I have booked Para camp and also have a couple a summer qualifiers to attend, so I'm working the horses hard to improve us.
Health wise I have been good, other than needing to have some screws removed last week as they had broken through the skin. While they were working they discovered some 'dead' bone also had come through, which they removed. I have noticed this weekend 2 more areas where the bone has broken through, so I am a little worried that my body is rejecting the bone. It does seem a little strange, as it was my bone they used. I have to go to the hospital tomorrow for a specialised CT Scan.
I have received an appointment to go to Worcester at the end of April to see a specialist and Mum is ringing them tomorrow to find out if that is for the next operation or just an appointment. He did say in the February appointment that the next operation needed to be done ASAP.
The time has come now my 19th birthday is this week that I have to "Move on" from Post Pals, but I have been dragging my feet, as I feel I am saying "Goodbye" to part of my family, but I know it has to be done.
So with a heavy heart I am 'moving on' not to pastures new, but with lots of love and lots of new friends/cousins. I am on Facebook, so I am sure you will be still be able to watch what me and Mr Darcy are up to in the Dressage world. I am striving and working hard to reach Tokyo or the Olympics at some time in the future.
I would like to thank everyone for the amazing mail I have received this month. The hand made Easter cards have been amazing! I loved the Thorntons Easter Egg with my name on, it's just too nice to eat!
Your mail really has made such a difference. Thank you so much for all the mail I have received over the years.
Love always, Anna xxxx
Update 4th March 2015
Hi everyone, thank you all for the amazing mail and gifts. I used my beautiful brow band and stock when I took Woody hunting recently. It was a beautiful sunny morning, but FREEZINGGGGGGGGGGGG cold! Woody loves to hunt, but I can only usually manage an hour as I get so tired and that's when I fall off, but this time I managed 2 hours. I think the new brow band and stock gave me the extra strength. I also received an AMAZING drawing from Claudia in Portugal ****"""WOW"""****!!!! I absolutely love it. Thank you so much. Thank you also to everyone who had written to me, your letters kept me perky while I was unable to do very much post surgery, and I really do appreciate the time you take and the thoughts that are given to me.
I had a check up with the consultant 2 weeks ago. He was really impressed with my healing and progress. I am due to have the second surgery in May, but this time I have to travel to Birmingham, and then the last surgery is due in Oct/Nov. I can't wait!!
I am working hard on Molly at the moment with Debbie my Para dressage coach, as I secured a place at the Winter Nationals in March. I am really excited but also nervous about going. I took Molly to a competition on Sunday, to a summer qualifier, and scored 68.75% and 70.48%. I was really thrilled with my scores and gained some valuable points towards the summer qualifiers.
All my love to you all of you xxx
Update 11th January 2015
Thank you everyone for the wonderful Christmas cards and presents. I will smell beautiful all year with the lush products I received.
I had my big surgery on the 25th November and it went incredible well. The surgeon is amazed at how well I have done and recovered.
They did a big bone graft, taking bone from my hip and rebuilding my face after removing lots of tumours. Chris (one of the surgeons) said it was like something from a different planet, as the tumours had a 'blue ' look to them, were lucid and stuck to everything, having to use a nurse to remove them from his gloves. I asked to see the photos of the surgery, but they only had photos of the grafting. It was amazing to see and hard to imagine that was me!
I have also got my new chin, and I love it.
My surgeon is transferring to Worcester so the next part of the reconstruction will be done up there (hopefully) if Torbay will pay the fee. Everything is about funding! I have to have another CT scan in May and hopefully the next operation will be done in June.
I did go back to college last week, but was sent home as they need a letter from the consultant before I can go back, as it was such a major surgery.
The consultant told me on Friday that I have to stay away for another 3 weeks as the bones need to become more stable in my face, so Mum and I are going to Center Parc's for a short break, which will be great.
I bought my new dressage horse on the Sunday before my surgery, so I am still waiting to start training/ riding him. He is very beautiful and called Mr D'arcy (or competition name Priceless). He is 17 HH chestnut gelding. I have a lot of big competitions coming up starting in early March, so I am literally chomping at the bit to get going.
Happy New Year to you all and thank you again for all the wonderful post.
Anna xx
Update 28th November 2014
Please keep Anna-Mae in your thoughts today. She is having pioneering surgery expected to take 8 – 10 hours. Her surgeon will take bone from her hips and will rebuild her face after removing some of her tumours.
Update 30th September 2014
Things are good for me at the moment. I have gone back to college and started a 3 year equine course. They are a really great student group this year and college life is very good.
Health wise, things are OK. I have had hundreds of hospital appointments over the last 8 weeks or so – well, it feels like it has been hundreds!! Mrs D from Torbay has introduced me to new a surgeon who has come over from Hong Kong and it seems he is willing to do the surgery. He is in talks with Hong Kong and GOSH to see if it is feasible to do the surgery here as opposed to London. I really hope this works out, as it will be good to be closer to home. I have to go back to hospital on 10th October when I will find out.
My dressage is going from strength to strength. I competed this weekend in a Para dressage competition and got 2 first scoring 70.23% AND 71.76%, which means I will qualify for the winter nationals. Hooray!
I would like to thank everyone for the amazing mail. It is so lovely to know that people are thinking about us. I have been really bad at writing and sending cards out over the summer, but I will get back into the mode soon.
Sending my love and thanks to you all, and great big huggles to Viks and Kim.
Update 30th April 2014
I must send MASSIVE apologies to you all. I feel really bad that I haven't sat down and sent in an update. Mum keeps nagging me and I can't really offer an excuse, except my motivation has been low due to tiredness etc.
Thank you so much to everyone that has taken the time to write to me and for all the lovely gifts. I really do love and appreciate every one.
I was left devastated early March when the hospital told me days before my BIG operation that it was cancelled. They said that they would look at options again when I reached 30. They were worried about the effect surgery would have on the tumours.
Mum went back to the hospital alone to speak with the surgeon. It was then decided that I will be referred to Great Ormond Street Hospital. I have had a couple of appointments and the surgery is back on and the consultant wants it to be sooner rather than later.
They will rebuild both my upper and lower jaw and eye orbits with a graft from my hips, give me a full smile and a new chin. I can't wait. I do keep reminding myself that it has already been cancelled once.
On a massive positive side, I was assessed and approved for para dressage with both the RDA and BD. Mum took a call a few weeks ago asking if I would ride for Somerset in a big competition on the 4th – 5th May. I have been working really hard with my instructor Debbie. I am borrowing Debbie's horse, Molly. Please send me positive thoughts. I am also doing para dressage in Cornwall on 13th and 20th May.
I took Woody to a local show last Sunday. She is such a babe. She won a 6th, three firsts and we got show reserve champion.
Update 5th December 2013
Hello and Ho Ho Ho to everyone!! This has been a good and quiet month for me. I am settling in well at college, but have had to come home a few more times as the cold weather is playing havoc with my legs. There is no one quite like your Mum when you need an extra cuddle!!
The specialist has put me onto Gabapentin to help with the muscle spasms, but after my dose upped a bit, the medication made me feel terrible, so they have lowered it again until I get used to it.
College is going really well and I passed my BHS Road Riding safety yesterday. I took Woody over to do it on her as she is so sensible and reliable. Toby is still very young and 'green' so he wasn't up to the job as they say. He has settled really well at college too. People are giving him treats when they walk past him, and he has started nibbling. I was saying 'naughty boy' but I have now decided I should be saying 'naughty people'!!
I have got a joint clinic appointment next Wednesday and I am hoping they will give my surgery date. Please give me lots of positive thoughts before the appointment. They really are keeping me waiting!! I was praying that it would have been sorted before I went to college.
I have made some really nice new friends at college, especially one called Meg. She seems so supportive to me and is completely non judgemental. Her brother died from CMT (I think, but don't like to ask outright for fear of upsetting her). In fact her whole family are lovely. It feels like home from home when I visit her house.
Thank you so much to everyone for all the letters, cards and gifts, you have sent me this month. There have been fantastic Lush parcels. Mum sends all the mail to college and it is really comforting to receive the mail. I suppose it makes me less lonely, because I feel quite alone there, away from everyone sometimes… if you know what I mean. I like to put my Hot Blanket on and snuggle in to read it all. It is SOOOOOO cold at college!!
Right I will need to go now to do some work, so I want to wish every single one of you a really Happy Christmas and Peaceful New Year. Hopefully this will be my last peaceful New Year as I will be 18 next year… If you know what I mean!!
Lots of Love, Anna xxxx
Update 29th September 2013
At last I have some time to sit and update you all. I really am sorry that the updates are slow. It seems that whenever I do have some spare time, all I want to do is have a bath and go to bed.
Thank you all for the lovely letters and presents sent over the summer. The make-up was really useful, the horse biscuit was delicious and the hand cream was very welcome, especially as the weather is turning colder and I seem to have my hands in buckets of water all the time.
I have started my course at Bicton and loving life! I have made some really nice new friends but best of all is that Toby has joined me (my new horse). He is loving his stable and it is lovely to see a familiar face when I get up in the morning. Mum complains that I'm going to bankrupt her, but I know she is secretly pleased for me.
I have managed 3 weeks without my wheelchair, but I gave in this week and asked Mum to bring it over to me. I have decided it's better to have my chair than keep falling over and looking stupid in front of people I don't know, but more importantly, who don't know me. Oh well.
I have had loads of hospital appointments over the summer and the prospect of my big surgery is coming close. The surgeons can't decide what they are going to do, and every time I see them we are given a different plan. I don't think they really know what to do because they openly tell us they have never dealt with Cherubism before. I had a CT scan a few weeks ago, as they now think there is a tumour eating away at the base of my sinus cavity, and that seems like it will cause problems for the surgery, but I'm keeping everything crossed they find a plan and just get on with it. I'm fed up being strung along. Its very disappointing and I know my confidence is taking a battering. Charlie, my older brother, is getting married in 5 weeks and I hoped I would have a nice smile for the photos, but hey ho, there we go.
There is nothing else going on in my life at the mo, but I will keep you all updated as and when it is. I have taken up dressage now and left the show jumping behind me, much to mums delight. I really enjoy dressage and am doing very well on both Woods and Toby. I went to Upton Pyne Equestrian centre last weekend and got a second on Woody and 3rd on Toby. If anyone is interested you can see photos of me on both horses doing the tests if you put in Upton Pyne equestrian centre on google. At the beginning of this month I took woody out for the first time this year to a local show and we came 1st in best hunter, 1st in best combination and 1st in best rider, then we went into the championships and we came away with Reserve Champion. That horse never lets me down.
Thank you all once again for taking the time and effort in writing and for the gifts. I love each and every one of them.
Update 3rd May 2013
I want to thank everyone for all the wonderful gifts and cards you sent when i was in hospital. I feel like i have spent a lot of time in there this year and I am hoping to spend even more time in there, as there is talk of me having surgery to rebuild my mouth and give me permanent teeth in the next few months. I am keeping my fingers crossed as we have been told this before but nothing ever came of it.
I am going to college in September and it would be ideal if i could start without being and looking different, as over the last few months it seems to be having more of an impact on the general public than ever before and consequently it is leaving me feeling rubbish about myself. I only have 4 school days left until i can leave and i can't wait. I feel sad that the last year has been so terrible, as I was really happy at that school until joining 6th form.
My holidays will be spent with Woody, who has been lame since a fall in January, and also my new horse, TOBY!!! He's lush! He's a 15.2 dark bay, thoroughbred X Connemara and he was 5 yesterday. He is such a baby, he wants cuddles and is cheeky when he tries to nibble you and search for treats in my pockets. I am taking him to a show on Sunday, which I am really looking forward to as it will be my first show on him. Mum wont be there which is a bummer but she has a foster placement and she isn't allowed to let them join in with family activities. Dad will be there though, but he's allergic to horses!
I would like to thank everyone for all the letters, pressies and cards, that I have received. I love the lush bombs, they make my room smell delicious and then me when i have a bath. Thank you for the book about the girl who loves horses, I started reading it last night, it's going to be one that is hard to put down. Thank you for the painting by numbers. I am slowly working my way through it. It is much harder than you think it's going to be, as everything is so tiny. Special thanks to Kim, you really are brilliant. I always have mail from you. I feel really tight because i am taking you away from someone else.
Lots of love and hugs to you all,
Anna xxx
Update 10th January 2013
Just to say, Anna-Mae has been admitted to hospital to have her appendix out today.
Update 14th December 2012
I'm really sorry about the delay in updating. I have been encouraging Anna for weeks, but she isn't in the best place emotionally at the moment. She feels very low and things aren't going well for her. Physically she remains the same as usual, although the colder winter months do cause Anna some discomfort as her legs seem to work even less and she seems to fall more often. She has had a bad time at school with bullying this term, which only came to light a couple of weeks ago, plus her wheelchair has been trashed 3 times over the last couple of months, and the last episode was the icing on the cake. They have snapped her frame, arms, and cut out the seat and back, leaving the chair irreparable. This has knocked her confidence no end, but I must say the school have been brilliant in dealing with it. None the less… she is without a chair at a time she really needs it, and has had numerous falls, which have all added to her feeling of worthlessness.
She is desperate to leave school and go to college. She feels it will be a new start for her, and she doesn't like me very much because I am making her stay to retake her GCSE's. I keep telling her "it's all character building" but oh dear…
Health wise she remains her usual self.
On a more positive note, she has received 3 parcels. One for definite is from an elf, as it says so on the box. She has had lots of lovely Christmas cards and they all flutter behind the door when anyone arrives. She enjoyed a cup of tea from Norway and received a lovely card and letter from Finland today. She also had a lovely long letter from Natashja. Anna dreams of going to center parcs but we have never got there. A day in a spa sounds like heaven i must admit! Oh and by the way the letter didn't rip!
I hope everyone has a wonderful Christmas and peaceful (as peaceful as it can be) New Year.
With lots of love and thanks to you all xx
Update 13th September 2012
It feels like ages since i did an update, so thank you all for the amazing amount of postcards i have received over the summer as they have all been beautiful. I have stuck them all on my bedroom wall, so i can't remember which ones are from who, but I don't want to peel them back to check as i used celotape and Mum would kill me as it lifts the paper!
I have had a great summer. I went to OTW and had a totally amazing time. I also had a brilliant time at pony club camp with my beautiful Woody. I did a sponsored bareback ride and raised £102.00 for each of the above charities. My friend, Charlotte Jones, raised some of that and Beth Niel also joined us. It was a really hot day and we rode for 2 hours 40 minutes through the forests and lanes. My legs turned to jelly the following day! They are so worthy. I know it's only a drop in the ocean but if we all did something like that it would amount to thousands.
I didn't do very well in my exams. I missed a lot of school for operations and appointments, and I am really embarrassed about it, but I'm going to return for 6th form to do retakes and am doing photography and media studies for A levels. My chosen subject is nature.
I took Woody to a show last Sunday and go two firsts and a second. I was soooo proud of her. I'm off to another show on Sunday, so fingers crossed for us.
Thank you for the stationary items, they are fab and very useful for school.
I hope you all have a great month.
Lots of love, Anna xx
Update 11th April 2012
I just wanted to send an extra big thank you for the lush bath bomb. It smells delicious. Also, I love the books which I collected yesterday from the post office. War Horse is my favourite film and I have never read the book. I am going to start it tonight. A massive thank you to Kim for the Easter package too.
Lots of love and thanks, Anna xxx
Update 9th April 2012
Hi everyone. I want to thank you all for the lovely birthday cards and letters I have received. There are far too many of you to name personally, but they were all lovely. I also have a parcel to collect from the post office which they tried to deliver on Thursday, but we were out, so they left a red card and they don't open until tomorrow.
I have had a lovely birthday and have been spoilt rotten. I feel very special. We had a BBQ in the rain at the stables and a Chinese tonight at my Nan's.
I had an accident on Saturday night. I had been babysitting and when i left to come home (in the dark) i fell down some steps and broke my foot. I'm now in cast!!! I was supposed to be taking Woody to cross country schooling on Thursday, but it has had to be cancelled. Apart from that everything else is ok!
We enjoyed a trip to the theatre to see Phantom of the Opera. It was truly amazing. Mum cried all the way through. I now want to go and see Les Miserables. I love all the music to it!!
I had a lovely letter from Malaysia, thank you so much Joyce. I think your English was brilliant. I would never be able to write to you in Chinese!!! I also had a lovely long letter from Clare… thank you.
Update 1st March 2012
Hi everyone, everything is fine with me. I am getting used to my new teeth now and am wearing them more often. Everyone has been really positive about them and say i look great in them. I do forget sometimes to put them back in. I came home yesterday from school to get ready to go to the theatre and i only remembered when i was back at school that my teeth were on the draining board. Mum keeps moaning at me because i leave them everywhere!! I need to get a nice pot to put them in, but i DON'T want a pot like Granny used to use!! Too old fashioned!
I'm going to a show jumping rally on Sunday on Woody. I am really looking forward to it, but I'm also a little scared because Woody has never done one before.
Thank you to everyone who has sent me post. I loved the necklace kit, but i can't thank anyone by name as no name or address was included. Thank you Kim for all my mail too. The cake sounds brilliant. You're so clever!
Update 11th January 2012
Hi everyone and HAPPY NEW YEAR to you all!
Firstly I must say a huge thank you to everyone who sent cards and parcels to Anna this Christmas. She had so much mail from all over the world. My lounge smelt delicious as she had lots of Lush products which nestled beneath the christmas tree. Everyone that called in commented how lovely the lounge smelt. I apologise for not naming you all individually but Anna is at school and sadly I can't remember.
Anna has had an up and down month. She had a new set of teeth to 'tide' her over until the implants, but they made her mouth sore and very self conscious. She had a period if illness which rendered her in her bed for a week, unable to support her own body weight, but she is back on top of things now and in full swing.
Thank you once again to everyone who give a little part of yourselves by taking the time and trouble to write. The difference you make is monumental.
Update 6th November 2011
Hi everyone. There has been a lot happening this month in one way or another. Firstly my Granddad died. He had been poorly all week and was very sleepy. I had just arrived at his house to join Mum and Henry. I sat on the side of his bed and he smiled at me, he held my hand tightly and just died. At the time I had a bit of a panic attack, but now I feel really blessed, and will always. It was a really sad time and I felt like my heart was breaking. I used to call him every lunch time and I miss that so much. I was away for his funeral too. It was a planned birthday trip to Aberdeen with my friend Connie, and Mum said I had to carry on and go as Granddad would have been furious if I didn't, and it wouldn't have been fair to Connie either.
I had my operation. They removed 6 teeth, 2 tumours and did a bone graft. I was in hospital for 5 days, so I was really pleased with that. I made a nice friend in there and the nurses were all so lovely. I still have a few stitches to come out, but I'm healing really well.
I have taken over Will's mare Woody as he has gone to college in the Exeter Chiefs Rugby Academy and doesn't have the time and he is too heavy really. Woody is so lovely, she is a gentle giant. We have decided to sell Lola, through no fault of her own, but I was having too many falls, as she was just too much for me. My balance seems to have deteriorated and she was very nippy. I have had a wonderful year on her and we have accomplished lots together. I will miss her.
Thank you to everyone who has written to me and especially for the lovely Lush products, I REALLY do appreciate them all. Thank you for the emails and I'm sorry I haven't written back to anyone personally. I have loved reading all the letters and receiving postcards and letters from America.
Please all accept my love and hugs xx
Update 2nd October 2011
Hi everyone. I thought I would give you a quick update as Anna is still in hospital following her surgery last Thursday. She was far more comfortable yesterday and we're hoping she may be home today. The bone graft was successful, so fingers crossed it takes.
Thank you to everyone who has written, I can guarantee she loves all her mail, I know there is a lovely hand drawn picture of a horse up on her bedroom wall. There are quite a lot of parcels here waiting for her return home. I don't open her mail, but I do think one is a lush product as it smells lovely in the porch!
Update 1st September 2011
I would like to say thank you to Post Pals for the parcel that arrived today. I will have great fun making the denim bits and bobs when the weather is bad, as I do get REALLY bored when I can't get to the stables.
Thank you Kim, Kev, and Baby Stevie for the card (and I can assure you Will's room is MUCH worse than you think!).
I'm back to school next Wednesday BOO HOO and Will is going to be a boarder at college, as it is about an hour away. I'm dreading him going and so are Mum and Dad. It looks like Charlie is also going to be buying a house and moving out too. It's going to seem really empty and quiet at home.
Update 23rd August 2011
Hi everyone, I'm sorry my update is late, but I have had a really busy month, and have only been home for a couple of days.
First I went to pony club camp with my horse Lola. We had a brilliant week together, but I fell off loads. I think my balance is deteriorating at the moment. The weather was really hot, too hot!!!!!! We only had one downpour.
Then the second week, because I was falling off so much, Mum arranged special lessons for me and Lola. Grandad paid half too which was brilliant. Lola went to stay at Gingerlands for the week and I stayed with Mary and Rob at the stables for the week, then Jenny took me daily leaving at 6.30-6.45am every day. We had a brilliant week together and Sue taught me so much. She was a riding for the disabled tutor and she gave me loads of tips to strengthen my core muscles and help my balance.
I came home on the Saturday night. My bed has never felt so comfortable! I packed my suitcase on Sunday, and then went off to "Over the Wall" camp on the Monday. We had such a fab time. I love it so much. It's always heart breaking to leave everyone at the end of the week. I'm already looking forward to next year's camp. I would recommend it 1000% to anyone who thinks about going.
Thank you to everyone who has written to me over the summer, I love getting mail. I really appreciate you taking the time to write and I do feel guilty for not replying to everyone. Thank you Margerette for the lush bathbomb. I had a really long soak on Saturday night when we got home. Mum said I was lucky it was still there as the smell had been teasing her for the last week!
Take care, lots of love Anna xxxxx
Update 7th July 2011
Please please accept my apologies for the delay in an update. Time seems to fly by.
I have been well in myself. I should have had an operation on my face last month, and they cancelled me at the last hour. I was even sat with the numbing cream on my hands. I was really disappointed and angry and they promised they would get me slotted in ASAP, but then we had a letter to say September. I'm feeling a bit fed up with it, but there's nothing I can do about it. The max fax Doctor said he would start to consider implants, but I think they will need to do a bone graft from my ribs into my jaws. However these things always turn out to be empty promises, so watch this space.
I have had my exams at school and they were Ok… I think. We broke up on Tuesday until September. BRILLIANT.
Gemma went to a new home in Cullompton. I think she missed us loads and gave the young girl a really hard time. I offered to go and help her, but Mum wasn't keen, as she still gets upset about selling her. She was my best friend and we had a really special relationship, but I know I will have that with Lola my new horse. She is a 16 hh Chestnut mare. She is sweet, but she can be very moody and temperamental. She has got a massive jump. Mind you, I have fallen off her 5 times in 5 days. I had to go to hospital in an ambulance a couple of Saturdays ago. I fell off while jumping at Chudleigh show. The St. Johns ambulance people were just being over cautious. Mum was going to help me back on!
We have still got our foster babies. They only came for a fortnight – ten months ago. I will be really sad when they move out, I'm dreading it. They are so lovely and I love having them around.
I'm looking forward to Pony Club camp at the end of July (30th) for 5 days. We are going to put our tent up at the weekend to test it out, as it hasn't been unpacked for 5+ years. I hope the mice haven't nested in it, like they did the last one. I think my friend Gabby is coming to stay for the weekend so we can try it out. Mum said weather permitting!
I feel really bad that I haven't managed to write back to people, but I truly have been busy. I love getting my mail and I really appreciate it. I'm sorry Kim that I haven't written, I feel really bad. We all laughed at the Tuna Pasta Bake. You have got a similar sense of humour to me and Mum.
Thank you all. Lots of love to everyone, especially Vikki. I'm glad you have an electric chair. I used to love mine. It really does make you independent.
Update 1st March 2011
Hi everyone. This is going to be short and sweet as I am supposed to be asleep now.
Thank you to everyone that has sent me mail and presents over the last month. I really enjoy reading your letters and opening the surprises. I love the 'memory' package from Ali and Alex. The photo frames are beautiful and arrived at the right time, as I have a new horse now (Lola) and a picture of Gemma in the other one. Thank you so much. I have also had a lovely letter from Justine in Baltimore; I think that's in USA. Kim as always sends me the best cards ever; I really loved the 'Welcome Lola' card. Will thought it was a photo of Lola on the front!! Brothers huh!!
I have had an OK month health wise. Some days are good, and some bad, but it's winter. Summer is on its way. I have to have more surgery soon, but the consultant wants a second opinion before she decides what to do. I think the Cherubism seems to stump everyone. There is something boring into my sinus cavity and they can't decide if it is a tooth or tumour. I just know it really hurts and I'm not happy waiting while they decide what to do. I also had an extra week off school as I had tonsillitis just before half term.
I will tell you all about Gemma and Lola next time I write as I really have to go to sleep now. Lots of special hugs to you all, especially you Kim, as the baby will soon be here. Anna xx
Update 24th January 2011
I'm sorry I have taken so long to update my page, but life is incredibly busy, and I mean busy! We have two foster babies with us still, and I love playing with them before bedtime, then I crash too! They are so lovely, I think everyone should foster, it's such a fab experience. It has helped me see my life very differently.
Thank you to everyone who sent me letters, cards and presents. I love the lush products and the make-up. I love all my mail. Thank you, thank you, thank you!
Things have been good for me. My mobility is really improving all the time. I have gone back to swimming training, and although it's a bit of a struggle, iI can feel me improving every time.
Gemma and Woody are both fine and have managed well with the snow. Gem and I went to a Pony Club rally on Sunday. She was very good for me. I love her so much, although she was a little naughty when asked to canter on the right rein in a circle.
I will say goodnight to you all now as my dinner is ready. Grannie's chicken soup, yummy.
Lots of love to you all xx
Update 1st November 2010
Anna has had another good month and she is continuing to improve her mobility, albeit very slowly. She is having regular physio and each day she seems stronger. She makes me smile inside as she has managed to get back on Gemma and is riding out often – getting on and off is an art form in progress though!! She has shed a few tears this month out of frustration; she wants to do so much and realizes she is very limited. Patience is not one of Anna-Mae's fortitudes!!!!
Anna went back to school today after two weeks half term break. We went away to Alton Towers with the tickets Post Pals sent us. We spent two nights in a Travelodge and we all had a great time. It is so precious to spend time as a whole family. Anna went on some rides, but because of her mobility she couldn't get on the BIG rides, but that didn't dampen her spirits and she enjoyed watching her brothers get off the rides with a lovely GREEN complexion. Thank you so much POST PALS for the tickets and allowing us such wonderful memories.
Thank you everyone that has written. Anna has had lots of lovely letters and some fabulous gifts sent to her this month. She had the most beautiful brow band, with diamantes set across it in her most favorite colour (red) hand made by a lady that also has CMT. It is lovely to be in touch with someone that shares a likeness as it is so uncommon and Anna automatically felt a bond because of that. Gemma looks stunning in her new bling. Anna is the envy of the yard!! She also received a photo plaque, which is amazing. Gosh, there are some clever people out there!! Sadly Anna has lost her bag, with all her letters in from this month, so she can't write back. We think Andrew has mistakenly thrown it away when he cleared the conservatory out. If you are reading this, please can she have your address so she can write and thank you all.
Update 5th October 2010
Thank you to everyone who has sent cards, letters and gifts to Anna. Gosh, she has had so much post this month and I couldn't even start to list everyone. She received the most beautiful cross stitched quilt from lovequilts.co.uk, stitched by many different, very talented ladies from around the world. She cried when she opened the parcel, which made us all emotional too. It is absolutely gorgeous and you can feel the love seeping through the material and from every single stitch that has gone into making it up. She folded it up and packed it straight into her hospital bag. As soon as she came out of theatre she was asking for the quilt. Anna was very poorly following her surgery, and miraculously, the quilt survived unscathed (I was worried it would get stained and tried to take it off her, unsuccessfully). Thank you to every single one of you that sent mail/emails too (you know who you are) as it really does mean so much.
Anna is doing well following surgery and is now getting a little more mobile on her lovely red casts. She is wishing the days away though as the casts were put on too tight which in turn is causing pain, swelling and discomfort. We tried to see if they could be loosened or redone, but they couldn't be touched until the 15th of October. She was told to stay in bed and elevate. That advice went down like a lead balloon as I'm sure you can imagine. In fact she is feeling a little like the world is stacked against her at the moment, as she asked Mary (stables owner and second Mum) at the weekend, if she could have a little ride out on Gemma and was told "Positively NO!".
School is brilliant as per usual. Anna has a large part in the school production of "The Match Girls" and she learnt yesterday she has to sing a solo. She said she knew she had to sing one line, but never realized it was one song. I told her she had a beautiful voice and any cat in the Newton Abbot vicinity would welcome her into their choir. She looked at me with her eye brows just under her hair line!! Well I thought it was funny!!
Update 1st September 2010
Hi Everyone. Today is a very sad day as I have to go back to school tomorrow! I'm sort of looking forward to seeing my friends, but I'm really sad I won't be able to see Gemma so often. I expect she will like the rest though.
I can't believe the holidays are over, they have gone by so fast. I have had a fab holiday though. I had a week at Pony club camp and really enjoyed it. You can see the photos on my facebook. I had to have a few days at home though afterwards as I was exhausted and my legs just gave up on me! I think I pushed myself too hard.
Then I had a week at Over the Wall. It was such good fun. I can't wait for next year to come! We were busy from arriving until leaving. Laughing and having great fun. Mum was mad though because I asked dad to drop me off at the stables on the way home, and Mum thought I would be desperate to see her. I was, but more desperate to see Gem haha!!
I have my operation 3 weeks today in Plymouth (tendon lengthening). I am a bit worried about it, but I am also looking forward to having straighter legs, then I will have a better riding seat. I won't be able to ride for a while because I will have both legs in plaster for 6 weeks after. I hope they will let me choose what colour I can have, like Paul does in Torbay. Mum always says Paul spoils me too much. I always give him a hard time because I like to be different and ask for one tartan (red and black) and another like a ballet dancer (pink and white). I can see the dread spread across his face when he sees me coming. I bet I only get plain white at Plymouth though because they will do it in theatre and they don't really know me like Paul does.
Thank you to everyone who has written and sent me presents. I love the parcel that arrived today from Alison. It will come in really handy for school, and I can't wait to do the cross stitch. Mum said she will start it off for me so I can do it when I am home after the op. I also had a facebook message yesterday about a pillow case. I would love one if possible, but I know there are other kids on Post Pals who are really poorly, so if I get one then great, but if not, don't worry.
Thank you to Kim for all my cards, I love your facts. I keep meaning to send you some facts about me too, but I never seem to have the time. I'm sorry. Here are some for me; I love red. I love my horse Gemma the most in the world. I hate cheese. I keep trying to straighten my hair as I am fed up with curly hair! I snore really loudly. Everyone calls me smiler. I am 5ft 6 and taller than Mum. I have 3 brothers. Talking about brothers, Will has asked me to say thank you for his card for his GCSE's. We are all really proud of him. He has also been picked to play Rugby for Devon this year. Thank you Grace for your letter and emails, they were really interesting. I will have time soon to be able to write back.
I have to go now as we are going shopping for my last minute bits for school. The best part about going back is getting new stationary.
Lots of love to you all, Anna xxxxxxxxxxx
Update 13th August 2010
Hi everybody, I can't believe it is only three weeks until we go back to school. I have had the best holiday ever. I have been up to so much with Gemma – I have been to so many shows and Gemma has done me proud, she has been so good at them.
Last week I went to pony club camp with Gem and she was amazing. We did show jumping, dressage and best of all, cross country. Gem was stabled for the week which I think she enjoyed, but I think she is also happy to be back in the field with all her friends. Gem had never done cross country before and at the first time lesson we had she was freaking, but after that she was amazing and jumped everything I wanted her to. In show jumping she was brilliant and she jumped all the fillers and they were scary – bless her, her nostrils were flared going up to all of them.
I also go to Over the Wall on Sunday and I cannot wait but I will miss Gem (but the good thing about it is I get away from my brothers for a week and some peace and quiet). We have so much fun at camp. I know I will laugh from arriving to leaving. We went shopping for some new clothes for me to take – I love getting new clothes. Mum was really shocked when she realized all I own is school uniform and Jodhpurs!
Thank you for all my letters and emails. I'm sorry I haven't had time to sit and write back, but I really have been so busy. All I want to do when I come home is have a bath and go to bed. Talking about having a bath, thank you Kim for the lush bombs. My Fave, My Fave, My Fave. I loved the camping card too. Grace B also made me a really lovely card with my name on it. I will have some photos to send to you when they arrive. I have been waiting all week. Fingers crossed they come today. Lossa luv, Anna xxxx
Update 5th July 2010
I have a lot of news to tell you this month. First though I would like to thank Sarah, Samantha, Grace, Abbey, and most of all, Kim, for the wonderful cards I have received this month. Thank you so much to everyone for the stickers, the Lush bath bombs, and the cross stitch cushion – I don't want to put my head on it because it has had so much work put into it. It's so beautiful!!! It has pride of place on my bed!!
We have a new member of the family and she is called Woody. She is a 16hh Scottish sports horse and she is amazing! She is Will's new horse.
I have also had a date for my operation. It is the 22nd September which it a good date as I have a lot of things on this summer.
I also did the jubilee challenge back in May and not only did I finish it in 3 hours and 30 minutes, but I also came first. I had the choice to wait for the welcoming committee to arrive or finish first – I never knew I was so competitive, I decided to carry on and come first. Mum and my teachers, Mr Brown and Miss Head, were there cheering at the finish line. I was so proud of myself; I could have burst with pride.
I have been to a couple of shows this month and Gemma has done so well. She got me second in family pony and she let me go under her belly and shake a plastic bag all over her ans she just stood there falling asleep. I came third in mountain and moorland and the judge loved her because she listened to me every step she took. I do love my pony to bits.
We had sports day last week and I was a bit lazy because I only put my name forward for relay.
Gemma has been jumping really well at home and I jumped 2″9′. Bless her, she has been so good.
I have pony club camp at the end of this month and it has come around so quickly, I cannot wait. We will be doing show jumping, cross-country and flat work, plus loads of activities in the evening. The only thing I am worrying about is everyone goes out in the night and goes onto the cross country course to mess around, but I cannot walk in the dark, my legs and brain don't work together. I bet when I get older people who don't know me will think I am drunk. By the way, no-one is allowed out of their tents at night.
Two weeks after I am going to OTW and I cannot wait!!!! I am going to the one at Bryanston School again this year – it will be so fun! I am also breaking up from school tomorrow.
Lots of love and thanks to everyone for all my mail, email and pressies. I do love getting mail; it makes me feel so special.
Update 5th May 2010
Hi everyone, I just wanted to write a quick thank you to everybody for all your lovely mail. I'm sorry if you didn't get a proper reply but I am having a hectic time at the moment with lots going on. I am writing this before my swimming training and I want lots of sympathy as we have moved into the outdoor swimming pool and it's freezing here in Devon today!
Thank you Emma for your lovely bunny card, it sounds like you are really busy with all of your animals. I love the photos Bobbi Sara, she looks really cheeky and very strong. I am going to do my first show jumping on Sunday with Gemma. I can't wait, but Mum is dreading it. I don't think Mum can come because we have a foster placement here at the moment and the baby is only 10 weeks old, but Dad will be there which will be funny as he is allergic to horses! Thank you for the bunny, it looks really life like. Thank you Stephanie, Dominic, Karen and family for the card and pressies. I have got my school locker key on the dolly keyring. Hello Tara Jane. Your house sounds as busy as mine. My brother Will is 15 and very annoying. We always fall out but he's ok really, but I wouldn't tell him that. He gets into trouble at school because he always sticks up for me, which I do like but not always and then he gives me a hard time because of it. Thank you for letter Joanne, you have really lovely writing. I wish mine was neat, as sometimes I can't even read what I write. I can't believe you are only 11. Hi Kim, I haven't written to you in ages, but we do speak about you lots. I hope you are OK and Kev.
Lots of love to you all, Anna-Mae xxxxxxxxxxxxxxxxxx
Update 2nd May 2010
Anna has had a fab April. Her pony Gemma wasn't too well, so all of Anna's time has been spent seeing to Gemma, and giving her lots and lots of love. She spent 3 weeks in the stable and lots of pampering was needed. Andrew and I giggled quietly to each other. It was like a hospital stable and instead of grapes it was carrots, and swedes and all different flavours of Lik-its. None the less Gemma thrived with Anna-Mae's love and attention and she is now back in the field with the lovely spring grass!!
Anna-Mae had lots of lovely cards and birthday pressies. Kim you do spoil her!! I benefited too though as I get the second dip of the Lush bath!! Thank you to everyone who took the time, effort and expense. It really does mean so very much.
Update 31st March 2010
This has been another great month for Anna- Mae. She has enjoyed spending sunny days with her beloved Gemma. She has had numerous hospital appointments, but Anna-Mae always stays up beat about things.
I have been incredibly busy with work and have a Mother & Baby Placement at the moment, so my time is deflected away from Anna which she manages really well.
She learnt yesterday that she needs an operation to remove a tooth (the nasty offending one) but it has a large tumour wrapped around it and they aren't sure how things will be. Anna remains very matter of fact about it and it's just a case of 'get on with it then'.
She was disappointed she couldn't do the cross country run, but I was quietly glad as it rained and rained so would have been too muddy and slippery for her to cope with.
She has had so much post this month. Thank you for the fab Jodhpurs Kim. The flowery ones were a tad on the tight side but the green ones fitted like a glove. She thought they made her 'Bum' look lush. I have managed to wash them now, as they slowly turned from green to Mud colour. She was really impressed with the make up, from Natasha, and it arrived very timely as she is going to the cinema tonight with Tory. She has had her nose buried in the BIG book of horsemanship every night; she is going to be an expert!!
My goodness, everyone is so very kind, it's so heart-warming. Thank you all. I'm sorry if I haven't mentioned everyone by name, but my memory is shocking!! You know who you all are!
Happy Easter to everyone and bring on the sun!
Update 16th March 2010
Thank you so very much for all the posty Anna-Mae has received this month. She absolutely loved the necklace that came all the way from USA. It was her favourite colour blue and she thought the horse looked like Gemma! Her friend at the stables was green with envy. Thank you also for the stickers and the letters. Kim, you always send the loveliest cards. We can never find anything like your lovely ones, and we're glad you are OK now. Kate D, your handmade cards are lovely. Hope your sailing is going well. The weather has been so beautiful so hope you got out! I'm sorry I can't name people by name, but all post received gets taken away and put in Anna's lockable memory box.
Anna has been really well this month, except for a cold/throat bug that sent her home from school, and kept her in bed for 3 days. She made a full and quick recovery and went back to school with vigour.
She is toying with taking part in the Inter house cross country on the 29th. She has a hospital appointment, but asked me yesterday if I could get her back in time. She managed to do 1 full lap last year, but this year she wants to do the full 2 laps. She likes to challenge herself.
Talking about challenging herself, she has been selected to do the Jubilee Challenge at the Ten Tors challenge. Her twin brothers Charlie and Henry did the Ten Tors twice. It is the most amazing experience and you can look it up on the net – just type in www.tentors.org.uk. We are so proud of her. She just has the biggest spirit. Her school is very proud of her too. She is only the second special needs girl the school have ever put forward.
Thank you once again to everyone who has sent mail of any kind, it is all really appreciated.
Update 31st January 2010
Hello all. January has been an incredibly fast month. We have enjoyed some beautifully pretty white stuff (snow), having extra time off school and being able to go sledging was just fab, but I was relieved to see it go. Anna and Will were so disappointed every morning when it didn't arrive as promised, then it arrived when it was least expected. It was enjoyed for about 4 days, but when the realization came that Anna couldn't ride Gemma for safety reasons, she in particular saw the down side of snow!!!
Anna was only back at school for 2 days, when she had raging toothache. She begged the dentist to pull it, but the dentist can't do anything without first speaking to Anna's team in Bristol. Thank goodness that was the case, as she was told that a large tumour was wrapped around the root of the tooth, and having it pulled was an unknown territory. She was given strong antibiotics and the plan is she will have to go into Bristol where there is a full surgical team. Thankfully the tooth has settled down, giving some time for her consultant to get advice. Long may it last!
She was at home feeling pretty sorry for herself when the postman arrived with a fabulous large parcel – talk about heaven sent. WOW, it was filled the most amazing goodies. Thank you so much Kim and Kev. You so made her week!! The T-Shirt is worn, washed and ready for the next day along with the socks- if I'm lucky!!
She also had an appointment with her Neurologist last week. Her legs are becoming very tight again and the muscles weaker, leading to her feet dropping, putting her gait wide and her balance out. He decided she needed surgery again, lengthening her tendons in her legs and sorting her ankles out. He told her she would be in plaster for approx 7-8 weeks, and asked her if there were any times to avoid. She sat there quietly thinking, and assertively told him, she had plans. She told him she would be 'free' from September. He giggled and jotted it down. Bless her!!
Thank you to everyone who has sent Anna mail, it really is so wonderful to receive all mail. I'm sorry I can't list names, but Anna is in bed, so I can't ask. She loved the bracelet and a beautiful sparkly heart necklace, and sneaks them inside her school uniform. She has a pile of letters to reply to, where addresses were included, but she hasn't been firing on all cylinders for the past few weeks. Be patient – the letters will arrive!
Update 28th November 2009
Hello everyone, thank you for all the letters and cards. I have had loads of mail this month, especially from America and Germany. To Kim … yes yours was the first Christmas card I received and I love the zebras! I haven't written any yet. I just don't seem to have enough time in a day. I need 36 hours not 24. Actually I have written 1 and mum posted it today.
I have had a great month with Gemma. We are really improving together with our jumping lessons. Mind you, I fell off today in the biggest deepest puddle. My teacher couldn't help me as she was laughing so much. I was lying like a star with water up to my chin. It was a good job I had a change of clothes. It has lashed with rain everyday for the last 10 days, so I am sure you can imagine.
I have tried to persuade Mum and Dad to put the Christmas tree up tomorrow, but they both say next weekend is soon enough. I can't wait. I am so excited about Christmas. I have given mum and dad my list. It's very long, but it's all for Gem except a DVD (My Sister's Keeper) and Lush bath bombs. Mum thinks I should choose something for me, but I love her sooooooo much. I bought her a Christmas stocking today from Red Posts, with horse treats in it.
I am hoping to go hunting again on 23rd December. Mum says she'll think about it, which usually means yes. I don't ask Dad, as he is never keen to let me go.
We are having a quiet Christmas at home. It will only be me, Will, mum and dad.
School is brilliant. I love my school. I have had some fall outs with some of the girls, but that's OK, as long as my special friends are ok, I don't mind. I break up on the 11th December.
I am going now as the X factor is on and I am missing it too much. I love Lloyd. He is very yummy.
Have a great Christmas everyone.
Update 31st October 2009
Anna has had a great month. She lives her life to its fullest and enjoys every moment. She asked if she could have a spell in plaster as she was feeling very tight and her mobility was compromised. She was pleased with the results and says she feels a good benefit.
Anna went to Bristol this week to see her consultant about new teeth. She shocked everyone in the room when she announced she has decided to forego any dentures or bridges or any cosmetic reconstruction. Her consultant asked why she had made this choice and Anna replied "because I want to be just me". My daughter amazes me and I respect her courage and tenacity! She also complained to her consultant that she had to miss hunting on Gemma to come to Bristol, with some disgust. He assured her he would work around her for future appointments should they clash with any horsey activity!
Grandad's Chemo started on 21st of October and he is doing great. Not as we expected at all. He hasn't lost any hair yet, sadly not from his eyebrows. He chuckles every time I mention them! He has been extra tired, but if that's all he has to suffer he is so lucky. Mind you he is worrying that it's not working properly! There's no pleasing some hey?!
Thank you so very much for all the wonderful letters, cards, and pressie Anna received. Thank you for the great DS game Anna received (a horsey one) as she has relaxed every evening playing it. She had her handbag stolen out of our car a while ago and all of her DS games were in the bag. As the bag was left in the car, we weren't covered on insurance! Typical. It was a silly mistake I made, but as the hand bag was used for toys and make-up etc (typical teenagers' bag) I didn't think about it being a risk. We live and learn.
I hope you all have had a great half term and a happy Halloween. Its bonfire night next week, so all stay safe, then its full steam ahead to Christmas! Where has this year gone?!
Update 1st October 2009
I must apologise for the missed update last month. We have been so very busy with one thing or another.
Anna had the result of her scan she had back in the summer, and she has now been diagnosed with Retinitis Pigmentosa. That was a bit of a blow, but hey ho, onwards and upwards!
Then she had a riding accident and the horse's neck came up and bashed her in the face. She had a small fracture and lost her bridge. That devastated her more than anything. She was so worried about facing people with no teeth, but I must say everyone accepted it really well, not making anything of it. She was surprised that that there were no nasty remarks and it has actually done her confidence and self esteem the world of good.
She has a Bristol appointment on the 28th of this month and hopefully they will have a new set of teeth waiting for her!
Anna has had some lovely post this month. I do apologise for not mentioning everyone by name, but my memory isn't what it used to be. Thank you all so much for giving your time, it really does mean so much to us all.
Kim, thank you and your fiance so much for the lovely letters and cards you send so religiously. Anna really enjoys reading your happy chatty mail. She loved the monkey that Kevin sent her from USA, along with the postcards. How wonderful to travel along route 66.
Update 3rd August 2009
Hello everyone. This will be just a short note this month as I am incredibly busy and incredibly tired with a Foster child at the moment, rewarding as it is.
Anna has had a great month spending all of her time with her beloved Gemma at the stables.
She had a special brain scan last weekend regarding her eyes. We are waiting for the results, but she remains very well.
Thank you for the mail and gifts she has received this month. She has made her phone look very sparkly with the phone decorating kit she received. Kim, the books you sent were brilliant. Anna has gone to the OTW camp this week. She took one of the books with her to read on the train journeys up and back. If there is anyone who would like to see the photo's of last years camp, go to http://www.otw.org.uk/ and look at the photo album.
Anna went to Bryanston in August. The children all have such a wonderful time, as you can tell from the photos.
I hope everyone has a great month and lets all pray for some SUN!!
Update 30th June 2009
Anna-Mae has had another great month. She did have numerous hospital appointments which went well on the whole. There does seem to be a problem with her retina. She has developed white spots on her retina that indicates it's dying. She has to go for further tests though as the consultant had not seen this problem before. She has to have her head wired up and they will do electrical impulse tests. They think it's connected to the CMT, but it could be the cherubism as well.
Anna-Mae took Gemma to Dawlish show where she won 2 rosettes. Then on Saturday she went to Chudleigh show and won a 4th for best family pony. That was a very long day as she had to hack there with all the other girls from the stables, but luckily she was offered a lift home in a friends horse box. She went to bed at 5.30pm on Saturday and got up at 10.40am on Sunday morning! Bless her; she must have been really tired!
Yesterday she had a swimming gala. She swam in 5 races and won 4 of them. I was really pleased that her friend Tom won the breaststroke races. Tom has Down's Syndrome and one hand. He was so proud and he swam brilliantly!
Thank you to everyone who takes the time to send post. It really is appreciated. Kim you send really lovely cards. The strawberry card has been left in the car. It smells delicious. Thank you also for the Lush gifts. Lush is Anna's absolute favourite treat. We try to have a special bath on a Wednesday night when Andrew takes the boys to the cinema. Then we give each other a pedicure and paint our toe nails. This week we are planning to have a face mask, but they always seem to make me erupt in massive spots that resemble Mount Etna! We both treasure quality times together. I hope you got the photos of Anna and Gemma.
I am really sorry I have to go now as Will is pushing me off the computer, he is telling me it's for homework, but I reckon its facebook and MSN really. Take care to everyone and have a good month.
Update 1st June 2009
I have had a really good half term. I spent all my time up at the stables with Gemma. I bathed her on Friday because it was very hot. She loved it. She smells all lovely and she is so soft. She had her birthday too and I spent all my savings on buying her things. Mum was really angry with me, but I had saved up all my money. Mum never stays mad for long though and she loves Gem too.
I went back to school today, but was picked up early because I had to have my plasters put on. Paul, my nurse, supports Pompey so he has given me plasters in Pompey's colours. We give each other a hard time and are cheeky to each other, but I love him to bits. I would never tell him that though. I'm a bit fed up that I have to be plastered this week because it has been 29 degrees here for the last 4 days and my feet really hurt in hot weather. They will be off on Friday so I can go the stables and then back on again on Monday.
I have to go to the eye hospital on Thursday. Mum's panicking again. I had an appointment at the opticians and they took millions of photos of the inside of my eyes. Aparently my retina is turning white, wich means my retina is dying, but my eyes still feel the same to me. I'm not worried. I will let you know what they say, but I'm sure there will be nothing to tell you.
I hope we can go into Exeter on Saturday morning to the Lush shop. All the best shops always seem to be in the cities.
All my exams went well, I think. I have to wait though for my results. We keep asking the teachers, but they all say they haven't been marked yet.
I am in the school choir and we are singing on the 12th for the town that twins with us from Germany. I am looking forward to it. I love singing, it makes you feel really happy inside.
Sending my love to everyone and thank you for all my mail. Kim always sends me fantabulous cards and I love getting mail from her. Thanks also to Viks for the beautiful handmade card.
Update 4th May 2009
We got back from holiday at 6am this morning (we have been away on a cruise). We got on the ship in Egypt and sailed all the way up the Suez Canal and ended up in Ibitha. We stopped at Alexandria, Cairo, Naples, Sicily and Barcelona. It was so lovely. Mum was worried that we would be bored, but it was fab. I went to the children's club 3 times everyday. I really loved it. We visited Herculaneum in Naples. It was very interesting and very sad too. The whole village was burnt alive when Vesuvius erupted. It took 3 days for the burning mud and lava to reach the villagers, but there was nowhere for them to escape to. They would have seen it coming. They must have been terrified. We were doing all about volcanoes and Pompeii at school just before we went on holiday. I would have liked to go to Pompeii but there would have been too much walking for me.
Mum fell over in Barcelona and has torn all her ligaments again. I feel really sorry for her. She has been crying for days. She has got to go back to hospital tomorrow. She thinks the surgeon will be cross as he only repaired her ligaments about 7 weeks ago. Her leg is massive and she can't walk again. Will is also going to hospital tomorrow because he snapped his collar bone just before we went away. He has got to have a plate fixed so it will mend properly.
I am looking forward to going back to school tomorrow. Gemma is doing fine. I think she was pleased to see me today.
Thank you Kim for our lovely cards, they were really funny. Will was very pleased with his rugby one too. Thank you to everyone who has sent us mail. I really love getting post.
With all my love to you all, Anna xxxxxx
Update 31st March 2009
Gosh, the postman has been incredibly busy this month bringing wonderful letters, cards and presents for Anna-Mae and Will from all over the world! Anna-Mae even had a lovely long letter from Percy the Poodle! I would like to say hello and thank you to everyone, especially Kim, for the mail. Anna-Mae has been so busy with Gemma that she hasn't found the time to sit and write back. She has had every intention to write, but sleep always wins at the end of each fun filled and action packed day! I feel like I am always saying don't worry tomorrow we will write, but that same old story, tomorrow never comes. Please accept our apologies!
Anna-Mae has had a brilliant month and we haven't had a single appointment! WOW, that never happens. It's been wonderful. I had a hospital appointment yesterday regarding my knee and the recent surgery I had, and the staff were all coming over showing concern as they hadn't seen Anna. It felt so good saying she was doing so well.
Here is a message from Anna-Mae;
Firstly I want to apologise to everyone for not replying to my letters. I really do appreciate getting mail. We have just come in from the stables and Dad is cooking tea so I thought I would write to you all on my page before I sit down to do my prep.
I am getting on really well with Gemma. She is so beautiful, but as she is getting fitter she is getting a little bit naughty. She has decided that she doesn't like going out on a hack, but would much rather stay at the yard and munch on her hay net. She is so cute though that when she is in trouble she gives a sweet face and looks at me as if to say "What have I done?" and I know it is going to take a long time before our partnership is 100%.
Thank you for the brown bear that I received on Saturday. He is so cute. I have named him Harvey. He is on my bed with my other bears. Thank you Kim, I will have fun making the Easter Bunny. I did have a quick go but didn't manage it. I will take my time. I love the duck rubber. We all like collecting rubbers in my class. There is a massive collection of different ones. I had a lovely letter today from Kimberleigh. Your writing is so neat. The paper was really cute too.
I have butterflies in my tummy tonight because we have interhouse cross country races tomorrow. My teacher said I didn't have to do it, because I know I will struggle, but I have decided that I do want to try. Mum said it doesn't matter if I jog and walk. It's the getting over the finishing line that matters. Mum said I could use my kay walker, but the wheals will shake too much, so I don't think that's a good idea. My new wheelchair is also hard for me to push myself, so I am going to go on my own legs. I will let you all know how it goes.
Lots of love to all my friends xxxx
Update 8th March 2009
Gosh where does the time go! Another month has gone and everything has been very busy down here in Devon.
First of all Anna had her heart broken when Harvey horse went back to his owner, even though she knew she was only looking after him for the winter months.
Andrew and I also had the worry that my dad, Granddad Gordon, was unwell. I took him to lots of hospital appointments, and last week he had his diagnoses of Mantle Cell Lymphoma. Dad has been staying here with us as his confidence has been knocked, but his spirits are high.
We then decided that we were going to buy Anna her own horse, so we started looking. After a long telephone conversation with a great lady called Chris, we made arrangements to stop on our way back from a Bristol Hospital appointment to try a mare out. Needless to say, after a few long tryouts, we have ended up getting Anna a very beautiful mare called Gemma.
Thank you to everyone who has written to Will and Anna. I will take more time soon and write a better update, but all the children and their friends have just arrived home and need me to sort out their meal.
Update 1st February 2009
Anna-Mae has had the most wonderful couple of months. For her Christmas present we took on a loan pony, Harvey, from 4th November 08 until 4th February 09. She has taken her responsibility very seriously and has looked after Harvey impeccably! I'm sure Harvey has also enjoyed having Anna as a foster mum for the last few months. They have a very special relationship and they have explored all areas of Haldon Forest together.
Against my better judgment, they went on a hunt together, which turned out to be the 'best experience ever!' and they both looked very smartly turned out. Granddad and I went to the 'meet' and I was filled with both pride and fear! Pride, that my little girl was absolutely devoted to going and succeeding at this massive challenge and sat on top of her trusted steed with her head held extra high, but fear of the unknown things that I could envisage happening. When the master blew the horn and the 50+ hounds ran up the farm lane crying, barking and whining, the horses all excited and trying to keep up with the hounds, my eyes pricked with tears as I caught sight of the look on Anna's face. Granddad and I raced back to the car to try and follow the hunt, but we spent the next 3 hours traveling all over Haldon without even a sniff of them. We decided after approx 3 hours to make our way back to the stables, with panic rising in my tummy. I wanted to put my foot down and race back to the yard, but if you know Devon's lanes, you'll know they are exactly 1 car wide with high hedges on either side and more curves and bends than you would imagine possible. So I had to drive sensibly. The only thing that we met though was the odd pheasant, flapping for his life to get out of the way and up and over the high hedges, and the odd horse making its way back to its respective yard. We did meet with some of Anna's fellow riders from her yard and we were told she had turned back after 2 and a half hours as she felt she had had enough. That reassured me, but also worried me as I wanted to know why she had gone back.
When we drew into the yard, Anna appeared full of smiles and glowing with pride that she had accomplished what she had wanted to. She was buzzing on adrenalin, and splattered with mud. She had decided to turn around as she felt successful, but knew she was getting very tired and knew a fall wasn't far away if she didn't stop then. I was immensely proud of her, for being sensible enough to listen to her body and for succeeding in something I wasn't keen for her to do.
I must thank everyone that sent parcels for Anna and William at Christmas time. They were all very much appreciated. I'm not sure if Anna has managed to write and thank everyone (where addresses were provided) but I think she has. Time is quite difficult to find since having Harvey, but I do know she hasn't written to Kim yet. That is my fault! Anna wanted me to pick up a get well soon present, following your accident, but I am not mobile myself at the moment and haven't managed to get into town. I am having my operation on the 10th February, so I am sure I will be getting around soon after. Fingers and toes and anything else crossed that can be!
Right I am going to have to go now, as I have to collect Anna from the stables. I am expecting tears and a broken heart, as she has to say goodbye to Harvey tonight. Oh dear, another one of life's horrible lessons!
Update 28th November 2008
Anna-Mae has had another fab month. Her 6 weeks in plaster seems to have done her wonders. That is the longest consecutive spell spent in plaster, but the results are worth it.
She has been riding 4 times a week and continues to improve all the time. Her loan pony 'Harvey' is so sweet. He is like a gentle giant. He has even started coming to meet her in the field, instead of making her wade through the mud. I'm sure he knows her struggles!
We went last night to school to watch Anna in the drama production, 'My Fair Lady'. It was wonderful. All the children put their hearts and souls into making it breathtakingly brilliant. I was very proud, as i'm sure all the mums and dads were! Tory came along to support Anna and made her a lovely card and brought a box of chocolates. Anna felt very special. She had also received a lovely card in the morning from Kim that said drama queen on it. It arrived so perfectly. Thank you Kim. Thank you to Kim, Julie B and Viks. The cards are all lovely. The London Bus card will be placed into a photo frame for Anna's bedroom. It was very special and really amazing and clever! Thank you to everyone and love to you all.
Update 1st November 2008
Firstly, I would like to say a massive 'THANK YOU' to Kim, Julie, Jenn, Viks and Post Pals, for my mail and presents. I love the Halloween cat; it's sitting on my bed. It's called Pepper. I love getting chatty letters. I'm glad Kim that your jumping lessons are coming on well. I have a jumping lesson every other week. I love it. Sometimes the horse just walks over the jumps and sometimes he gallops at the jump.
I am so excited as for my Christmas present this year I am loaning a horse called Harvey for 6 weeks, while his owner goes on Holiday to Australia. He is so gorgeous. He is a 14.2 bay gelding with the most amazing long mane and very long pretty eyelashes. I will ask dad to try and send a photo of us together to go onto my page.
Now onto some even more amazing news.
Viks nominated me for a Well Child award, child of bravery. I couldn't believe it when I learnt I had WON! I didn't know I had been nominated until Mum said Well Child had telephoned with the news.
The film crew came to school to film me with my friends. It was really good fun. I was in plaster though. I had them on for 5 weeks this time because my legs were really tight. I had them off though on the Friday before the Monday, thank goodness!
We all went up to London on Monday morning at 7am on the train. Grandad came with us too. Charlie had to go on a course for work, so Aunty Viv took his place. She drank far too much Champagne!
I said hello to a lovely lady just after we arrived at the ceremony, and it turned out to be VIKS! It was so good to meet you Viks. I felt so special walking down the pink carpet. Everyone had their party clothes on. There were so many celebrities there. I didn't really know very many of them, but Aunty Viv knew everyone. I think she was even more excited than me.
As soon as we had been offered a drink, I was whisked off for a photo shoot, for best magazine. I felt really important, like a real celebrity.
Soon after that Henry, Viks and I went to meet Prince Harry. He is so lovely. I couldn't stop smiling. I thought he was very handsome. He gave me kiss and a cuddle.
When we went into the awards room we all sat on posh tables. I sat next to Iain Wait from Strictly Come Dancing. He was so funny and we talked lots. I told him my Nan thinks he's LUSH!
I was embarrassed when my video came on. I went onto the stage and was given my award from an Olympic swimmer and Michael Underwood, they were both really lovely. After I sat down at our table Michael Underwood came over and gave me another kiss and cuddle.
After the ceremony we all had to go out for some more photos. I had mine taken with Nick from Nickelodeon. I was given lots of presents. Next had sponsored the winners and gave us all the biggest goody bag. Thank you to Next for all my presents. I love them all, especially the watch and the angora socks. They are so soft.
Update 15th October 2008
Anna has had another fab month. She was so pleased to be back at school. She loves it. She has signed up for the drama production late in November of My Fair Lady. She has a few minor parts by all accounts, but she is also singing a solo and dancing. Oh the excitement! I keep telling her when she is belting out 'All I want is a room somewhere' that she has the voice of an angel! I normally get smacked at that point!
She has had 5 weeks in plaster, to help her mobility. She has such a lovely relationship with the nurse, Paul, who plasters her legs. He is brilliant with her. She loves him. He is rude to her and she's as rude back. They both try and out do each other. He is bossed about unbelievably. She tells him what colour she wants and Paul just does it. Usually she wants ballet ribbons in a contrasting colour and Paul willingly does it. She is really excited as both Anna and Will are going to another 'Over the Wall' camp this weekend. She can't wait. She wants to talk about camp all the time, reminiscing about her time at camp in the summer.
Update 9th September 2008
Gosh, what a busy summer we have had! The time flew by and we were getting ready to go back to school before we knew it.
Anna went away on her long awaited riding holiday, but it didn't go as expected and she ran up a £150.00 phone bill pleading with us to go and collect her and bring her home. Her school friend had gone as well though and it wouldn't have been fair on Beth if we had, so we bargained with her to collect her 1 day early.
She had been so excited about the "Over The Wall" camp, but after the riding experience, she was quietly very worried about going away from home again and so soon. I tried to encourage her to help me pack her suitcase, but she really didn't want to. We were still packing half an hour before we left. She sat silently in the car on the way up to Blandford. When we arrived we were greeted by a lovely looking clown and so many smiling faces, I think Anna was surprised, pleasantly surprised. We all went in together and were shown to her dorm where she met her 2 fellow room mates, Sophie and Rhiannon. Andrew and I thought it was probably best if we made a swift exit as I felt like we were prolonging her agony.
I worried all week about whether she had settled and wondered if she was happy and enjoying her time away (no mobiles allowed, but that is such a good idea). Andrew and I were up early on the Friday to drive and collect Anna by 10 am. I was quite apprehensive about seeing her and wondered what kind of reception she would give us as we didn't know if she had been really unhappy all week, BUT – we arrived to song and dance out on the lawns. More than that though, Anna was trying to hide in the middle of her new friends, shouting she didn't know Anna-Mae. She had such a ball! She got so much out of her holiday, she said it was the best holiday she'd ever had – even better than Egypt! She didn't stop telling us all about her holiday on the journey home (she is working on a long letter to tell everyone all about it, so I won't tell you anything and her letter, which should be ready soon, will tell you all about it). We arrived home at approx 1pm and she said she needed to go to her room for a sleep for an hour, but she didn't surface until the following morning. She was shattered!
She has planned her life out for the next umpteen years though. She wants to apply to go back to camp every year until she is 18 and then she wants to go to camp as a volunteer! I think that says a lot.
Anna-Mae, Granddad and I, were also invited along to St. Matthews Sunday School by a lovely lady called Judith, to collect a cheque that the Sunday School children had raised doing a sponsored Fun Run for Post Pals! How amazing is it that these children thought about us and raised so much money! It was such a lovely afternoon despite the rain. We all had such a warm welcome from everybody, and we enjoyed a warm cup of coffee. The local press came and took a photo to go into the Herald Express. We were away on holiday when the story was printed but I had a lovely surprise on our return – Judith had sent me the photo that was taken and the newspaper cutting.
We also went away this weekend to Northern Ireland for my nephews wedding. My goodness me, the Irish certainly know how to party! The wedding was on Friday and we left the party on Sunday to fly home. Anna looked stunning. She went with her Aunty Myra to have her nails, make up and hair done. She was almost up to us, when Andrew said "Oh my goodness is that Anna-Mae?'. He was quiet emotional at just how beautiful she was. Anna's letter will be posted soon, but because of school, it may take a little while.
I hope you are all OK and thank you for the post this month, especially to Julie and Jenn. Both Anna and Will enjoyed doing the word searches and the facts about the giraffe's scarf are incredible!
Update 31st July 2008
Everything for Anna-Mae is going really well. She had a great end of term, and was actually quite sad to have so long off school. She has gained so much in confidence and self esteem over her last twelve months at school.
We went up to Bristol again a couple of weeks ago to see Anna-Mae's specialist. He had to very gently remove her bridge to do some work and we all sat silent, holding our breath, as this was a very delicate procedure. Anna-Mae asked if she could look at herself in the mirror. Mr C. asked her if she was sure she wanted to see and Anna said yes. She stared long and hard, but said nothing. When we got back into the car, she said it was quite nice to see her real self, but was so glad she could have everything put back. Bless her! I was very proud of her acceptance of herself. We managed to find a hair salon that sold Afro Caribbean hair products. Her curls are beautifully tamed now too.
She went away on her riding holiday and was a little shocked – to say the least – of other peoples perception of her. Although she had a mixed week, I think she learnt an awful lot.
On Sunday she is going to an "Over the Wall" camp at Blanford Forum. She can't wait. It sounds wonderful. I am hoping more than anything that she comes home bubbling about it.
Anna-Mae would like to type a few words herself:
I want to say thank you to every one who has sent me post, especially to Julie for the wrist band and Haley for her hand made cards. Thank you to everyone else too, I love getting mail. I get more mail than Mum and Dad.
I can't wait to go to the over the wall camps because I am going to be with everyone who knows what it is like to have a disability. I am going to take my camera with me, so I can take some photos. I will send them to Viks so she can put them on the web site. I took my camera on the riding holiday but we weren't allowed to take any photos. I don't know why?
I have got to go now, as me and mummy are going for a bath. Then she is going to paint my toenails and I will do hers.
Night night,
Anna-Mae xxxxxxxxxxxx
Update 5th June 2008
Oh my goodness me, where is the year disappearing? It's nearly Christmas again!
Anna-Mae is growing up so fast. I can see and hear such a big difference in her. She is such a lovely young lady. She has been asking me quite difficult questions over the last week or so, about her future. I'm not sure where they are coming from, but she seems happy with my answers, which are as honest as possible.
She has had a lovely month again. Her riding is coming along lovely. She had a jumping lesson, which apparently went very well. I left the stables with my heart in my throat. She wanted me to watch, but I just couldn't bring myself to do it. I understand her hunger for achieving and acceptance, but I felt that I would hold her back by being there. My fears for her safety were too strong to allow me to be there. BUT, I do have a lovely photo of her jumping on Maddy. I take my hat off to her riding teacher, and Mary the owner of the stables, who are allowing her a say and empowering Anna to 'have a go'. That's what life is all about. I will go and watch her soon, but I'm frightened she will start to show off in front of me, or loose her concentration.
She has saved really hard over the last year to go away on a riding holiday on her own. We visited it last month to have a look before we decided (it's a big step, allowing your precious and vulnerable child to step out into the world independently). She reached her goal last week, so we phoned and booked her in and paid her deposit. She is so excited about it. It sounds so lovely. There will be six girls sharing a dormitory. They will live and eat as part of the family in a beautiful thatched farm house. The girls all have to help to do small chores, such as collecting the eggs in form the chickens, and help with the other farm animals. It sort of felt quite old fashioned. I would have loved it when I was her age.  Both Will and Anna have gone back to school this week after being on holiday. What weather we had. It was lovely for the ducks, but it never stopped raining! We still managed to have a good and busy time though.
Thank you to everyone who has taken the time to e mail, or send post to both Anna and Will. They both love getting mail. Will was sent an egg that hatched a monster. Well if any of you could have seen how precious the egg was, it would have made you smile. We have decided he will become a very good dad one day! He changed the water daily and watched all the time to see his baby being born! Oh, the excitement when the lizard finally appeared. Thank you Kate and Maria for all Will's mail.  Thank you to Kate for the lovely horsy postcard, Anna Mae really loved it. Thank you also to Jenn, your handmade cards are super, and also to Julie. I hope you enjoyed all your trips away. Anna had the funniest card from the Post Pal team; we were all in stitches with it. It was a cat with a hat and scarf on, but with googly boggly eyes. Thank you Hayley, Cara and Julie for the lovely long letters and thank you and hello to Jennifer for the e mails. Thank you to Emma, Berenice and Callum for the letter and lovely horsy sticker book, Anna-Mae was thrilled.
Thank you, thank you, thank you, to everyone who takes the time to give not just to my children, but all of the children on the Post Pals website, some of your precious time. I know I am speaking from every single heart of all the parents, grandparents and carers of all the wonderful children on the Post Pals site.
Update 6th May 2008
Anna-Mae has had another good month. She had a hospital appointment at Bristol where she saw a consultant she hasn't seen for a while and all went well. It was a very positive meeting and she is looking forward to seeing him again in July. He is going to see what he can do cosmetically for Anna-Mae's false teeth, as a couple of them have discoloured quite badly (turned black) and she is very aware of them.
She is going through a series of serial casting to both legs, at her own request, as she can't get her heals down when riding the horses. She had to have a break last week as she had a crop of blisters on both legs/feet, but she will be back in plaster this week. It's better to get it down before the summer arrives.
We have contacted Over the Wall about a place at summer camp for Anna and she is keeping everything crossed in the hope she gets a place. She has also been saving really hard to go away on a weeks live in riding holiday and she is almost at her goal, so she is putting pressure on us on a daily basis to book her in.
She has had some lovely post this month including a postcard from Julie in Perrenpoth – we hope you had a great time! We had some beautiful hand made cards from Karen, Chloe, Tina and others (she has taken all her post into school, so i'm sorry but i'm writing from memory!) and a fab riding book from Kim. The book has been read over and over, so thank you very much. Thank you to everyone else that i've missed, your mail is much appreciated.
Update 3rd April 2008
Anna-Mae has had another great month. The sun is shinning and all is well on the western front. She has been on school holidays for the last two weeks and has another two to go. She has been having riding lessons and is coming on so very well. I'm absolutely convinced that the riding is helping strengthen her core muscles. She hasn't used her wheelchair once this holiday, although when we went to Castle Drogo for the Easter Egg hunt, she scrounged a lift back in the golf buggy. She said her legs were really tired, but we think she just fancied a ride in the unusual mode of transport, plus there was a hail storm and it was bitterly cold! We had to walk! Ugh!
Her cousin Lou finishes school today for her holiday and Anna is looking forward to spending time with her. They are both going for a riding lesson this eve at 7.30! Then on Sunday Anna has a sponsored swim for cancer research with a few members from her swimming squad.
On Monday we have to go up to Bristol to see a specialist that Anna hasn't seen for some years. She adores him and is so looking forward to seeing him, although it's an apprehensive time for Andrew and I. At least we may get some serious retail therapy time!
Thank you to everyone who has written to Anna. She really enjoys reading her mail. Thanks to Kate Dee, the Easter Bunny card was so sweet. Jenn's card was very jazzy with the stars all over it. Pauline would have had a reply yesterday, but after Anna wrote her letter, we realized there was no address to post it to! Also to dear Elizabeth and Jack, thank you for your card. Julie Barrett sent Anna-Mae some lovely lip gloss. She loves sitting in the car applying it in the vanity mirror… very grown up!
I would like to say a special thank you to Erin F's Grandparents. They have sent cards and messages to Charlie, Henry and William. Their words were very kind and I know Charlie and Henry especially appreciated the sentiments. It's always nice to be acknowledged and appreciated!
Update 13th March 2008
Anna has had a lovely month. Her health is very good, and the hospital visits have been almost none, which makes such a difference to her spirit.
She continues to settle really well into school life. She has had a very large life changing episode over the last month, but it is of a personal nature, that could not be printed! She has coped extremely well with the massive hormone surge… but I haven't!
Her riding is still the centre of life itself at the moment. Every moment of every day is filled with those girly thoughts of owning a pony. I keep telling her when my boat comes in! She had had a couple of private riding lessons and I was really impressed with her determination. She did struggle with getting her pony to move any faster than plod and this is when you can see how weak her legs are, so the next lesson she is riding the most beautiful pony called Little Blue, who jogs everywhere!
We have contacted Over the Wall project and are awaiting a form to apply for a place. She is really excited about the possibility of going and especially the fact that I can't go with her! Bless her.
We flew over to N. Ireland on Saturday to have dinner with my brother and it was lovely. Anna loved telling everyone about the trip and the fact that she visited 3 different countries in 24 hours (Northern, Southern Ireland & UK) then we flew home on Sunday.
Anna had valentine's cards by the bucket load last month! I was sooooo jealous! Anna has also had a couple of lovely letters this month. She loves getting letters. We really appreciate the post that arrives. Thank you to everyone who takes time out to think of our kids. The difference you all make is unimaginable.
Update 31st January 2008
We were all struck down with that awful tonsillitis bug last week, and we were getting worried that Anna-Mae's scheduled surgery would be cancelled. Amazingly, she made a miraculous recovery (I feel sure the angels had a hand this) and Anna had her operation last Tuesday and she coped with it amazingly. All went very well. She enjoyed having girly duvet days afterwards. The only downside is that she can't go swimming until after all the stitches have gone.
She has now found a best friend at school, thank goodness! This has been a very long time coming. She comes home everyday and tells me all the girly gossip. There are times I have to sit for hours listening. Bless her. She is so excited about it all. Today she arrived home to tell me she asked a boy out! Can you imagine the knots my tummy went into? I was very relieved when she told me he was thinking about it. It could have been a straight forward NO WAY! I wasn't prepared for that phase of her life… not for years to come. I think that just proves her confidence is growing.
I think these delicate years, for any parent of special children are the most worrying. We want them to develop in all aspects of their precious lives, but are really frightened by the actions and reactions of their peer groups. Our children are 'normal', but just have 'broken wings'. We want with all our hearts to protect them from any sort of hurt, emotional or physical, but we also realize we have to let them make risky moves, to enable them to grow.
Anna-Mae is now also into horses. She is having riding lessons and loves every minute of it. She was accepted at a local pony club, amazingly! They are brilliant with her and she is treated just like one of the girls. She arrives at the stables at 10 am and stays for 3 hours. They have to groom their ponies, tack up and hack or have a lesson. She has to muck out the stable and fill the hay net. It would be so easy for someone to take over and do her chores for her, but NO! She has to do it all. Sometimes the girls work in pairs, and if it's her turn to carry the water bucket across the yard then so be it. She usually comes home with one very wet leg, but her self worth and sense of accomplishment is amazing. I love seeing her so happy and growing in every sense of the word.
Anna- Mae had a Christmas card on Tuesday from Nicole. I think it must have been lost in the post. Anna-Mae thought she was very early!
Update 6th January 2008
We are living away from home at the moment as Andrew had to have major surgery on 19th December. He is unable to get home for the time being and we think it may be a couple of months before he does.
Even though we had an unsettled time, we as a family had a wonderful Christmas, and everyone was thoroughly spoiled. The elves were exceptionally busy this year! Many heartfelt thanks to them all, especially the naughty elf, that sent the very naughty chocolate fountain!! A huge (in every way) hit with all 6 of us!!
Wishing you, the Post Pals team and everyone who takes 5 minutes to write to our very special children, a very warm, healthy and prosperous 2008.
Update 2nd October 2007
Anna-Mae did exceptionally well at the swimming presentation evening. She won 7 large trophies, 7 small trophies and 3 gold medals. She looked beautiful and we all thoroughly enjoyed the evening.
Anna's mobility has deteriorated again and she is due to go into serial plasters next monday. The hospital suggested half term, but she hated the thought of it interfering with her holidays. At least she is pleased about it being in term time! School is going brilliantly. She absolutely loves it. The lady the school took on as her 1 2 1 had to leave again, which gutted Anna, but they have found a very nice lady to replace her.
We are going to York at half term, to visit the Jorvic Centre. We are all looking forward to that. It should be very interesting.
Thank you to everyone who has taken the time to send mail to Anna and Will. All mail is so gratefully received. There is a letter waiting for her today all the way from Orland Park, Il, USA.
PS. A very big and special thank you to the post pals team, for the beautiful box of chocolates. It was really appreciated.
Update 1st September 2007
Anna Mae remains totally into her swimming and continues to do really well. We have a presentation evening on September 15th and she eagerly waits to see if she has won anything.
We had a swimming gala at the beginning of our recent holiday, where Anna Mae took part in every race she was eligible for, and won in every one. The last race was a 4 x 25m individual medley and Anna Mae beat her personal best. She put her heart and soul into it and ended up hyper ventilating! Last week she put her name down for the long distance swimming gala and has put her name down for five races – the only thing is that they are all 8 lengths of the pool each. I joked to her swimming coach that we may need oxygen this time!! I take my hat off to her determination.
Unfortunately, Anna-Mae has had to give up dancing, because her legs and balance have deteriorated and it made it very difficult for her both emotionally and physically as she felt she was failing. She is now heavily into horses/ponies though and loves everything about them. Nanny recently bought her two new books, Mystic and the Midnight Ride and Blaze and the Dark Rider, which I think are part of a series of books.
We have had a great holiday this year spending 2 weeks in Brittany, where the weather wasn't brilliant but we had a few sunny days. All the children were begging us not to look round any more forts! Then we went to Sennen Cove in Cornwall where the children spent 3 days in the sea! From there we went to a Jazz festival where we camped for 2 nights and as per most music festivals, it teemed down with rain, but a great time was had by all. From there it was off to Scotland, where the Edinburgh Tattoo had us all totally mesmerised. This week, we have Harvey, Anna Mae's 12 month old cousin. Anna insisted on having Harvey in her room and it made me giggle when at 2 o'clock this morning I found all four of my children trying to shush a screaming baby and not wake us up!
Anna Mae has had a difficult time this summer health wise as she has cut a tooth which is pushing its way through her nose. Her Doctor has said it's best to leave it to come through a little bit further, if she can stand the pain which will make removing it easier. Otherwise it means digging down through the tumours and causing them trauma. We are waiting to see a specialist in Plymouth regarding her legs, but I think they are becoming painful as she is growing. We have taken delivery of her new wheelchair which is very grown up with racing wheels and a low back. She is now saving hard to buy herself a pair of wheelchair gloves as she keeps burning her hands on her wheels!
Anna Mae is going to her new school next Wednesday and it just can't come quick enough for her, she is so excited. We are going into town shortly, to get her school stationery. I'd better warn the bank manager!!
Thanks this month to Kate D and to Julie Barrett who sent me the Pinkie gift set. Thank you to Nicole D, I will be writing back shortly. Thank you also to Emilia, I loved reading your letter and will write back soon. I've had lots of lovely gifts this month, I especially love the beautiful teddy bear that was waiting for me when I got back from holiday, his name is Tefur which means "T" for teddy!
Hope you are well, thank you for everything.
Update 2nd July 2007
Anna-Mae spent a week at her new school in preparation for September. She really enjoyed her time there and was very sad when Friday came. She has made some new friends and now can't wait for September to come. She looked so grown up in her new uniform.
She is waiting for a consultant's appointment to see about her legs. They seem much weaker and more painful than they have been in a long time. I hope we can get her sorted before we go on holiday to Brittany in 3 weeks time.
Anna-Mae continues to do well, although her dancing has come to an abrupt halt, as her legs aren't quite working as well as they have been. She has spent a month in casts to lengthen her tendons, which has been quite successful, but she still remains stiff and sore.
She has joined the Rookies life saving course and continues to flourish in the swimming department. She has entered herself into six races for next Saturday, but because she is 11 now, she has to do 50 metres. I did try telling her, but like most 11 year olds, she knows best!
Thank you for her post. Anna loved the cat poem and thank you for the dancing cat card Viks (honorary cousin).
Update 12th May 2007
I (Anna Mae's Mum) have received a parcel in the post this morning from the Post Pal Team, a fabulous pot of iced coconut sweets. How wonderful!! I never receive anything nice… only ever bills! I feel very special! I know the rush the kids get now when the posty arrives. Even the postman made a comment!
Please accept or give my heartfelt thanks to the mystery parcel sender. It has made my week… let alone my day!!
Update 29th April 2007
We have some brilliant news! We all went along to the Langstone cliff hotel in Dawlish last Friday night for the Teignbridge Sports personality of the year awards. Anna-Mae looked beautiful in her baby blue dress, sparkly white cardigan and both legs in plaster!! Everyone was totally bowled away when Mark Tyler from ITV announced in reverse order who had won! Anna-Mae! Andrew and I both cried. She was so proud and rightly so!
Thank you to Post Pals for the beautiful lights for Anna-Mae's bedroom. We are in the process of decorating her room at the moment and she is patiently waiting for them to be put up. Well, patient in Anna-Mae's world!!
Update 10th March 2007
Anna has had a couple of letters and cards from Julie Barrett and Alan, with some yummy little pressies that Anna Mae treasures. She also had a delicious lollipop lip gloss and card. Kate Dee frequently sends Will a card and note, which he loves receiving.
I do feel that we should remove Charlie and Henry from the list now as they are almost men. Nearly 18!! Scary!! Thank you to everyone who has taken the time to write to them and send them gifts. They have been spoilt rotten and we all really appreciate people's kindness.
Anna Mae has been nominated for sports person of the year for her achievements in swimming. She also passed the exam to get into her first choice of school.
Update 12th February 2007
Anna-Mae remains very well and blossoming at the moment. I am so proud to be her Mum. She really is such an inspiration to us all, with her positive outlook and attitude towards life. LONG MAY IT LAST!
Anna-Mae has been incredibly busy over the last few weeks. She was asked along a few of her friends from 'The Dance Mill' to dance for the opening of the X Factor show, which she did last night. It was all very exciting and she had the treat of having a photo shoot with Phillip McGee, an X factor finalist and Chenai, as well as Eaton Road. We took Tory along to support her best friend Anna. Tory thought Anna was the best dancer on stage! Bless… we could all do with best friends like Tory!
Thank you to everyone who sends Anna-Mae mail. She loves getting letters and replying to them… providing there is a forwarding address and time allowing. She really does try her best. Special thanks to Viks, she really spoilt Anna-Mae and Will. Thank you also for the delicious pressie included for Andrew and me too!! Anna-Mae also had a very special parcel from Jackie in Sandhurst (two Tracey Beaker CD's) and she listens to them every night at bedtime. I can hear her talking along to the cd's now. Children really amaze me at just how retentive their memories are. How I wish I could have remembered Shakespeare or Keats like that!
Update 3rd January 2007
Thank you to everyone! Anna-Mae had lots of wonderful cards from people this Christmas; she even had cards from Dasher, Dancer, Prancer and Blitzen, Comit and Cupid and Donner and Vixen. Can you ever imagine the excitement? And Rudolph sent the most amazing card with a flashing nose! It must have been a magical card as his light is becoming very weak now Christmas is over.
A secret elf sent Anna-Mae the most wonderful gifts. Her most favorite present of all she received was a lifelike chimp that asks for cuddles. I think that she needed that, and has now got a new purpose in life… to cuddle her chimp and boss us all about, trying to teach me parenting skills! Apparently my way is totally wrong!!
Anna-Mae has taken to reading lots and lots of books in her bed. She is working her way through an Edith Blighton compendium at the moment, as well as Jiggy McCue! She is also growing up and her girlie ways are forming, such as make-up, bath bombs and face packs. She loves her toe nails to be painted etc.
We had quite a stormy year last year with one thing and another, the death of my mother, good friendships separating, etc. This all knocked Anna-Mae's confidence and so her abilities, but she is a fighter and she is now fighting back. Anna-Mae has seemed a bit better in herself over the last week or so, as have we all. We all love and miss granny like mad, but we are talking about her daily and in fun. It's good to see her old self back, and it's good she has dealt with life's knocks and moved forwards in the right direction. I feel sure 2007 is going to be a great year for us all. HAPPY NEW YEAR TO YOU ALL!!
Update 1st December 2006
We as a family have had a very bad time this Autumn with my mums "Grannies" cancer, and her death on the twin's birthday. It has hit us all hard, and we are all reacting in different ways. Anna-Mae has had everything wrong with her and aches and pains daily. I think she is feeling sad and empty and that she is having difficulty putting her feelings into words.
On a brighter note, she has had her new teeth fitted and she has the most wonderful cheeky smile! She is so proud of her new look! Anna-Mae and Will have taken up making cards. Anna-Mae had the most wonderful selection of cards from the card Rakers forum, that she decided she wanted to have a go. It's lovely that they have found something they can sit and do together on equal terms!
Have a wonderful Christmas!
Update 30th August 2006
Anna-Mae keeps getting regular post, postcards, small packets etc. Even the postman knows when the mail is from Post Pals! He was very interested to hear all about it and she feels so excited when he arrives! We all crowd around her to see her open her mail. Sometimes she rips open her mail, other times she peels it open slowly and when everyone's excitement spills over she then decides to take the package to the privacy of her bedroom, leaving us all waiting. How terrible is that! William is especially driven mad, and can get quite bolshy! She knows how to play the boys up!!
Anna-Mae has had a great summer. The time has flown by. I can't believe that the children are all back to school next week- I don't feel ready. Her health has been very good and everything is very upbeat. It's great when life chugs along like that.
Her specialist is attempting to make her a special set of teeth. They will not be removable this time. They have to cast them in 24 carat gold, so the metal is soft enough to move and bend with the growing tumours. She is so excited at the thought of them. Fingers crossed.
Sleepwalking has become an issue over the last couple of weeks. She frightens me half to death as she wanders around the house, and we do have the most confusing conversations! I have never dealt with sleepwalking so this is all a little weird to me.
Take care everyone and heartfelt thanks for all the joy and laughter the project brings into our house.
Update 8th May 2006
Anna-Mae has been awarded a place at the school we wanted her to go to as a day girl from September 07. We were totally amazed that the place was granted- just like that. We compiled a full and comprehensive document about Anna-Mae's conditions and all of her consultants/ Dr's and anyone she has contact with wrote letters confirming the problems that she will face. We were told that it was going to be a long hard battle, but, Education was so good and understanding, and they confirmed that she can go. Hooray!!!! Anna-Mae is so over the moon, as we all are. Any parent that faces the same dilemma please don't worry too much, as it's not as bad as you may think (like I did, many sleepless nights and tears. All wasted!!).
I would also like to thank you all for the lovely presents and cards that you have sent to Anna-Mae for her birthday. She had a beautiful bear all the way from Florida. He has been called Itsy and he is joining us on our holiday. Lucky bear!! We have let her open them as they have come in, as we are going to Egypt for her birthday. She has got an underwater camera, so maybe… just maybe, we might see Nemo.
Everyone, with the exception of me, are so excited. I hate flying! It's not natural! My tummy has been in knots for days now. I am looking forward to relaxing by the pool with a good book though. We are going with Anna-Mae's best friend in the whole wide world, Tory. I am a little worried about going so far with Anna-Mae – just in case. My husband must have got me to agree at a weak moment! I usually opt for camping in Cornwall. I feel safe there, just in case we need a hospital!! BUT, Anna-Mae has been really, really well over the last few months.
Update 12th February 2006
Just to let you all know that things are all good here in Devon with us. We had such a magical Christmas and New Year. Thank you to everyone who sent fantastic letters, cards and presents. The elves were especially busy! She also had daily cards from the reindeers, telling her what was going on. You should have all been here to share in the excitement! I loved it too! She also had some cards from a school in Japan. The cards and writing was beautiful.
Anna-Mae had a period where she was really under the weather. I think the cold weather had a hard hitting effect on her mobility, which really knocked her confidence. She has also been through a period where she seemed to be bearing the brunt of others, unkind words etc.
Andrew, Karen (honorary special auntie) and I have been overwhelmed collecting information, writing letters and compiling reports for Anna-Mae's school review, which was today. I have been dreading it, but it was in fact a very positive meeting. Not what I expected! We are trying to get her into a small independent day school (350 pupils) as opposed to our local comprehensive (1800 pupils). Mainly our reasons are for the safety and gentile ways, as well there being a nurse on site to help her with her continence needs. I will let you all know in due course. Fingers and toes crossed please!
In general news she has been moved up in her swimming class, and she is thrilled to say the least. We are also going to see her dance in a big show at the end of March and beginning of April. It's all done very professionally!
Update 8th February 2006
I made an early trip into town today to go and get some valentines cards. Anna-Mae is worrying that she won't get any this year again, but on our return from school, there was a beautiful card waiting for her from a lady called Elizabeth. Anna-Mae was so touched; it now has pride of place on the windowsill, facing out for all to see!
Update 17th September 2005
That is such a lovely idea, the peppers. Anna-Mae was really pleased with it. We have printed it off and she has just gone into town with Charlie to buy a frame. It is going to take pride of place above her bed.
Whilst I am writing a few lines, I would just like to take a moment to say a really huge and heartfelt "THANKS" to everyone who has written to her, and to Charlie and Henry. We are all really touched by human kindness.
On the whole Anna-Mae has a really good summer. We are all so proud of her strength, courage and determination. Although she is a little feisty at times! She recently won 4 bronze medals for swimming in her first gala, as well a very large trophy, with the inscription " the Sunshine Trophy for the most determined swimmer". All of our hearts swelled with pride, I can tell you. She has a remarkable outlook on life and all the obstacles that it throws at her.
She had a blue period a few weeks ago, after retuning to school. She had chosen to stay with the teacher she had last year, as she adores this teacher, and the teacher has done so much for Anna-Mae's self esteem and confidence, as well as the classroom being adapted to accommodate equipment etc, but she hadn't really thought about all of her class moving on. I think this dramatic change hit her full face on, but she is settling down well now. She announced at tea time through the week that she has thought about the situation and has decided that class times are for learning and playtimes are for seeing her friends. I do wonder where she gets this mature way of thinking from at times!
She did receive a parcel, through Post Pals, from 'online angels'. It really was the most amazing gift ever. A patchwork quilt that had been hand made. Truly beautiful and so precious. She made me promise it would never go into the washing machine! (Says a lot for my laundry skills) But sadly we can't find them on the internet to say Thank you. So… she believes that real angels have made and sent her the gifts, as if they were real people, we would be able to find them.  Anyhow, I must sign off for now, and carry on with the boring chores that Saturdays bring. Thank you 'ALL' once again.
Update 30th July 2005
Thank you for the e mails, Anna-Mae can't believe peoples kindness. We have just returned from a short break to Butlins, and there were 11 messages waiting for her. She really is so excited about Post Pals.