Donate to childrens charity
Link to Post Pals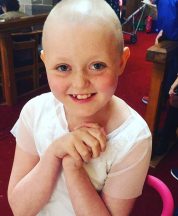 Contact Details
C/O 48 The Beeches

Rugeley
Staffs
WS15 2QZ
UK
Email Pal
NB: this is a forwarding address for the Pal, we do NOT disclose home addresses
Other Information
Parents/Guardians - Natalie
Interests - Colouring, painting, music, dancing. Playing with her best friend Millie and her dog Bobby. Disney and Little Mix.
Favourite Colour - Pink
Able to read? - A little
Able to use hands? - Yes
Visually/hearing impaired? - No
Suffers from any developmental delay? - No
Siblings - aged 3 to 16 wishing to receive post
About - Amy O
Story written 2017
In August 2014 when Amy was 7, she was diagnosed with childhood cancer neuroblastoma. A growth attached to her adrenal gland was found after a scan to find out why she kept having water infections. More tests were done and thankfully it had not spread. In November 2014 Amy was admitted to Birmingham Children's hospital for an operation to remove the tumour, which was successful and she recovered well. She had to have regular scans to check for any relapse.
Up until November 2016 at the age of 9 and after two years of being clear, a routine scan showed it had returned in her pelvis, and chemotherapy was to start straight away. On 19th December Amy started chemo: she is still fighting and does it with a smile.
Update 21st August 2017
Amy has just started her next round of chemotherapy and hopefully her last. She will be having 6 rounds, each round is five days of treatment with two weeks off in-between. She is doing really well so far after her first five days on chemotherapy.